Which AJET Block represents you?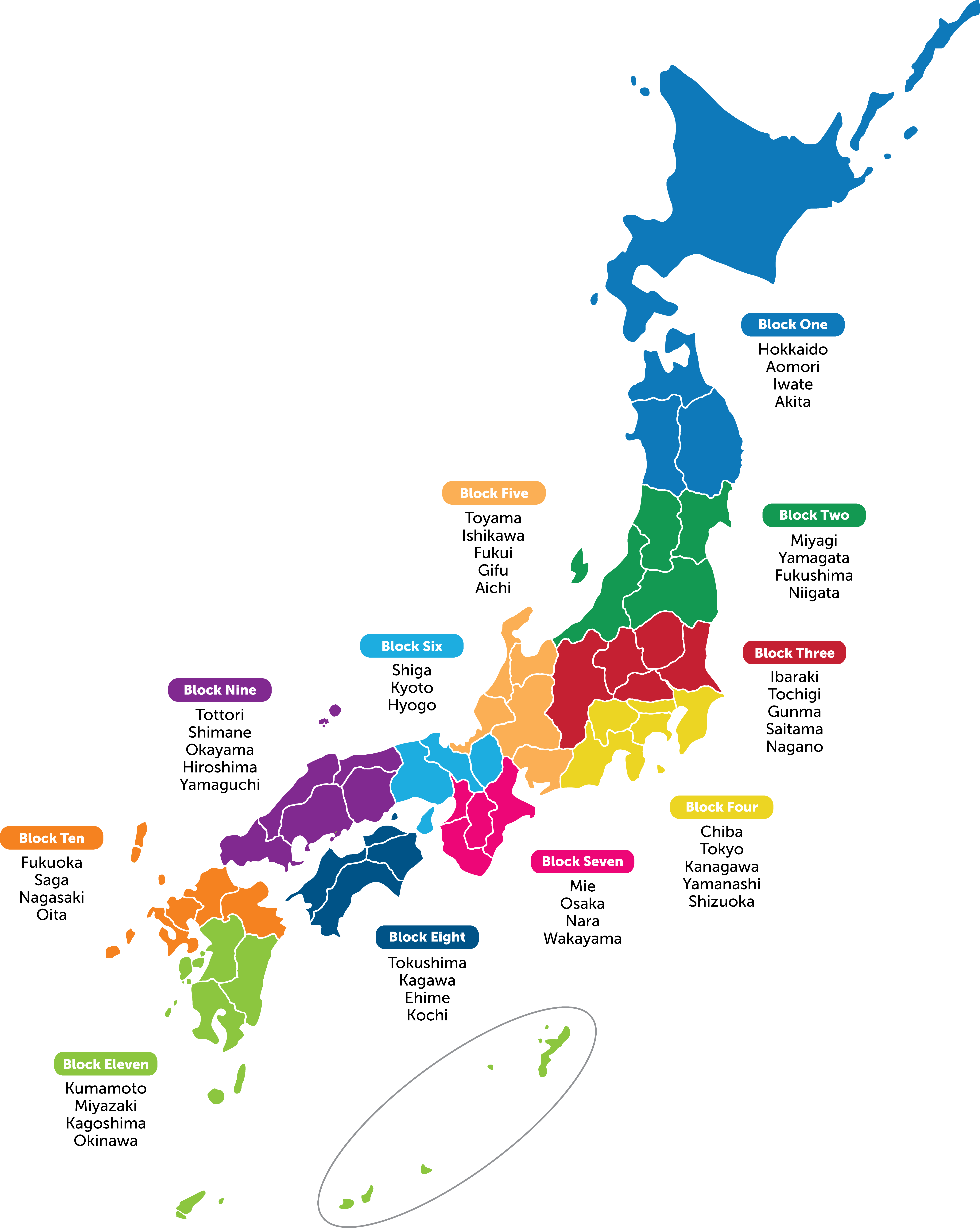 To find out what's going on in the JET world all over Japan, check out each area's website below or contact a Block Representative.
Howdy ya'll, Welcome to the big north, Block 1! With Hokkaido, Aomori, Iwate and Akita, Block 1 is easily the largest of AJET's prefectural blocks. Northern Japan offers an abundance of natural and pastoral environs well suited to the outdoor enthusiast and anyone looking to get away from the southern hustle and bustle and see the beauty of the Japanese countryside. Well known and loved for its long and snowy winters, Hokkaido boasts some of the world's finest ski resorts. During the warmer parts of the year, Hokkaido's Lake Akan and Lake Shikotsu are some of the most beautiful in Japan. In the spring, Aomori's Hirosaki is home to what many call "Japan's most beautiful sakura". Every August, Aomori city hosts the world famous Aomori Nebuta Matsuri. And with the our Block's numerous World Heritage sites including the Shirakami Mountains shared by Aomori and Akita, Shiretoko National Park in Hokkaido and the Chusonji Golden Temple in Iwate, there is no shortage of things to do around here. To check out all the neat stuff we've got going on, check out the Block 1 Facebook group and don't forget to start booking your tickets for the Sapporo Snow Festival now! Lastly, if you've got any questions or need any convincing that Block 1 is the coolest Block in all of Japan, feel free to drop me a line!
A big warm welcome from me and everyone here in Block 2! You made it! Whether you're off to Fukushima, Miyagi, Yamagata or Niigata, there's a lot of fun and excitement in store! Spanning coast to coast over four great prefectures, Block 2 has something for any and every one of your curiosities. In summer come and enjoy Sado Island's Earth Festival, where people from all over Japan gather to connect, enjoy nature and experience one in a lifetime performances by Kodo, a Japanese drumming (taiko) troupe renowned nationwide for their mastery of the drum and musical innovations. Come enjoy fireworks, beaches and mountain climbing. In fall see the varying landscape slowly change colour. Take this time to visit historical sites like Tsuruga Castle in Aizuwakamatsu, Fukushima; or the spectacular views from Miyagi prefecture's Matsushima. Don't hibernate just yet because Block 2 is also well known for its ski resorts (Hokkaido is OK too, I guess ;), whether you're in Yamagata and you want to shred through the snow monsters of Zao, or if you're in Niigata and want to test your speed down Japan's longest run, we'll host you and show you the ropes, don't be shy! In spring, come to southern Niigata for one of Japan's top three night viewing spots in Takada Park. Need other reasons to be excited? Well what about Yamagata's ancient town of Tendo, the home of shogi (Japanese chess) where you can be part of a life-sized chess match, paragliding in Niigata or Fukushima, visiting CAT ISLAND in Miyagi—that's right, an island of cute kitties. Top it all off with Japan's largest sake festival, created to rival Germany's own Oktoberfest. I'm a third year JET and I'm very excited to be representing Block 2 this year. If you want to know more about me or your destination, don't hesitate to contact me. I'd also welcome you to join our Block 2 Facebook page. I'm looking forward to meeting you! Enjoy yourself!
A tremendous "Welcome!" to Block 3: five amazing prefectures with every imaginable enjoyment option! Want to experience art and nature? Check out Kairakuen Garden, one of the top 3 most beautiful gardens in Japan, right in Ibaraki Prefecture. History is your passion?? Travel back in time while visiting Toshogu Shrine in Tochigi – final resting place of Tokugawa Ieyasu himself, and reputed to be the most extravagantly decorated shrine in all of Japan! Or, stroll through the streets of Koedo in Saitama, stopping briefly to enjoy candy shopping at Kashiya Yokocho, the Candy Street Alley, founded during the Meiji Period! Perhaps you need a moment to soak and relax? Take a dip in Kusatsu Onsen, one of the many famous hot springs in beautiful Gunma Prefecture. Then again, maybe you just need a little entertainment. Take a walk through Nagano Prefecture's Jigokudani Monkey Park in Yamanouchi and let the Macaques in the water show you how they unwind! These are just a few of the awesome experiences and adventures waiting in Block 3, (not to mention the friendly communities and excellent company!) Explore as many as you can, but don't keep it to yourself! Join the Block 3 Facebook Group, tell everyone about what you're doing, find fellow adventurers, and keep up with group events and goings-on. And of course, if you have any questions, or just want a random travel suggestion, feel free to contact me, your genki Block 3 Representative. You can reach me via email or message me through the Facebook group at any time. Enjoy Block 3!
Welcome to Block 4, the heart of Japan. We have so much to offer I couldn't name it all if I wanted to. Block 4 is Chiba, Tokyo, Kanagawa, Yamanashi and Shizuoka. As well as being the first place where you'll touch Japanese soil (at Narita airport), it's more than just places to see, it is a lively place where amazing people call home. Block 4 has anything you might want to discover and see. From the Metropolis of Tokyo to the majesty of Mt.Fuji, passing by the traditional city of Kamakura and the alps of Yamanashi, you can discover the futuristic life as well as spend a day, contemplating how people lived hundreds of years ago. Go have the best green tea of Japan in Shizuoka and go spend the evening at DisneyLand. Go enjoy the biggest Chinatown of Japan in Yokohama or enjoy the Ghibli museum in Tokyo before going to party all night at Ageha. Of course, I am only mentioning the big things here, it's up to you to discover the rest (I've been here a long time and barely just scratched the surface). We are also a growing community who need to stay in touch. I want to hear from you. I want to wake up the Godzilla in you. Let's march on Japan like Block 4 has never before. Let's leave our mark on the world (or at least have fun and discover more about Japan and ourselves trying to do so). Join our Block 4 facebook group and come say hi. You just need to ask a quick question or have an idea for an event? Drop me an email, I sure can help with that.
A big "YOUKOSO" and "WELCOME" to Block 5! Located in the geographic center of Japan, Block 5 boasts everything a JET could ask for… City lovers can enjoy nightlife, dancing, shopping, and silliness in Nagoya, the 3rd largest city in Japan. History buffs can explore the UNESCO World Heritage Site of Shirakawa-Go, a hidden village of thatched-roof houses, Inuyama Castle, the oldest castle tower in Japan, and Kanazawa's Kenroku-En, one of the top three garden's in Japan. Adventurers shouldn't miss Toyama's Tateyama Kurobe Alpine Road which boasts snow walls as high as 18 meters, the rugged scenery and famous terraced rice fields of Noto Peninsula, and endless skiing, hiking, and onsen'ing in Gifu. Festival goers can enjoy climbing atop and spinning on wooden poles in Furukawa, drinking unique, chunky, home-brewed sake for a week straight at Doburoku, dancing through the night at Gujo, watching world-renowned fireworks along the Nagara River, and experiencing the truly wacky "fertility" festival in Komaki. Be sure to join the Block 5 Facebook Group to connect with other JETS! Also, feel free to contact me via email or FB for help or just to say "Hi"!
On behalf of Block 6 and the large amounts of JETs within it, welcome to your new home and congratulations on receiving an amazing placement. No matter what your interests are, Block 6 has a huge variety of things for you to do and experience whilst on JET. Adventure seekers will find hiking, winter sports and some beautiful riding routes and those who prefer to just sit back and watch the world go by can do so from the top of mountains, on a boat or simply in a cafe or bar in Kyoto or Kobe. For a truly beautiful and unique experience head to Asago and hike up to the 'castle in the sky' then relax walking in yukata through Kinosaki, enjoying their many famous bath houses. Of course you could always choose to spend a few days riding around Lake Biwa the largest lake in Japan or step back in time and stroll the famously beautiful streets of Gion in search of maikos. With its convenient location in Kansai, Block 6 is truly an amazing place to be and you will quickly fall in love with your fantastic placement just like myself and the many JETs who came before me. If you have need help with anything from shopping to traveling please send me an email. Also feel free to join our Block 6 Facebook Group to connect with other JETs, learn about upcoming events and for Block news.
A hearty salutations from southern Kansai! With its four prefectures, Block 7 is a beautiful microcosm of Japan, a perfect balance between city and country life and all things in between. Revel in the glittering modernity of Osaka from the dazzling heights of Abeno Harukas, the tallest building in Japan. Indulge in a weekend of serene tranquility in Wakayama by staying overnight at a temple in Koyasan, a bastion of Japanese Buddhism. Feast on the freshest seafood from the shores of Mie whilst on the way to visit one of the holiest and most important sites in Shinto, Ise Grand Shrine. Stand in awe at the enormity of the bronze Buddha in Nara's Todaiji—and then attain enlightenment in the next life by crawling through a hole as big as the statue's nostril! All this and more awaits you here in Block 7. Need any more pointers? Never hesitate to drop me a line if you need any help! Be sure to join our community on Facebook too; adventures are best when shared and—trust me—this will be one of your best.
Hello fellow Shikoku-ites and welcome! I'm honored to represent you all as this year's Block 8 AJET Rep. Whether you're in Kochi, Tokushima, Ehime, or Kagawa our little island has everything you could ever want in a Japanese adventure. We have the exciting Yosakoi dance festival in Kochi, the breathtaking Naruto Whirlpools in Tokushima, the wonderfully old Dogo Onsen in Ehime, and the beautifully artistic Naoshima in Kagawa. No need to watch Miyazaki films while living here, just go for a stroll outside to experience all the magic that scenic Japan has to offer. No matter where you are on the island, there will be a mountain and/or a beach not too far away with many surfing, swimming, or hiking opportunities to lose yourself in. We have plenty of regional delicacies to enjoy here as well. Eat your fill of katsuo no tataki, mikan and yuzu treats, and the most delicious udon and ramen in all of Japan. Shikoku is also the birthplace of famous figures such as the noble Sakamoto Ryoma and Mitsubishi founder Iwasaki Yataro. The most notable cultural attraction on our island is the 88 temple pilgrimage which stretches through all four of our fantastic prefectures! Please contact me if you need help with anything at all. Also, please join our Facebook community to stay up to date with interprefectural events and happenings. I look forward to meeting you all during our time in Shikoku! よろしくお願いします!
ようこそ and welcome to Block 9. Whether you have been placed in Hiroshima, Okayama, Tottori, Shimane or Yamaguchi you are lucky. We have something for everyone. If history is your thing check out Matsue castle in Shimane, one of Japan's few remaining original castles. Or, head over to Kurashiki in Okayama and visit the Bikan Historic District. If it's the outdoors you seek you're in luck, being on the Seto Inland Sea affords you many opportunities for sea kayaking, hiking and cycling. Yamaguchi offers the largest limestone cave in Japan, and the Tottori sand dunes are not to be missed. Perhaps you like climbing mountains, then head over to Mt. Daisen, the highest in Western Japan. If the outdoors aren't to your liking check out the nightlife in Hiroshima City, the capital of the Chugoku region and home of Hiroshima style Okonomiyaki. Speaking of food, every prefecture has their claim to fame and none are to be missed. I highly recommend trying Peaches in Okayama, Fried (Age) Momiji Manju on Miyajima, and Puffer Fish (Fugu) in Yamaguchi. If professional sports are your thing then we have a plethora of teams to support. Hiroshima Carp and Hiroshima San Frecce are two of them. No matter what you are into, you have been selected for a region full of friendly people, great weather and lots of things to see and do. Join the Block 9 Facebook Group and I promise to keep you up to date with volunteer opportunities, social events, and much more! If you have any questions or comments feel free to email me.
Hello everyone and welcome to Northern Kyushu. Congratulations for being placed in some of the most amazing prefectures. I am very excited to be representing Block 10 (Fukuoka, Nagasaki, Oita and Saga) this year. Northern Kyushu provides a great balance between city and country life. I'm sure that over the time that you are here you will most certainly discover the many unique little treasures that each prefecture has to offer. For instance, Fukuoka's hustling and bustling nightlife and pop up restaurants known as Yatai, Nagasaki's rich Chinese and Dutch history and culture, Oita's world famous onsen culture and Saga's international hot air balloon festival and much much MUCH more. Northern Kyushu is full of friendly people, rich culture and has certainly got something to offer everyone. If you have any questions about anything at all please do not hesitate to email me. Also be sure to join the Block 10 Facebook page to keep updated about all the awesome events happening around the block.
Haisai(はいさい) Block 11. Southern Japan is best known for its spectacular natural beauty. Before stepping off the plane to Okinawa, you will notice the clear blue ocean views and beautiful white sanded beaches, great for beach enthusiasts year round. Okinawa has over 160 islands, world renowned for its coral reefs and bountiful sea creatures. Okinawa also offers a perfect mix of Japanese and Ryukyu culture. Kumamoto and Kagoshima are perfect for nature lovers. In Kumamoto, ride the cable car to the rim of Mount Aso, the world's largest active volcanic crater. Just remember to seek shelter from spewing ashes and cinders. Additionally, Kumamoto boasts one of Japan's most impressive castles. In Kagoshima, take a scenic hike in Yakushima, an UNESCO World Heritage Site or visit Sakurajima, an active volcano, towering above the city. After hiking, visit Ibusuki for a relaxing and truly remarkable spa experience. And let's not forget about Miyazaki. Miyazaki became famous after Hideo Higashikokubaru was elected as prefectural mayor. Its coastline is best for surfing or working on your tan. When not at the beach, visit Takachiho, famous for its stunning gorge and many historical sites. Block 11 is truly beautiful. No wonder many JETs don't want to leave. I'm a 1st year JET, living in Okinawa. Contact me anytime and remember to join the AJET Block 11 Facebook group. よろしくお願いします!