Playing the harp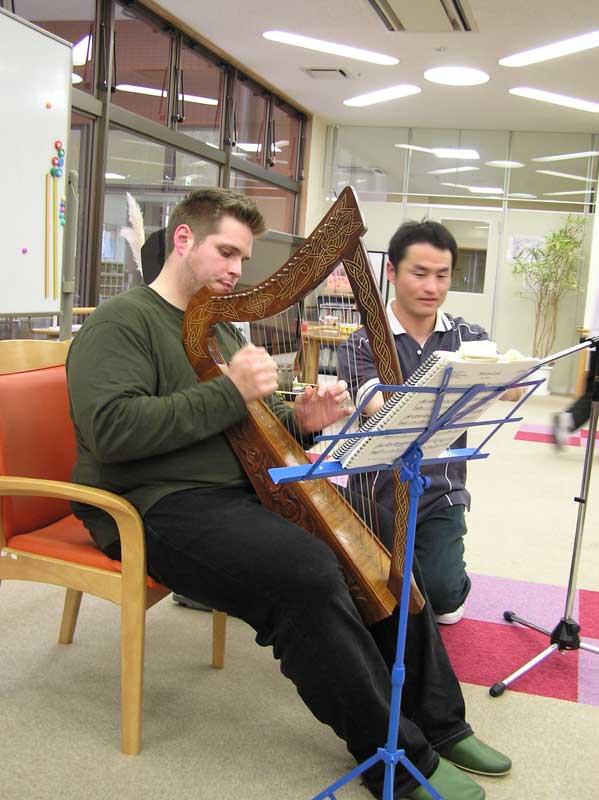 Daniel Patterson, 4th year JET from Takamatsu City, Kagawa Prefecture is a self-initiated volunteer harp player in senior day care centres. Whenever he has time on a Friday afternoon, he takes his harp to a senior day care centre and plays his music. At first the purpose was only to share music that the clients may never have heard before. However he quickly came to realise that the clients (who age from around 60 to 90 years old), had not only never heard a harp played before, often they had never seen a foreigner before either.

Daniel enjoys his visits immensely, saying "I always feel very welcome, and the clients are alert and interested and I enjoy asking questions or listening to the questions the staff ask me." Apparently his visits are the only time when the clients don't fall asleep!!
Volunteering is very important to Daniel, who has volunteered in Canada since a young age. "It's a good way to give back to your community, learn more, and make connections. I had free time, and I wanted to be able to share my music" he comments.
Daniel was lucky enough to have a friend who worked in a senior day center. He used this connection to start the project and as word got out, he was requested at different senior day centers all over the city.
To get in touch with Daniel or JET Effect for advice or more information, or to nominate a great project that deserves to be spotlighted in JET Effect, send an e-mail to and we will point you in the right direction.
---