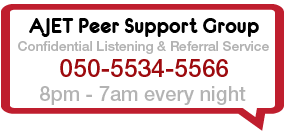 The AJET Peer Support Group (PSG), at 050-5534-5566 (or voice call (not IM) via Skype at AJETPSG), is a listening and referral service which operates on the principles of confidentiality and anonymity. We are open to all JET Programme participants every night of the year, from 8:00 pm to 7:00 am—a period when other services such as the Tokyo English Life Line (TELL) are not in service, and when Prefectural Advisors (PAs) are often unavailable.
Our volunteers are all current JET Programme participants. Whether you've had a bad day at work, need to see a doctor at 3:00 am or just want to speak English with someone, the volunteers at PSG are available to listen.
The Peer Support Group Coordinator is responsible for recruiting, training, and organising PSG's many volunteers, as well as liaising to the National Council and acting on behalf of the interests of PSG and its callers. The PSG Coordinator can be contacted anytime at ajetpsg@gmail.com.
For more information on counselling services for JETs, please look at our Counselling page.