Welcome to the AJET Publications For Sale page. Below, you'll find descriptions of all available National and Prefectural AJET Groups' publications. Either scroll down, or click on the title of your choice in the list below.
National AJET Publications
Planet Eigo – 2nd Edition (PE2)
Foxy Phonics (FP)
Fukushima (FuJET) Publications
Kanji Survival Guide (KSG)
Hokkaido AJET (HAJET) Publications
Veg Out (VEG)
Minimal Word Pair Trees (WPT)
The HAJET Eikaiwa Manual (NEM)
The Guerrilla Guide: Surviving Japanese Primary Schools (GG)
Want to order? Can't make it to the conferences? Look here for Shipping Information.
National AJET Publications
For ordering information or other questions, please contact publications@ajet.net or take a look at our order form.
Planet Eigo 2nd Edition
Your Ultimate Team‐teaching Companion (PE2) 

National AJET is pleased to announce the release of the newest edition of the popular teaching resource, Planet Eigo! Planet Eigo is a collection of lesson plans and teaching methods specifically fashioned for team-teaching in Japan. The editors have taken the great qualities from past publications and have added some invaluable elements: the 300-page book includes nearly 100 pages of detailed explanations on Team Teaching, Learning Theory, Instructional Planning and Elementary Schools. Planet Eigo goes beyond just collecting quality lesson plans by organizing them into five fundamental categories; Speaking, Listening, Writing, Reading and Elementary school. Activities also include an easy-to-read summary table, recommended target grade/age, and estimated time duration. The book is also completely bilingual, written in both Japanese and English.
Foxy Phonics
A Comprehensive Guide to Phonics for Beginners (FP) 
Katakana English driving you crazy? Let Foxy Phonics help! Studies show that learning phonics in the beginning stages of language instruction is important for proper language development. Phonics helps students learn the sounds of the English language, especially difficult vowel and consonant blends. Not only does teaching phonics help students to differentiate between sounds, it can also help strengthen their reading ability. Starting with the basic sounds, this book teaches phonics of English with over 100 worksheets, illustrations, phonics activities and tongue twisters. This book is sure to set katakana English in its place.
Shipping Information
An additional fee for shipping will be added to the above prices for all purchases other than Tokyo Orientation. For example, Planet Eigo will have an approximately 600 to 800 yen shipping fee plus bank transfer fees of approximately 525 yen.
For specific costs of shipping National AJET publications, please contact: resource@ajet.net
For more information about AJET Publications, please contact resource@ajet.net.
Please order by using our online form here…
cforms contact form by delicious:days
Fukushima (FuJET) Publications
For ordering information or other questions, please visit the the FuJET Store.
Kanji Survival Guide (KSG) ¥1,500 for members and non-members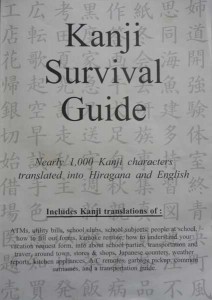 A first of its type, KSG takes real-life situations were kanji has proven to be an issue and translates them all while using real pictures. With nearly 1,000 Kanji characters translated into hiragana and English, it takes into account all different situations and home appliances. Kanji translations include ATMs, utility bills, school clubs, school subjects, people at school, how to fill out forms, karaoke remote, how to understand your vacation request form, info about school parties, transportation and travel, stores & shops, weather reports, kitchen appliances, garbage pickup, and more! It made its debut at the Kobe Re-contracting Conference 2004.
Hokkaido AJET (HAJET) Publications
For ordering information or other questions, please refer to www.hajet.org.
Veg Out (VEG) ¥1,500 (¥1,800)

A huge new guide for those who don't do Katsuo*! Completely re-written with all new illustrations! Everything you need to know as a vegetarian/vegan living in Japan. A brief history of vegetarianism in Japan, nutrition ideas for vegetarian diets, glossary of Japanese food terms, Japanese recipes, guide to eating out, shopping guide, accommodations guide, glossary of kanji and katakana, references and further reading recommendations – this guide has it all. Also includes 150 pages of restaurant recommendations throughout Japan. For maintaining your sanity, "Veg Out" also includes a brief explanation in Japanese of what you can and cannot eat – great to photocopy and bring to restaurants, grocery stores, enkais and etc.*Katsuo: Bonito fish that appears in many Japanese dishes and broths making it inedible for vegetarians and vegans.
Minimal Pair Word Trees (WPT) ¥500 (¥800)

For teaching pronunciation in Junior High School classes and beyond. Over 50 different minimal pair word trees to help your student's listening schools. A complete explanation of how to use the activities, a Japanese explanation, Japanese translations of all words used, indexed to widely used Junior High School textbooks. These worksheets are also great outside of the Junior High classroom.
The HAJET Eikaiwa Manual (NEM) ¥1,000 (¥1,300)

Packed with ideas and activities for adult eikaiwa (English conversation) classes. An updated version of the previous HAJET Eikaiwa manual, the new manual features new ideas, activities and lesson plans, an easy to read layout and a chapter of last minute lesson ideas – just add AET! This guide features lots of great activities for adult conversation classes, tried and tested by ALTs. It also features great advice and suggestions for those who are just starting out with their own eikaiwa classes. Fully indexed by activity and topic.
The Guerrilla Guide: Surviving Japanese Primary Schools (GG) ¥1,200 (¥1,500)

Never taught before in your life? Let alone in a foreign country? Never fear HAJET has the answer for you. The Guerrilla Guide was created by a former ALT for ALTs. With everything you'll ever REALLY need to know about the Japanese primary school system. Includes:

A 12-month, theme based curriculum
Informative Essays
Useful Japanese
Guidelines for international event planning
Games, Plays, Songs and Flashcards

AND IT'S ALL BILINGUAL!