Want to help JETs and the JET Programme?
Being a JET opens a door to life changing opportunities and experiences. If you've been helped by other JETs in the past and want to pay it forward, if you want to see the JET Programme become better than it is now, or, if you want to lend your voice on behalf of other JETs, we can help you do just that.
If you are looking for a way to give back, AJET is looking for you.
Looking for a Professional Challenge?
AJET provides a great opportunity for professional development.  As an association that works with businesses and other groups around the world, as well as maintaining and cultivating relationships with government agencies in Japan and abroad, AJET gives JETs a unique chance to prove that they have what it takes to be successful in a variety of business and corporate environments.
For those with a creative drive, AJET publishes a magazine read by thousands of people around the world, featuring dozens of contributors from various different backgrounds.
Whether you are looking for business networking opportunities, or to jump start a future career in education and gain a foothold in the world of ESL, AJET's domestic partnerships can put teaching resources in your hands that will make this happen.
Looking to serve JETs in your immediate area through social networking and large-scale events coordination?
AJET works very hard to create a community for the 4,000 or so JETs living and working in Japan. An integral part of this community is the AJET Block Representation system, which puts motivated and inspired JETs in charge of connecting JETs both locally and nationally.
This connection is key to the power we have to make positive change in our communities, and serve as future ambassadors between Japan and our home countries.
If you've been active in your prefecture making your area a more eventful place for JETs, we are looking for you!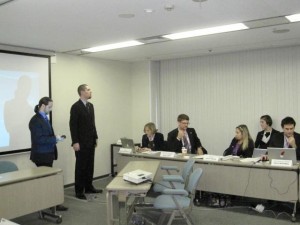 Think you have what it takes? 
AJET elections for the 2012-2013 JET year are here! Applicants should be current JETs who are reliable, have excellent time management skills, possess the professional skills necessary for the job, and are re-contracting for the 2012-2013 JET year.
Those wishing to run, should contact an Executive Officer of AJET, or the holder of your desired position, and submit a platform to our Election Committee at  by February 28th, 2012. Elections for the 2012-2013 AJET National Council will be held online from early March.
For further information and the election rules please click here.
---