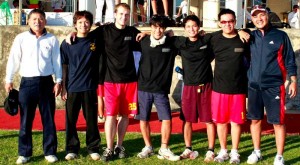 Hello, my name is Benjamin Martin and I am a fourth year ALT in Kumejima-cho, Okinawa. Before transferring to Kumejima, I spent three years on Kitadaito, a small island 320km east of Okinawa with a population of 550 people. Living on Kitadaito was a unique experience, with a combination of mainland Japanese and Okinawan culture. While I was there, I learned about Okinawan and Japanese Sumo, photography, Japanese, and participated in many cultural and social events. Now, on the other side of Okinawa Prefecture, I have been exploring new activities, and new ways to interact with my students.
While I was on Kitadaito, most of my evenings were taken up with various local activities, but I still had a lot of free time. One winter break I sprained my ankle playing badminton and had to stop all the sports I had been doing, which was the major form of entertainment out there. I had recently finished two short plays for my students to perform during the Cultural Festival, but had never attempted anything more. Still, the lack of activity sparked old ideas.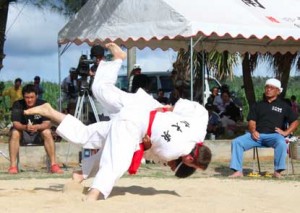 In university, I studied Japanese history and culture and had been especially drawn to two books by our teacher Gail Bernstein. She had written about her experiences in Japan and explored the history of the people around her, and thus the history of Japan. Yet, the thought of attempting nonfiction was daunting. I hit on two ideas. The first was writing a fictional story to promote interest in Japan. After all, I teach Japanese kids, but who is there to teach young westerners about Japan? To that end, I began a screenplay about a young western exchange student in Japan, a student who runs into modern versions of Japanese mythology. Soon after, the screenplay turned into a novel. My ankle healed, but I was hooked on writing.
My second idea sparked from another book I had read in school. Things Japanese was published in 1902 and was an early window into Japan for the West. Since I had read it, I had wanted to rewrite it for the modern world, yet it was daunting. I decided that if I were to modernize Things Japanese, perhaps I should choose a new medium as well. Every day I gained new insights and knowledge about Japan. I also enjoyed photography and the idea of a blog seemed a natural extension of my new hobby.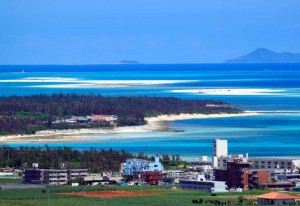 More Things Japanese quickly became an outlet to share my experiences and knowledge of Japan, and also promote international awareness. Working on MTJ has allowed me to connect with a broad community of people interested in Japan, but has also led to tighter local relationships. Participating in as many activities as possible, taking pictures, and blogging regularly help me connect with and learn about the local community while also providing those communities and events with needed PR to help support tourism. People now seek me out to tell me about events and, since they know I am curious, explain what is going on.
For others interested in sharing their experiences in Japan, I highly recommend starting a blog. It is an easy way to keep track of your experiences while also creating new opportunities to share with family, friends, and others. Writing also created new opportunities for me to interact with my students. I show them my websites and pictures, and occasionally write for story contests, or other class events. My story grew too. Eventually my students were able to read through an early copy I printed out through a self-publisher. What better way to get your students interested in reading than showing them a story inspired in part by them?
This fall my first novel is set to be published by Tuttle Publishing in America. I hope that young adults around the world enjoy it, and maybe even learn a little along the way. The JET Programme has been a wonderful experience and getting to share that experience with people around the world is amazing. I look forward to new experiences, new sharing, and more in my new community.
Want more information on Japan? Visit http://morethingsjapanese.com
---