St. Baldrick's Foundation shaving event: Miyagi, Japan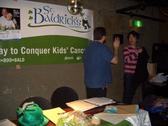 On March 21st Miyagi JETs hosted the first St. Baldrick's Foundation shaving event ever held in Japan. What is St. Baldrick's? St. Baldrick's is the world's largest volunteer-driven fundraising event for childhood cancer research. Volunteers shave their heads in solidarity of children with cancer, while requesting donations of support from the community, friends and family.

How was such an original and unique event brought to Japan? In searching for something to do in his community, Daniel Jones a Canadian ALT and Vice President of Miyagi AJET happened upon St. Baldrick's, and was inspired by the way it brought people together to support a great cause. Along with Kevin Plimley, an American ALT who would play a key role translating, setting up on the day of, and even raising the most money shaving his head, initial planning for the event began. Daniel and Kevin gave themselves three months to set up the event giving time to get the word out to the JET and local community and the chance to be interviewed by a local newspaper. After contacting St. Baldrick's, Daniel was impressed with how much support and guidance the organization offered." We were in frequent contact with an event coach, received an event planning binder and lots of material for our event." As it was the first time for a St. Baldrick's event to be held in Japan, Daniel and team took extra steps to ensure funds raised would stay in Japan, and acted as a liaison between St. Baldrick's and the Children's Cancer Association of Japan where funds raised were to be donated.
At a pub in Sendai City, celebrating Saint Patrick's Day at the same time, eleven shavees (including both Miyagi JETs and local Japanese community members) raised approximately 218,000 yen to donate to Children's Cancer Association of Japan. The shavees were each responsible for soliciting donations from school staff, friends, family and even donations made online through St. Baldrick's website.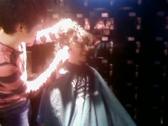 The event would not have been possible without the help of 35 volunteers of 7 different nationalities who passed out information on St. Baldrick's, registered shavees, collected money and acted as hosts to the event. Special thanks go out to Mr. Kyotaro Honda, a local barber who volunteered his razor and services the day of the event and to Tristan Graham, an American ALT, who helped with the finances.)
"I think our event promoted International exchange on various levels. This was the first ever St. Baldrick's event in Japan, so in that sense our event promoted exchange between volunteer beneficiaries, the people who supported the event from over seas, the local Japanese community and those who supported us by attending the event."
What kind of advice would you give a fellow JET who might be interested in setting up a similar event?
"I think you should go for it! You will get lots of support from St. Baldrick's. Try to start planning at least a few months in advance so you can scout a location, make the necessary arrangements and publicize your event. I also recommend trying to involve the local Japanese community as much as possible! Build those cultural bridges!"
D

o you have plans to hold the event again?
"Plans for the 2010 event are in the works now. The tentative date is March 20th. We are hoping to have an even bigger and better event this year! Are there any prefectures that would care to challenge us by holding their own event? Just drop us a line to let us know it's on! Because it's on!"
To contact Daniel for more information about this project, send an email to and we will put you in touch.
Also send JET Effect nominations to the same address.
St. Baldrick's Foundation shaving event: Miyagi, Japan
---