Eiwa-kaiwa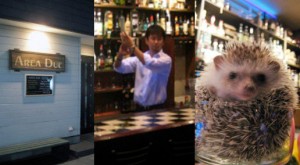 This month we will be hearing from Eric Liebman, a second year JET from Shimane prefecture. Eric and his JTE Kada-san recently started a nighttime Eiwa-kaiwa (英和会話).

'I felt it was an unmet demand' Eric comments, 'it provides an outlet for language and cultural exchange'.
Too often, it is easy for ALTs particularly, to get completely bogged down with the idea that we are here to help children. We are all committed to our school work and students, and feel this is the only cultural interaction that we are expected to provide. However, what makes us JETs and not private ALTs and CIRs is that we should be committed to internationalization on as many levels as possible. Eric's Eiwa-kaiwa is a perfect opportunity for that. 'The participants are JTEs, other co-workers who want to try English
or meet people, ALTs, CIRs, friends; anyone who has an interest in the penumbra between English and Japanese and the related cultures' Eric explains, 'we provide a different kind of conversation group and forum, to add some variety. Our event has no rules, no structure'. It sounds like Eric's event is very easy to organize. Eric's advice is 'just go ahead and plan something. Make sure that the interested parties are notified or invited. We use Facebook to get the word out.'
This is true of all events that are a connection between the Japanese and JET communities. Getting the word out to everyone who is interested is extremely important. When originally gauging interest in your event, ask people the most convenient way to contact them – many Japanese people would rather use their keiteis than their email address for example.
Lastly, a final word. Remember, as JETs we are here to promote internationalization and cultural interaction but this doesn't have to be all one way. As Eric says, he has one rule, 'just let's enjoy English and Japanese. I name my event 'eiwa-kaiwa' to emphasize that it's not a forum solely for the learning of English; it's a forum for any sort of exchange between English and Japanese language and culture.'
---