This month is a special month for National AJET. We are getting ready to take your survery results to the Winter Opinion Exchanges to the ministries in charge of the JET Programme. To explain in more detail the benefits of National AJET, and how the information that you provided on the surveys can really be the building blocks of change, JET Effect speaks to the National AJET Chair Caroline Ideus.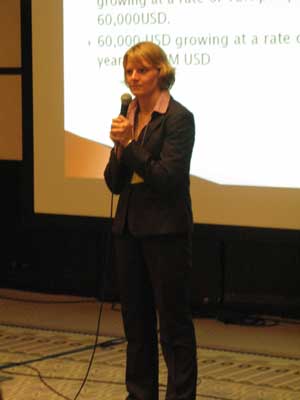 Caroline is a 4th year JET living in Masuda City in Shimane Prefecture. She is active in the local and JET community on all levels. Previously the Block 9 Representative, this is her 3rd term on National AJET so Chair was a natural step.
Even though Caroline is remarkably busy with her responsibilities as Chair, she is still able to get involved with her local community. Caroline tells us 'I am regularly involved in a symphonic band and boxing gym. Once or twice a month I attend the Masuda City Goodwill English Tour Guide group. [There] I help with translations from Japanese to English as well as assisting other members with their vocabulary about the local tourist destinations.'
Even with all the local projects that Caroline is involved in, she takes her responsibilities as Chair of National AJET very seriously. As Chair, she 'oversee[s] the projects and general day to day operations of National AJET. I also liaise between National AJET and CLAIR, to ensure that we are working in tandem with CLAIR's goals as well as keeping JET participants in mind.' Caroline it seems, has developed some serious time management skills!
As the Winter Opinion Exchange approaches in December, Caroline gives us an understanding of the role of National AJET. 'Prior to the Opinion Exchange, National AJET created surveys that were distributed to all JETs. This year, the topics are JET Programme Orientations, Technology in the Workplace, and Integration in the Workplace. These topics were chosen because [there were] concerns and issues that AJET heard often from current JET participants regarding too much overlap in the orientations or that they felt that they they were not being fully integrated into their working environment. AJET therefore made the decision to present a critical analysis and give suggestions on how to alleviate some of the concerns that JETs have.
During the OE, AJET will present the report findings and suggestions followed by a discussion between AJET and the JET Programme governing ministries. I believe the Opinion Exchanges are the biggest asset of National AJET, it is one of the few times that JET participants' opinions can be shared with the ministries. The report findings are not going to change the programme overnight, however AJET reports have brought small suggestions to the ministries that have resulted in big changes or adaptations. An example of the result of a previous AJET reports was the Returner's Conference that will take place in February 2011.'
Perhaps, as a new JET, you wonder how these reports topics can really help you on a basic level. Caroline explains a way that she has found to use the report findings in her daily teaching life. Caroline explains, 'after each OE, I make several copies of the Japanese version of the reports and distribute it to the Principal, Vice Principal, English teachers and my supervisor at every school. My collegues are often surprised as to what topics that are prevelant in the JET Community, such as being intergrated in the workplace, which may not have crossed their minds before reading the report.' By showing the reports to her collegues, Caroline has helped them consider the life of a JET. Perhaps this is a step forward towards real communication.
If you would be interested in reading or sharing the report with your collegues, you can find all the past topics at https://ajet.net/lang/en/category/downloads/national-ajet-reports/
As Caroline does not get paid anything extra for taking on all the responsibilities of National AJET Chair and getting involved in her local community, JET Effect asks her about her personal motivation. Caroline told us 'since I'm active in a variety of groups and projects, I have had a chance to interact with people from all walks of life ranging from chidlren to the elderly citizens. I came to Japan with no Japanese skills, as time has progressed my Japanese has improved and it has been very rewarding for me as well as my Japanese friends to show them that it is possible to step outside of your boundaries and succeed in a new environment.'
As to the AJET council '[it] has allowed me to learn about the JET Programme on a deeper level. My involvement has given me greater appreciation for the JET Programme and the work and energy that is put into the everyday operations of the programme.
I have also gained a lot of professional benefits, the biggest one being writing skills, especially electronic correspondence. Since National AJET is spread throughout Japan, we communicate via e-mail most of the time. Also, my first point of contact with organisations that are affiliated with National AJET is always e-mail, therefore[I have learned] to be concise and eloquent when composing e-mails.'
Finally, Caroline has some advice for anyone looking to join National AJET in the future. She says 'I encourage you to get to know your block representative and ask them questions about what they do on the council. Also think about your skills, talents and goals if you were to be a National AJET council member. The elections will be in early Spring, so please stay posted with the updates for the election platform submissions.'
---