Last October, on the castle grounds of the former Akita Castle, the famous crescent-moon bearing helmet of the ferocious Date Masamune, the 17th century Lord of Sendai, glinted in the sun. Then, a cricket bat cracked, and the Sendai Cricket Club, wearing the crescent-shaped mark of their city's founder on their jerseys, plowed forth to victory. Masamune would be proud to see the team's success as they continue to carry out the two aims he himself was dedicated to during his lifetime: improve international understanding…and DOMINATE the Tohoku region!

This friendly game of cricket between two neighboring prefectures was a follow-up grudge match against the reigning champions of last May's Tohoku Tournament, which brought mixed Japanese and JET teams from all around the Tohoku region together to enjoy one of the world's most international sports: cricket. The tournament is a credit to the success and expansion of one small idea that came about over drinks one night. In June of 2007, JETs Nigel Dixon and Chris Birchall, realizing that cricket was not well-known in Japan decided to share their love of the sport with their community. They established the Sendai Cricket club, a club open to anyone interested in learning the sport, and they began spreading the news by word of mouth. The team has not grown exponentially. They are careful to make sure that people know they are a 'Sendai' club, and not a JET-only club. Half of their members are Japanese, and the rest are an international mix of JETs and non-JETs. The fact that the club is rooted in the community is the key to the club's ongoing success; their organizational committee is made up of both JETs and Japanese members, ensuring that the club won't fade away as different JETs pass through. With a dedicated organizational group, they have been able to maintain a solid club with a professional feel and expand their membership. They currently have 30 regular members in addition to a number of casual members this year, and as their website touts, "So far 74 people from 10 countries have played for the Sendai Cricket Club."
Their success is contagious. They have inspired another thriving professional club in Akita, and have spread the passion for cricket throughout the Tohoku region, allowing for their first ever interprefectural event last May. Co-founder Nigel Dixon describes how the club has blossomed since its inception a year and a half ago, "With a solid membership base we could become a more professional organization and our marketing now includes a website, mailing list, parties, BBQs, business cards, road trips, tours, sight-seeing trips, interprefectural games and print advertising among others." Their very professional-looking website includes witty, occasionally teasing, but always encouraging game highlights, showing that the team has a great rapport with one another, and detailed statistics for every player, showing that they care.
The Sendai Cricket club seems to have successfully combined community fellowship, internationalization, and a whole lot of fun!
Please check out their homepage at www.sendaicricket.com. If you have any questions about how to organize a similar project or to get involved in the Sendai Cricket club, send them an e-mail at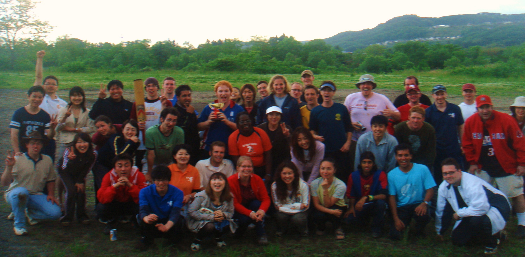 ---