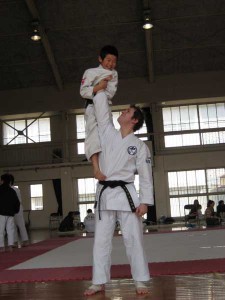 This month, JET Effect has spoken to Anthony Swain, a 5th year ALT from Saga City who has a passion for one particular aspect of Japanese culture.
We asked Anthony to tell us about his serious committment to karate. 'Since August 2006, I have been training and helping out at the"古賀英語道場" (Koga Eigo Dojo). The dojo was founded by Koga Takeo Sensei (1950-2008) and not only do people practice karate there, but there is also an English school and it is the host to the 地球市民の会 (Terra People Association). I practice/assist in teaching karate at the dojo and sometimes volunteer at the English events.'

Anthony has to be serious about his hobby, he tells us 'there is practice every day (apart from National holidays), there are tournaments a few times a year and we are also lucky to have a training camp with the head of our style once a year. The English school also has speech contests and drama festivals every year'. It is clear that Anthony has to devote a lot of his spare time to his dojo. Perhaps it would be easy to assume that Anthony has been involved in karate all his life to have already become a black belt, but he tells us differently. 'When I first arrived at my dojo, I had no Japanese ability and a white belt around my waist. Now, thanks to sticking at it, I am the black belt that is yelling at people in Japanese because their technique is incorrect (in the nicest way possible of course).'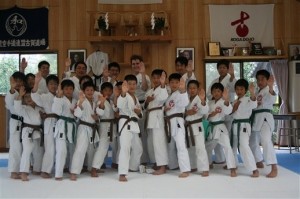 There are many of us who have a particular interest in an aspect of Japanese culture/life but are never sure of how to enquire about them. Anthony explains his process when he was a fresh first year. 'I went to the Saga Prefectural International Relations Association (SPIRA) and asked it they could find me some martial arts clubs in the area. After meeting Koga Sensei, I decided that this club was the way to go and I have been there ever since.'
For Anthony, the dojo has provided the opportunity to meet people from all walks of life, he tells us 'there are over 100 people involved regularly with the dojo. We have a huge age range from 5 year olds to people in their 60s. After a few years at the dojo, a Japanese co-worker of mine started training with me and this JET year another ALT started. Some of my high school students also attend classes as well. One high school student almost broke my ribs in a tournament recently!'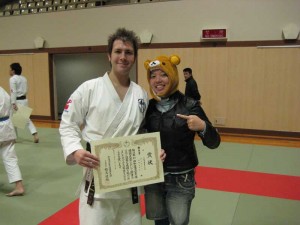 Anthony would like to offer some advice for any JETs looking to join their own dojo. 'Because we are in Japan, martial arts are in abundance. After talking to SPIRA, I had the option of 3 martial arts clubs within a week of arriving in Japan. Every prefecture should have an international relations association and I am sure that if you ask there then you will be able to find a club. Also, it is really important to give something a try and make an effort to keep at it. Find something you are interested in and don't give up even if it is difficult. it is my job as a senior to lead the greeting and recite out dojo motto, "強く、優しく、優しく、強く" (be strong, be kind, be kind, be strong). If you approach everything like this then ou will surely succeed in whatever you endeavor to do.'
If you would like to learn more about Anthony's experiences or the Koga Eigo Dojo, please check out the websites www.kogadojo.com and http://tpa.ne-i.net/
To get in touch with the team at JET Effect for advice or more information, or to nominate a great project that deserves to be spotlighted in JET Effect, send an e-mail to and we will point you in the right direction.
---