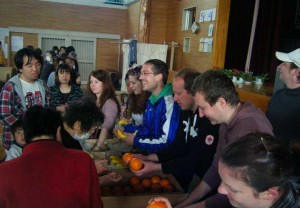 Paul Yoo is a third year JET living in Yurihonjo, Akita. He laughingly calls himself 'the 田舎 BABY'. He is the co-founder and director of volunteerAKITA, a grassroots charity organization that Akita JETs started up in response to the March 11th disaster in Tohoku.
"volunteerAKITA is a great mix of community members and ALTs in Akita prefecture. We are so fortunate to have such a great community up here in Akita! It's AWESOME!"
"We in Akita were so fortunate compared to other areas in Tohoku, so it only made sense to use our time and resources to offer and bring aid to the folks out east, which is just a quick day trip away."
The first big initiative launched by volunteerAKITA was The Fruit Tree Project. After their first trip to Kesennuma, Miyagi Prefecture, in early April of 2011 they discovered that there was an urgent need for fresh fruit in the emergency shelters. The people living in the shelters usually just received rice and miso soup for every meal.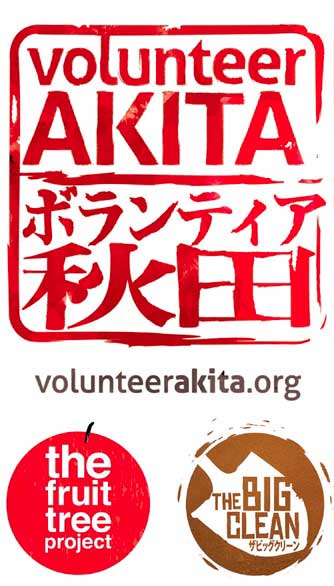 "To our surprise, there was still an abundance of fresh fruit within the Kesennuma city limits, but it wasn't getting to the people who needed it most! It was pretty frustrating to see this happening, but instead of pointing fingers and playing the blame game, we decided to take matters into our own hands and immediately started planning."
volunteerAKITA members drafted a proposal to send out to people and soon enough, donations started coming in. The first Fruit Tree trip was during Golden Week. Volunteers went down to Kesennuma with all the money they had collected (about $7,000) and provided fruit for over 1000 people per day, for 7 consecutive days.
"This trip was a HUGE success and really set the tone for The Fruit Tree Project and volunteerAKITA's goals as an organization."
For months, the fruit deliveries continued as much as funds and time would allow, and provided fruit to other stricken areas such as Rikuzentakata and Ishinomaki. At the conclusion of the project, volunteerAKITA had raised a total of ¥1,846,504 ($24,085) and delivered and 42,025 items of fruit. Most importantly, they did this with ZERO overhead.
"ALL the costs to make these trips happen came out of our own pockets, so the BIGGEST thanks to everyone who has supported and volunteered with us. It really wouldn't have happened without you! People from all over Japan have supported us through donations or helped us in the volunteer efforts. A BIG shout out to the JET community, which has really pulled through for us from the start. Thank you all so much! It means so much to us!"
Moving forward, the organization has been actively involved with an orphanage in the Sendai area and is currently collecting donations for a scholarship fund for a high school boy who wants to attend university.
"He's passed all of his entrance exams and has been accepted into a university to study childcare. The only thing holding him back right now is the financial support he needs to pay for tuition and a mandatory insurance fee. As an orphan, he will officially be on his own once he graduates from high school, so we are doing our best to raise these funds for him. Please check out all the details at our website, www.volunteerakita.org, and please feel free to contact us if you have any questions or are interested in donating to the fund."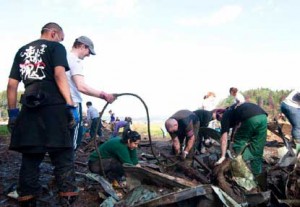 Getting involved in the efforts to help out in Tohoku has had a huge impact on Paul.
"For me, it was just frustrating being so close to the devastation, but not being able to help out. So as soon as we made solid contacts and got the green light to head in, things really took off from there. All in all, this country has been so good to me, so this is definitely the least I can do to give back to Japan and its people, but really on a broader level, it's all about the basics of living life, that we should ALWAYS show compassion and help those in need."
Paul's advice to other JETs interested in projects like his is to GET INVOLVED!
"There is still so much work to do in Tohoku, although the disaster doesn't necessarily show up on the news anymore. Getting involved in Japan can be intimidating with the whole language barrier, and sometimes getting things done can take longer than expected, BUT patience and persistence will take you far (in life in general too). If you have an idea, MAKE MOVES, DO WORK, and MAKE IT HAPPEN.
"If you have no idea where to start, shoot me an e-mail and I'll help you get started. There is an amazing network of foreigners in Japan doing AMAZING things for Tohoku right now, and it's been a great resource for volunteerAKITA from the start."
---