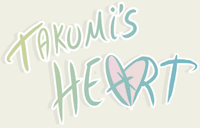 Takumi's Heart was born in March when my good friend, Takumi Tanaka, was unable to afford medical treatment for his heart condition after being beaten and expelled from his home. I set up a website (takumisheart.com) and did my best to raise enough money to pay for whatever care Takumi needed. There were fund raisers, YouTube videos, Twitter updates, a Facebook group with over 2000 members, national newspaper coverage, and most recently a mention on CNN's website. Takumi received letters, cards, and little gifts from all over the world which he treasured. I spent every weekend with him during those months. Sometimes he would be healthy enough for us to go out on the town to eat or get coffee, and other times he would be almost comatose for the entire weekend, or blind, or deaf, or both. We took each day as it came and did what needed to be done. In one sense, the effort was entirely successful. From that day in March until Takumi received his final heart surgery in Tokyo on June 12th, Takumi did not have to go without any procedures or medicine the doctors recommended for him. He had what he needed. But the damage that had been done by his multiple heart attacks early in the year was too severe.

The doctors told Takumi shortly after his heart surgery that they were unsuccessful in closing the holes in his heart. There was nothing else they could do. He was not  viable candidate for a heart transplant because of the condition of the surrounding arteries and veins. After briefly considering going to America for more treatment, Takumi informed me that he just wanted to stop. There would be no more treatments and Takumi wanted me to immediately stop publicly updating about his condition. This is the first public statement I have made about him since he made that decision shortly after getting his heart surgery.
Although Takumi was not able to recover the way we all wanted him to, I think we should all be proud of what was accomplished. Takumi was able to receive numerous surgeries, treatments, and medicine that improved his quality of life for many months. We were able to remove a great burden from his shoulders that allowed him to enjoy his time much more than he would have otherwise. We didn't fail him. It was a collaborative effort from the start. I received help from close friends and strangers alike in setting up Takumi's Heart, spreading the word, raising money, finding doctors, lawyers, and work for him. The amount of support we received was staggering.
So, I would like to take this chance, in my name and Takumi's, to humbly thank you all for everything that you've done for him. Just knowing that he had so much support out there brightened Takumi's spirits on those days when the great pressure he was under overwhelmed him. Let's take what we've learned in this process and help other people who are suffering alone. That was Takumi's wish.
---