Ashley Bissonnette and the Shamrock Folk Dance Club
What are the chances that Ashley, a Canadian JET with 8 years of formal and informal training in Irish dance would be sent to Ise a little town in Mie Prefecture, that enjoys an Irish Pub (Yushuu B) and the tradition of an annual Irish Parade?
In Ashley's own words, "This project chose me oddly enough. My goal is always to share my love of Irish dancing with others and perform for others as a way to give back to my community and repay the kindness everyone has shown me here." One night Ashley was in a bar, heard the music and felt like dancing a bit. This spontaneous dance debut set the Irish dance ball rolling. A home stay student's mother who knew someone who knew someone got Ashley in touch with Nishizeko-san who heads a folk dance class. Ashley reports, "I guess you could say my students found me," after she joined the folk dance class. Ashley's love and talents of teaching Irish Dance has expanded beyond the classroom as her students have opportunities to perform and share Irish dance with the broader community. Their main event is the Ise Irish Day Parade where they perform both during the parade and at a dance party in the evening. For the past two years Ashley's group, Shamrock Folk Dance Club has also been featured at the Wai Wai Gaya Gaya Fest in Tsu. Ashley performs solo at such events as the St-Patrick's Day party in Iga and at International festivals in Yokkaichi and Kuwana. She also helps out fellow JET CIRs by volunteering performances when called upon.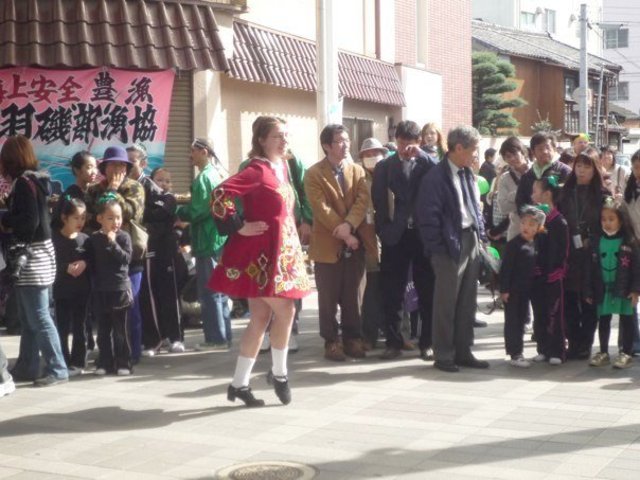 Ashley now holds an Irish Dance class once a month. Ashley describes attendance as casual, but with 10-15 students (mostly adult women), more recently a male student and sometimes a grandchild thrown in to the mix, the classes have become a real community gathering. "Lately I've been getting teachers at my own school interested in Irish dance, so who knows how many students I'll have in time?"
The local community has been very supportive to ensure the success of the Shamrock Folk Dance Club. Nishizeko-san organizes group performances and the community center room that is rented by Ashley and students pitching in just a couple hundred yen per person per class. Ashley could not have found a better niche in a community with Irish events and students who share her passion for dance, "My students all love folk dancing so they are quite good at dancing already; it's just a case of teaching new techniques and shapes." Ashley is going in to her third year as a Senior High School ALT, and admits she loves her school and her dance students and is not ready to think about leaving.
Some advice from Ashley on how to share Irish dance, or any other performance art with your community:
"I think teaching a simple Irish dance can be a great cap to a lesson about Ireland or St-Patrick's Day. Remember to start simple and that the main goal is to have fun! Irish dancing is meant to bring communities together so encourage all people in a school or community, not just kids or dance students to join. Perhaps you can have an exchange with your students you teach a jig, later they teach an Obon dance for instance. I of course can be contacted for dance instructions in Japanese or in English and youtube has many great videos on traditional and modern Irish dancing."
To contact Ashley for more information about this project, send an email to and we will put you in touch.
Also send JET Effect nominations to the same address.
---