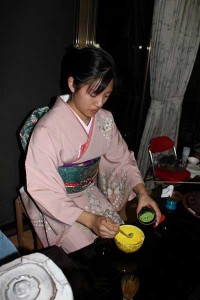 This month, JET Effect is talking to Tiffany Liang, a 2nd year CIR in Nobeoka CIty, Miyazaki prefecture. Tiffany is a JET with a wide variety of interests. 'I guess through having lots of different hobbies, I have been able to make contact with a lot of different members of the local community and this has had a huge impact on the way I do my job as CIR.'
When Tiffany came to Japan, she decided to combine her passions with her community involvement. 'I knew nobody, but I had several hobbies that I wanted to continue' Tiffany explains, 'since I had played badminton competitively back home in the UK, I joined several badminton clubs as soon as I arrived. Many of the friends that I made (through badminton) started attending my cooking classes and international exchange events'. By making the first step out into her community, Tiffany was able to inspire confidence in the people around her, encouraging them to join in her organised events.
Badminton wasn't the only activity that Tiffany was involved in. She tells us 'I also joined a weekly Gospel singing group, and we sing at events all around the prefecture…This has been a wonderful way to give back to the prefecture and the group also sang at my Christmas events'. Through mutual commitment, Tiffany can guarantee support for her own events.
It doesn't end there. 'Another hobby that I have is photography. My photos have been published in several magazines, including Asahi Camera (a national photography magazine). Through something as simple as this, I have been able to network with many local people who are
very involved in community development and the regeneration of the city/promoting tourism in the area, and have therefore been able to find out about new projects going on in the city where I can get involved.'
Finally, Tiffany got involved with a Japanese inspired activity. 'I took [it] up after I arrived in Nobeoka. I wanted to learn one of the traditional Japanese arts, so when the opportunity to learn Japanese tea ceremony came up, I didn't hesitate to take it!'
It is evident through Tiffany's experiences that to guarantee support for your events and activities, you must be prepared to make the effort to get involved in already established community activities. Tiffany was very active on her arrival in Japan, and the friends that
she has made have greatly contributed to her role as a CIR.
Tiffany has some advice for the JETs. 'Make the most of every opportunity you have to get involved in things going on in your community. Not only is it a great way to learn more about the local
area and Japanese culture, but you may find that it leads to many other opportunities opening up for you as well! I have constantly been amazed at just how many wonderful opportunities [have presented themselves because] I stepped out to take part in all the activities that I did.'
'Whether you rekindle your passion for an old hobby, or start up something completely new, I really recommend joining a club or finding out what activities are on offer in your region. I can guarantee it will be something you won't regret.'
---