Chip Boles uses his art skills to connect to his community.
To all of you JETs with creative talents!!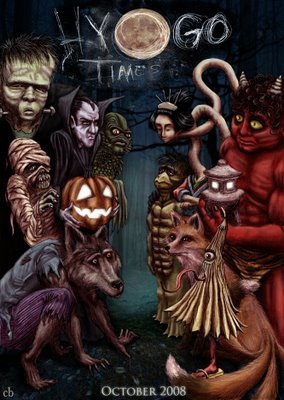 This month, we have a different kind of JET Effect. Instead of spotlighting a single event, we are spotlighting a JET who has used his artistic talents to engage in unique ways with his students and community. Chip Boles, an illustrator and ALT in Hyogo Prefecture, has used his talents in a variety of innovative ways. We hope that his accomplishments will give you some inspiring ideas for ways you can get involved in your own communities.

CONTRIBUTING TO THE JET COMMUNITY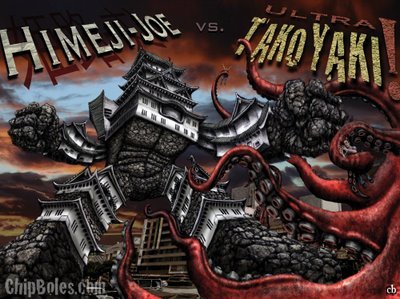 Chip has been designing the fantastic Hyogo Times covers since June 2008. His very professional designs are always relatable, often humorous, and appeal to both JETs and JTEs.
Chip will be the new National AJET artists beginning next May, creating design work for the council.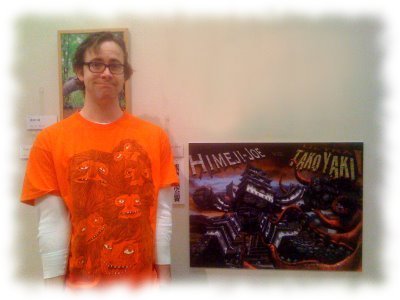 CONNECTING TO THE JAPANESE COMMUNITY
The "Himeji-Joe vs. Ultra Tako-Yaki" Hyogo Times Cover (above) won an award in the Hyogo Prefectural Art Competition, and allowed Chip to meet other artists in the area as well as the city government who did the awarding.
Chip has been getting involved in the community by planning art shows in his area. His work has allowed him to meet many local artists, and he hopes to start up some group shows with the Japanese artists he has gotten to know.
CONNECTING HIS STUDENTS WITH THE WORLD
For the past few years, Chip has helped his ESS students create illustrated storybooks in English for the school's culture festival. Last year, he took the project a step further: the students translated a story about a legendary samurai named Musashi that takes place at Himeji Castle.
The students practiced reading the story aloud and then took their beautifully illustrated book to the castle and read the story in English to Japanese and Western tourists alike. Over the course of several days, they would attract crowds as large as 30 people and handed out information sheets on Musashi and the castle which also included their e-mail addresses. Chip tells us that the students are still corresponding with their pen-pals from this project. Through his passion for art, Chip has been able to involve his students in connecting foreign and Japanese communities.
Check out Chip's work at www.chipboles.com
Send inquiries and nominations to
---