The Miss Mie Homecoming
The meeting happened randomly in the street. Ms Yamane (a keen volunteer with various international events and projects) walked up to Vanessa Abel, 3rd year CIR from Mie Prefecture, and asked her whether she would be interested in helping out with a volunteer project by using her language skills.

The project is called "The Miss Mie Homecoming". It all started in 1927, when Mr Gulick, who had fallen in love with Japan, organised an exchange of dolls between America and Japan in order to improve the two countries' relationship. During the Japanese Doll's Festival, many many children in America donated their pocket money to the cause, and adults made clothes for the dolls to wear. Then these "Blue-Eyed Dolls" were sent to Japan. They wore beautiful dresses and when you put them to sleep their eyes would close. Japanese children had never seen such dolls and were very surprised.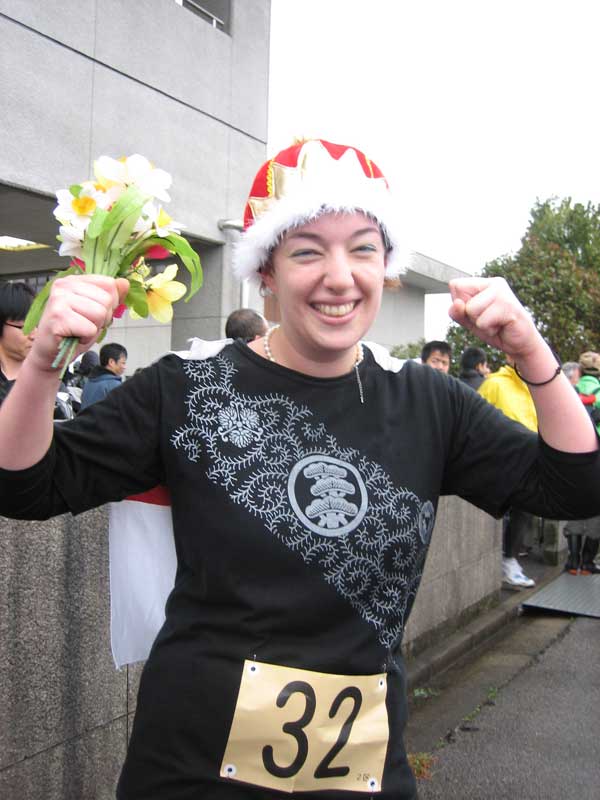 In return, for Christmas, Japanese children gave whatever money they could to fund the making of 58 traditional Japanese dolls to be sent to America. It was a massive success. However, a few years later, during the Second World War, many of the dolls were damaged, burned and thrown away. Fortunately, 44 of the Japanese Dolls are still living happily today. The Japanese doll representing Mie Prefecture is called Miss Mie. Her face was made from crushed oyster shells and her hair is actually real human hair. She has beautiful eyes that are made from the same material as false eyes and the kimono and obi belt around she wears were even made from an original kimono.
Miss Mie was kept safe for many years in Nebraska State's Lincoln University Museum. In the last few years, most of the 44 Japanese dolls have returned to Japan for reparation, and Miss Mie was one of the few remaining dolls until July 2009, when she finally came back to her home country. Vanessa says: "it was really exciting to finally meet Miss Mie, after working on the project for over 2 years."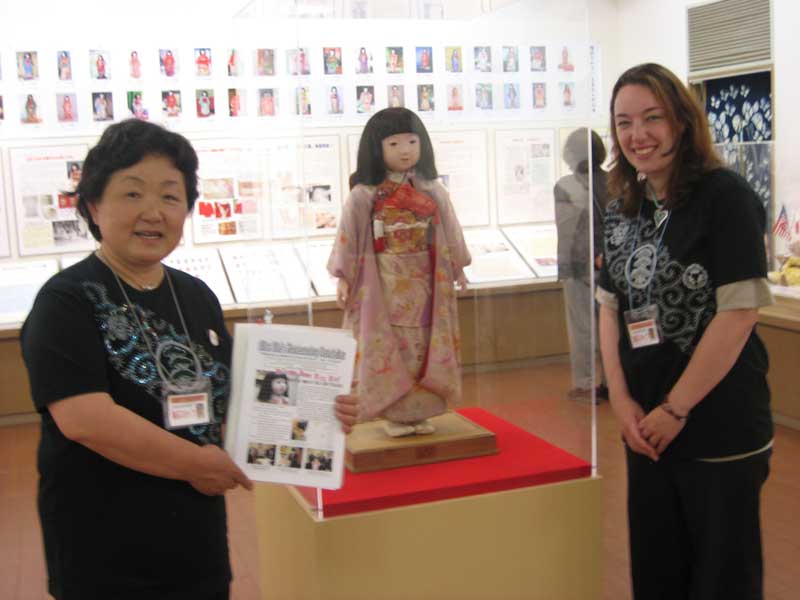 Miss Mie's story was made into booklets and all Elementary Students in the Prefecture were given these. She toured various areas in Mie Prefecture, meeting many children and she was also displayed in various museums and shopping centers before heading off to be restored to her former beauty.
The fundraising for the project is immense. T-Shirts and letter-writing sets are being sold, homemade Miss Mie badges are being crafted and at almost every event in the Prefecture, there is a stall where staff from the project volunteer their time to tell as many people as possible about Miss Mie.
Vanessa's job has been to translate monthly Newsletters, letters to and from Nebraska, the Picture-Story Show and letters of thanks etc. She says "The newsletters are full of interesting information, and through this project I have made many friends and connections from all over the world. It is a very worthwhile project to be involved in. Miss Mie's message of peace and friendship is as important now as it was 80 years ago."
Miss Mie has been repaired and she is currently touring Mie Prefecture until May 2010 and then she will head back to Nebraska State in June, for more international parties and awareness projects in America.
For more information about Miss Mie, please visit the Miss Mie Homecoming Webpage on http://www.zb.ztv.ne.jp/missmiehomecoming. To get in touch with Vanessa or JET Effect for advice or more information, or to nominate a great project that deserves to be spotlighted in JET Effect, send an e-mail to and we will point you in the right direction
---