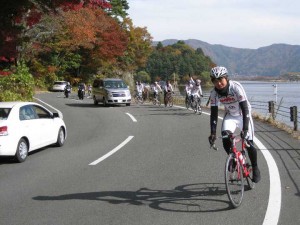 In January, JET Effect did something a little bit different by filling you in on Anthony's karate experiences. We would like to continue this project by bringing you a new way to get involved with your local community, brought to you by Thom Gysler.
Thom is a 1st year ALT from Fukui prefecture and he had a particular adventure in mind when he came to Japan. 'It was my dream to travel Japan by bicycle' Thom informs us. 'Taking trains or cars may be more convenient, but I feel you miss out on way too much.'
Thom is a member of the Balba Works cycling team and he trains and races in neighbouring town Tsuruga. 'I started training with the Balba Works team about [6] months ago and I had my first race on November 14th' Thom comments. 'It was the fifth stage of the Tour Du Japon (actual spelling). My next race will be in Hiroshima during March'.
You must be wondering how Thom managed to get so involved with the local cycling scene so early on in his JET career. It seems Thom used the initiative and went out on his own to explore. He explains 'a friend recommended a local bicycle shop in Tsuruga and I dropping in to see what was available. At first, the shopkeeper treated me as any other customer and walked me through a catalogue of bikes I could order in. While this was going on, I explained about my aspirations to see all of Japan by bike. The clerk suddenly slammed the catalogue shut and said in Japanese 'Tell you what, if you join my cycling team, I'll give you a deal on this bike.' The bike he was referring to was exceptionally more expensive than I had anticipated, but it was a deal I could not turn down!' Thom followed his passion and found like minded people. It was the start of something big.
'There are few foreign people involved in any of the cycling events. At the last race, there may have only been 6 foreign people out of 600 competitors. On a very informal level, this creates an opportunity for cultural exchange and international understanding through our common interest…Countless times I was able to swap stories of my adventures throughout Europe and North America with my Japanese counterparts and vice versa. Most of the team members have had no real interaction with people of different cultures, so this gives them a great chance to gain an international perspective' Thom explains. JET Effect really appreciates Thom's feelings on this. Presently we are very lucky to have JETs getting involved in cultural events across the country, but Thom shows us that there are still further avenues to explore. Thom's cycling team are possibly some of the people that JETs would be least likely to interact with – so it is great that Thom has managed to reach out to them. As he clearly points out, 'it may only be swapping stories or trading advice, but these situations are the first steps to breaking down stereotypes and creating international understanding.'
'In the future, I am hoping to start a cycling club for ALTs and perhaps coordinate with other prefectures' Thom continues, 'People do not realise how accessible [other prefectures] are by bicycle. I would love the opportunity to show other ALTs just how beautiful [my prefecture] is. '
Thom has some final advice for any of you with particular hobbies out there. 'I would urge anyone looking to meet people with similar hobbies to go and talk to local shops. Whether it is photography, basketball or autocross, it seems like even small towns have clubs that cater to almost anyone. Regardless of your Japanese, most shops seem to be more than willing to help. Joining a club or group is a great way to become involved in your community and to create networks.'
---