Akita's International Sumo Basho!
In Akita, the traditional Sumo pre-bout shiko dance took on a less-traditional groove as JET ALTs and other members of the foreign community took to the ring in the annual Akita International Sumo Basho. Blonde top knots shook under the force of high leg raises, traditionally performed to drive away evil spirits. The taiko drums rolled, the crowd cheered, and casting rather large shadows in the summer sun, members of the Akita City Sumo Federation looked on proudly (or was it bemusedly?) at their eager protégés

Every summer since 2005, Akita JETs have organized this international sumo event to raise money for educational incentives in the developing world. Last year they raised an amazing 125,000 yen for Room to Read, a non-profit organization that partners with communities in the developing world to build schools and libraries, and publish childrens' literature. The event, by nature, is a sure-fire success. It's philanthropic aims and entertaining approach to cultural exchange has even gotten the Academic & International Policy Division of the local Prefectural Government and the Akita Prefecture Sumo Federation involved.
The event begins in the morning with the sumo federation providing the day's wrestlers with some practical training. The wrestlers then get fitted into their mawashi (an 8 meter-long belt wrapped into the traditional t-backed thong). The outfitted wrestlers (called rikishi) are then briefed on the rules, photographed, and then loosened up before the match. The event is such a big hit that one year a local TV station did a whole special on the event and the daily life of the reigning yokozuna
—Then the sumo begins.—
Ataiko performance by a local group heralds the opening ceremony as the rikishi parade one by one into the ring. The bouts are carried out in a tournament style, with the day closing with the championship bout and the declaration of a new yokozuna.
This year will mark the event's fifth anniversary, and the organizers are hoping to continue expanding the involvement of the local Japanese community. This year's organizer and president of the Room to Read – Akita JET volunteer chapter, Sophie Danner, says they are offering children free admission and student discounts: "Of course students would love to see their ALTs in mawashi fighting it out in the ring!" This year too, audience members can vote on their favorite rikishi and get prizes if their pick wins. Sophie also mentioned an especially intriguing "new aspect currently in the works for this year…awomen's tournament!"
You can't go wrong with a foreigner sumo tournament. (Generally professional teachers and city workers foregoing clothes in exchange for uncomfortable pride-consuming thongs all in the name of cultural exchange?) If you are considering starting up a community involvement event, this is definitely one that will have everyone itching to get involved. For these of you who are, Ms. Danner was full of good advice for potential organizers.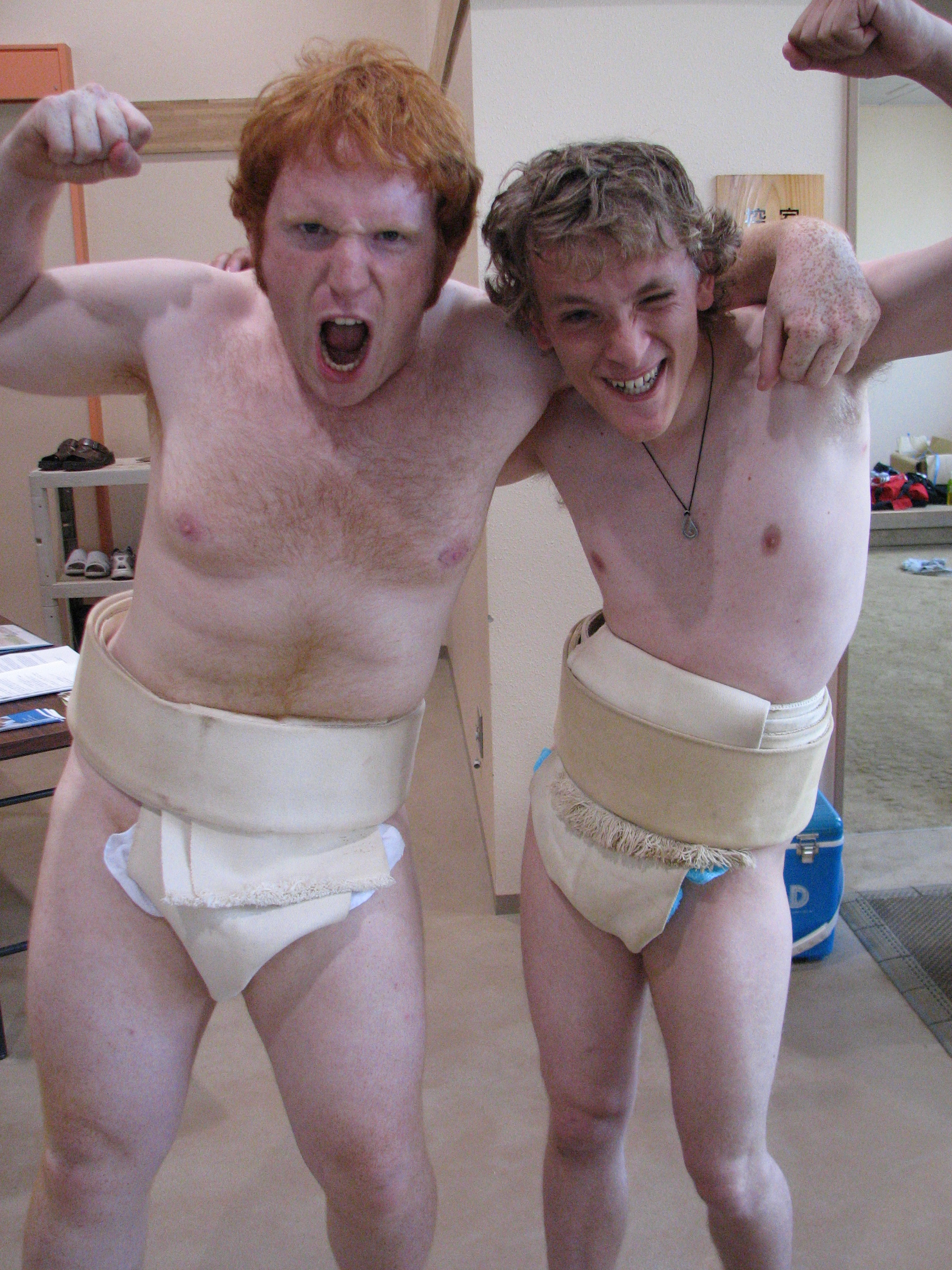 -Make sure to have open communication with the sumo association: they'll have rules and traditions that they will want you to work within. -Have something for everyone: Akita's tournament also has an international bake sale as well as the taiko performance and audience participation. -Promotion: promote in your schools and on local family-oriented event calendars. Invite JETs from other prefectures to join and bring fans.
I will leave you with these thoughts and images of sumo wrestlers charging through your head. I will also leave you with a recommendation: search for "gaijin sumo" on youtube. You will not be disappointed.
The JET Effect team wishes you the best of luck in your own projects. Have fun in your community!
For more information about Room to Read, visit www.roomtoread.org.To get in touch with Sophie or JET Effect for advice or info about the event, or to nominate a great project that deserves to be spotlighted in JET Effect, send an e-mail to and we will point you in the right direction.
---