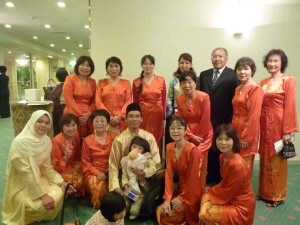 This month, JET Effect is talking to a very unique JET. Wan Ahmad Nazaruddin Bin Wan Azizan, currently living in Fukiage-cho in Kagoshima Prefecture, is the only Malaysian JET currently on the JET Programme. JET Effect believes that Wan's experience on the JET Programme can offer JETs a very different perspective on the role of the programme as a whole. We have featured many JETs from some of the well represented countries such as America, the UK, Canada and Australia and the activities that they have shared have been reproduced across Japan. Although Wan is representing his country alone, he has been involved in many brilliant cultural exchange events.
Wan explains '[The} exchange between Fukiage-cho and Malaysia started about 20 years ago. The first Malaysian CIR was employed in 2001. At that point, people in Fukiage-cho established the Fukiage-Malaysia Friendship Association. Seiko Shimozono is the president, and there are 40 members of the FMFA including me.' The established group have organised many activities together to promote Malaysian culture. 'FMFA is active in a Malaysian cooking class, the Malaysian Bizaar, and the Farewell Exchange Part for Malaysian students at the Kagoshima university.' FMFA work together to support the Malaysian students not only through Elementary to Senior High School, but even after when they are at university level. It is often easy for JETs to focus particularly on their students whilst they are teaching them. It is great to be reminded by Wan and the FMFA that by creating a community for the students in Kagoshima, they are able to support them throughout the system, making great friends along the way!
Wan goes on the explain another of his goals with the FMFA.'One of the main projects we work on is to deepen the exchange on the Hioki City-Malaysia Goodwill Ambassador Exchange Programme.I travel around the city with the Goodwill Ambassador to meet the Hioki citizens and help them become comfortable in their homestay and study tour. Now, 115 people from Hoiki City have been sent to Malaysia as Goodwill Ambassadors.' Although Wan has his daily work to continue, he works outside his hours to improve the relationship between Japan and Malaysia. His work is inspiring for all of us to continue to promote cultural understanding, even after the last bell of the day has rung.
It could perhaps sound like a lot of Wan's time is spent with students from his own country, however he states 'almost all of our projects under FMFA are by the Japanese members and the Malaysian students. In addition, my co-workers at the Hioki City Hall are also members of the FMFA.' By encouraging Japanese people to join the Friendship
Association, they are able to continuously expose them to Malaysian culture without having to round up members every time there is an event. As Wan explains, 'Malaysia is no longer a far away country for Hioki City.'
JET Effect was interested in Wan's experiences as the only Malaysian JET. We asked him what had surprised him since coming to Japan. 'Since I come from a country that is still developing, it was a surprise to me to see how developed Japan is, especially the public transport! I was also surprised that the living cost was 3 times higher compared to Malaysia. Of course, it is also very cold here.'
Finally, we asked for Wan to give some advice to JETs that are working on cultural exchange between Japan and a country that they are not accustomed with. Wan says 'many JETs, especially CIRs, don't bring their traditional costumes to Japan. Traditional costume is a good start to introducing your country. Secondly, learn your local community dialect! By trying to speak Japanese in the same way, you will find it easier to become part of the community, and to bring it closer together.'
To get in touch with the team at JET Effect for advice or more information, or to nominate a great project that deserves to be spotlighted in JET Effect, send an e-mail to and we will point you in the right direction.
---