Her legal name is Carol Ann Rhoads. However, now she introduces herself as Haruko Rhoads. She lives in Tondabayashi, Osaka, which she proudly describes as "home of the Perfect Liberty Fireworks Display, the biggest of Japan's displays boasting 120,000 rockets fired, and Jinaimachi, which is a preserved Edo-style neighborhood known for being a religious sanctuary as well as home to a few successful sake breweries." She is in her fifth and last year on JET.
Haruko loves the history of Japan, and the fact that you can experience it no more than a train or bus ride away. She has been to 22 of 47 prefectures, extending her feet as far northeast as Niigata and as far west as Nagasaki. Haruko's current focus is the Edo Period (1603-1868) and the Bakumatsu Period, which ended the Edo Period and continued into the Meiji Restoration. She focuses mostly on revolutionary samurai such as Ryoma Sakamoto, and key characters from the domains of Tosa (Kochi), Choshu (Yamaguchi), and Satsuma (Nagasaki). "I share my enthusiasm by going to these places, learning the history, and then finally reporting on what I learned. I did have to strengthen my Japanese proficiency in order to get the information I needed from Japanese descriptions at museums."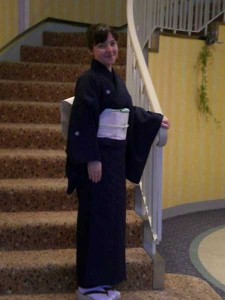 Haruko's reports started as notes on her Facebook page. She also told her students about her travels, and they started gaining an interest in the places she went and the pictures that she took. "This year I started 'Ms. Rhoads's Travel Diary'. Each diary entry is a page long on B4 paper posted in the English room, and gives highlights of my trip in English, including a couple of pictures. My students have learned about swordsmithing in Nara, a fun day in Kyoto wearing kimono, historical landmarks in Fushimi, Kyoto, climbing Mt. Konpira in Kagawa Prefecture, and of many historical landmarks in Kochi Prefecture. I hope that this lights that spark that the students may pounce on later in their life. While presently my introductions are just a paper on a wall written up in a strange language, I believe it takes just that, just a little push on one domino to get the others going. It takes just one child to look at the wall and be totally inspired."
Haruko realized that she could only understand Japanese culture up to a certain point from museums. She couldn't literally put her hands on most things relating to the past, nor could she see with her own eyes what life really must have been like. So she decided to take up traditional arts that have survived into the modern day, starting with the Japanese sword. This February, she joined a small iaido group in Osaka; the next step into a more interactive approach to culture, history, and how present customs derived from the customs of old. "Japan's culture evolved around the sword, so it was only natural to go in that direction. Ever since then, completely new doors have opened up. I had direct access that gave me more perspective on how Japanese live their daily lives." It was further exposure for the members of her group to learn about a foreigner who really loved their country and could get into meaningful conversations about history, culture, and the sword, Haruko also exposed a relatively unknown martial art with a 500-year history overseas as well as to other Japanese here in Japan, showing her audience what samurai of old might have looked like through pictures and video of iaido at practices, demonstrations, festivals, and competitions.
History, culture, and swords is only one aspect of what Haruko does. The second traditional art she practices is kimono kitsuke (kimono dressing). She took a 10-day course, and now she wears kimono with confidence. "I share this skill mostly with Japanese friends and coworkers as well as students. I think Japanese people are interested in kimono kitsuke, but are not quite sure how to get involved or think it is too difficult. I have dressed my friends in kimono and we go out for a walk through historical Kyoto or to go watch fireworks or enjoy small festivals. I have also inspired Japanese members of my iaido group to take kitsuke classes, so that they can wear kimono themselves and go out with me for a day. I also dress in kimono for formal events such as my school's formal drinking parties and my students' graduation ceremony."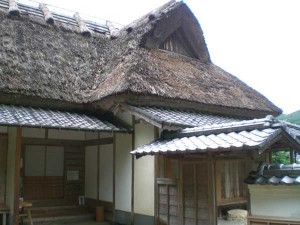 Through her pictures, video, diaries, and reports, Haruko hopes to generate more understanding about this mysterious but extremely interesting country to others. Her scope does not stop with those living overseas, but with coworkers and students at school, and with the community, both with the members of her iaido group and the population that sees her perform or sees her wearing traditional clothing.
To JETs, Haruko says, "Traveling is so easy in Japan. Even in just a weekend, there is so much ground that could be covered. I normally travel by night bus or by overnight ferry. They are the cheapest forms of transportation here and you can spend an extra whole day at your destination rather than wasting the waking hours traveling and being exhausted when you get there. Big trips can be quite expensive, especially if you are like me and only stay at Japanese Inns. If you're not picky, Japanese websites such as jalan.net and Rakuten provide excellent deals on hotel fares."
"As far as getting into martial arts, for me it was who I knew that got me introduced. Your fellow JETs may have ways to get you connected, while other venues such as work and community have theirs. There is really a lot of opportunity for martial arts around your community or your prefecture. The point is all you have to do is ask, and that is just what I did. It changed my life."
"For those interested in kimono kitsuke, I got involved through a local kimono shop. After I bought an obi from them, they asked me if I could put it on, and that's when they introduced me to a class that they offer to their customers. I encourage JETs to at least try it so that you can share this with your coworkers and build better relations with them.
"Finally, knowing the Japanese language is a big part of what I do. With this skill under my belt, I have learned more things than I have ever read from any English text. The stories that come straight from those who live here are priceless. I can say that the Japanese language was not something I learned overnight. I started it with 4 years of college and 8 years of off and on self-study after that, with 5 of those years here in Japan. It's hard, but it is so worth it if you manage to get a workable communication going. The bond between you and your community will become stronger should you choose to meet the challenge."
Haruko is making the most, and then some, of her experience here in Japan, and pursuing a life-long dream. Here's hoping you will be inspired by her example, and take the plunge yourself!
---