AJET Games Touch Rugby Tournament
This month, JET Effect is talking to Jeff Oloizia, a Tokushima 3rd year ALT who helps run one of the most well established JET events of the year. Jeff is in charge of the annual Eishinsha Cup AJET Games Touch Rugby Tournament which held its 7th annual tournament this year.
The tournament takes place each year at the Shikoku Saburo no Sato in Mima City, Tokushima-ken. 'It is a wonderful venue' Jeff comments, 'located by the Yoshino River, it has picturesque mountains overlooking the fields and enough cabins and tent spaces to accomodate over 200 participants.'


The tournament isn't only for those who have played rugby before. Jeff confirms 'the competition is open to any and all teams interested…coming from the States, I never really had any exposure to touch rugby before coming over to Japan, but I decided to give it a try and had a blast.'
The tournament is a perfect opportunity to make lots of new friends from abroad and Japan alike. The teams are made up of 'roughly 70%…of English teachers from visiting countries and the rest Japanese. Many teams have both Japanese and foreign players, and many of the JET teams choose to fill out their rosters with friends and community members of their respective prefectures. On a local level, the tournament has done a lot to bring together the Japanese and foreign residents in Tokushima. Several years ago, the Shikoku University players largely kept to themselves at the tournament. Now, with increased practices and clinics throughout the year with Tokushima AJET, it's like we are one big team.'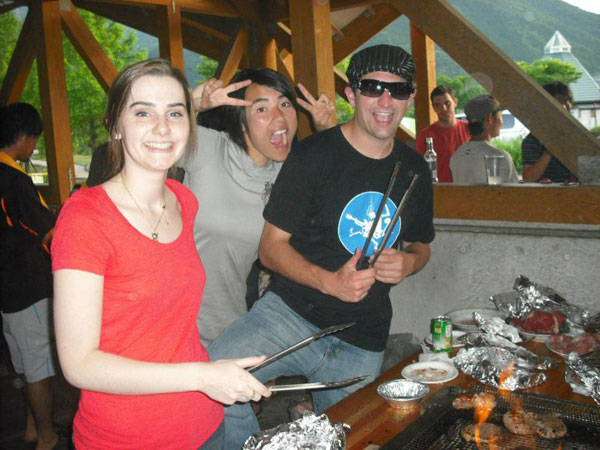 Such a big and well established event may seem daunting to those of you out there wanting to start a sporting event. But don't be discouraged. As Jeff says 'I was lucky enough that the event was already so well-organised and publicised before I got here, but thinking that two people were able to take a simple idea seven years ago, and turn it into what it is now really amazes me. Now, the organisation of the tournament is shared by the Tokushima Touch Association (http:/www.tokutouch.com/), Tokushima AJET, and Shikoku University. We are even supported by many sponsers. To anyone who may have their own idea or who sees the space or need in their community for a unique event, I say go for it. We're blessed to be placed in a situation where, in many cases, we really can make a difference in our community and are surrounded by people who genuinely want to help us. It can be an awful lot of hard work, but in my case I'd say it was worth it one hundred times over.'
Check out the home page for the tournament at http:/www.tokersajet.com/rugby/ or join your local AJET chapter to start or join a team!
---