Here are the full interviews with our 4 published authors from the December issue of Connect magazine. There were so many interesting things that we couldn't include in the magazine, so we hope you enjoy reading everything they had to say! Stay tuned to Connect's corner of AJET.net for more online features!
David Namisato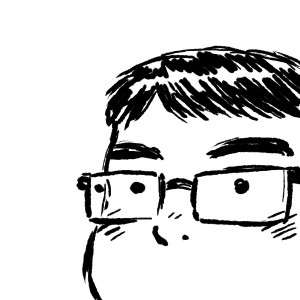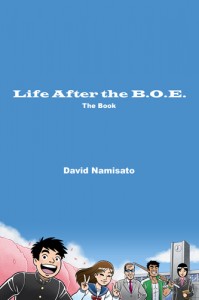 First we talked to David Namisato, former Aomori CIR and author of the often cited ALT life comic Life at the BOE, which was recently published as a full book. David's comics are instantly relatable to anyone who's spent time as a JET or English teacher in Japan.
Where and when were you a JET? What was your experience like?
I was a CIR in Ajigasawa-machi, Aomori-ken. It was an interesting experience since the town used its CIRs to develop and teach English language courses for its elementary schools, and it wasn't an assistant position either; I was the English teacher at half of the town's schools.
Life After the BOE has become something of a JET Program staple. How did it all get started? When did you decide to start sharing it?
I had been doing comics for the JETAA Toronto Newsletter for a few months when the then brand new editor, Gloria Ma, suggested that I give the comic a name and identity, and that's how the 'Comic' at the end of the newsletter became 'Life After the B.O.E.'
I can't remember when I decided to start posting things on the web—I think it was 2008—I figured it would be good to share the comic with JETs and ex-JETs everywhere.
How did you go from an online comic, to publishing, to selling your book in the Japanese Canadian Culture Center? Anything you'd do differently? Any advice for people looking to publish their work?
Initially, I had no intention of putting a book together, but in the summer of 2011, fellow fomer JET, Lynn Miyauchi who works at the Consulate General of Japan in Seattle, mentioned that she would like to have a book to give to friends for Christmas, so I figured I'd try to put something together by the fall.
As for how "Life After the B.O.E. the Book" went on sale at the Japanese Canadian Cultural Centre's gift shop, during the book's launch party in February 2012, James Heron, Executive Director of the Japanese Canadian Cultural Centre offered to put me in contact with the people managing the gift shop.
What would I do differently? I'd probably have done a much louder cover, but that may have to do more with who I am now…As for advice? Be prepared to spend a lot of time and money promoting your book—finishing the book and getting it published is probably more a half-way point than the finish line.
Has the book been pretty successful for you? Have you considered a follow-up?
I'd say the book has been a minor success in terms of sales, that's not to say that the comics aren't a success—I'm still surprised by the traffic the Life After the B.O.E. website gets even though it's been over for quite a while. As for a follow up, it's been ten years since I finished JET, so there won't be a follow up, just the occasional "Nijikai | Life After the B.O.E." comic on the website.
Who are your comic artist inspirations?
There are dozens, but my top four are Takehiko Inoue (Slam Dunk, Vagabond), Masami Kurumada (Saint Seiya), Fujiko Fujio (Doraemon), and Hayao Miyazaki (his storyboards for his Ghibli movies)
How much of Life After the BOE would you say is inspired by true events?
It's all inspired by true events – the comics are things I felt or observations I made while I was on JET, or they are amalgams of stories heard from friends and colleagues.
What's your process for drawing like? What tools do you use? What's on your desk? Do you listen to any music or background noise while you work?
I usually doodle something quickly on to a piece of paper, scan it and then I finish things off in Photoshop or Clip Studio. I use a Wacom Cintiq 12WX so that I can draw right on the screen. I occasionally listen to stand-up comedy while I work, but most of the time I prefer silence.
What's your favorite memory from your time on JET?
I have a lot of great memories from JET, but one that sticks out in particular was my encounter with monkeys.
It was winter, and I had just finished teaching my class at a small school (five students total) in a hamlet up in the mountains. Monkeys had come out of the woods to scavenge for food (during the summer they would regularly steal the vegetables that the students planted in the school garden), but were now rampaging in the school parking lot since they were probably angry that there wasn't much food on school property since it was winter. Because of this rampage, I couldn't get back to my car—at least not by myself. The school caretaker was a local of the hamlet and she was not afraid of the monkeys, and the monkeys seemed to realize she was someone they couldn't push around, so they moved out of her way as she escorted me back to my car. As I got in to my car, at the edge of school property where the woods began, I saw a monkey about my size looking straight at me. I'm guessing it was the boss monkey making sure that his family was safe.
Why did you decide to wrap up the comic in July 2011? Any plans to do more 'Nijikai' comics like "Washlet"?
After five years, it was time to wrap things up since JET, too, is also a five year adventure. If I hear something funny or quirky from a current or recent JET, I might make that in to a 'Nijikai' comic.
What's next for you? What are you working on now?
I'm working on a few things, but nothing I can really talk about now. I'll be posting things on Twitter, Tumblr, and Facebook in the new year once things are ready.
Lauren Frederick, AKA L.E. Fred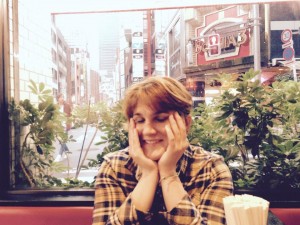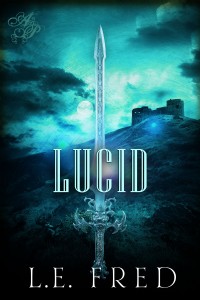 Lauren Frederick, who writes under the pen name L.E. Fred, is a brand new JET in Hiroshima. In the summer before she came to Japan, she published her inaugural novel, a young adult fiction called Lucid.
You're a first-year JET. How are you finding the JET life so far? What do you like best about it?
Yep, let my newbie aura shine brightly! So far, so good. I'm surprisingly enjoying my inaka placement more than I thought, which is a good thing. The best part of being in JET and in Japan is having the opportunity to be a part of a Japanese community. I recently joined the local taiko group, and we had a BBQ this past weekend. Feeling like I belong in a place much different than my hometown is a very special and exciting thing!
Many English teachers in Japan write about their experiences while they're here. Do you have a blog?
I do have a blog, though I'm pretty horrible with updating it. Still, I put some stuff on it—and hopefully will have more to come—if anyone would like to check it out!
How was the publishing experience? What would you change if you could start over again?
The publishing experience is a lot more involved than I originally thought. I mean, I already wrote my novel, so the hard work was done, right? Wrong. Querying for agents and publishing houses was a really daunting, stressful process that diminished my ego to a tiny speck. Thankfully, I got on with a small publishing company who all but held my hand through the actual publishing process. It still took a good 6 months from singing my contract to the actual publication, but having someone show me each step was a huge help. The one thing I would change about publishing is to just have more patience. I'm glad things worked out they way they did this time, but for the next time, I may hold off on singing that contract and have a look at the other options.
Your book released June 24th, right as you were preparing to move to Japan and start JET. How crazy did that get for you?
Things got really crazy! Publishing so close to JET was, not really a mistake, but something I would not want to relive. One thing an author has to do before and after publishing is market, promote, and spread the word about your book. That alone is apparently comparable to having a newborn (real analogy that a fellow author told me!) Add that to packing, applying for visas, and making doctors appointments, and you have a pretty stressful situation. It was all doable, and clearly it didn't kill me, but I would not recommend doing it to anyone. One accomplishment at a time, folks!
You write and talk about young adult fiction, with the protagonists of Lucid all in their teens. What are some 'adult' authors and works that have inspired you?
I'm a huge sci-fi fan, so Douglas Adams is my literary inspiration. I can reread the Hitchhiker's series indefinitely. I love how quirky and diverse Adams' characters are, and his satirical tone definitely inspired my own writing style. I also love classic fantasy, such as The Lord of the Rings and Treasure Island is one of my all-time favorite stories.
How has your academic background in psychology informed your fiction writing? What sort of theories and themes from psychology do you work into your fiction?
Lucid definitely plays around a lot with dream psychology. Though I can't really cite any specific theories that played a major role in my story, the idea of lucid dreaming is the major focus. Lucid dreaming has been a human interest for centuries, and it is pretty amazing to think about how one can be in control of his/her dream. Imagine the possibilities! The biggest influence on my novel, however, is a little less academic. For as long as I can remember, I have suffered from sleep paralysis, which is when you sort of wake up in a half-dream like state but unable to move. It's usually accompanied by a dream about something or someone trying to attack the sleeper. It can be a really scary experience if you're not expecting it to happen, but I decided to take that fear and explore the concept of being trapped in a dream. Before I knew it, I had the first rough draft of Lucid done!
You're currently working on the sequel to Lucid. What's it like balancing full-time teaching with work on the novel?
Full-time teaching, what's that? In all seriousness, the ALT schedule is perfect for working on my sequel. I work at a low-academic, agriculture school, so my team-teaching schedule is pretty light. Even when I'm not writing, I can draft out novel ideas on my free periods to work on after school. Thankfully, I've had two years experience with being on a teacher's schedule, so I remain pretty disciplined even after work. Sometimes the lesson planning gets in the way, but overall I am very grateful for my light teaching schedule, as I know my teaching schedule in America will yield a lot less free time!
Now that you're living in Japan, any chance that Devon and the gang will wind up in The Land of the Rising Sun? Are there any inspirations from Japan that might find it's way into your work, such as mythology or creatures?
Actually, Devon and his friends end up in a very Japanese-esque village whose acceptance or rejection of our heroes will play a major role in the story. Don't want to give a lot away just yet, but there will be some new characters very reminiscent of Heian-period nobles who will remain major characters for the rest of the story.
Do you read any Japanese authors? What sort of Japanese media do you like?
I'm usually not one for non-fiction, but it seems those I like are by Japanese authors. One novel I read in college that stuck with me is Silence by Endo Shuzaku. It takes place during the 17th century and is about the missionary persecutions that took place in Japan. Another, more recent title I read over the summer was Obasan by Japanese-Canadian author Joy Kogawa, which is about the Japanese internment camps in Canada during WWII. Both narratives spoke to me and gripped me in a way other non-fiction authors can't. I also have to give Murasaki Shikibu credit for writing what is arguably the first novel. The Tale of Genji is a must-read for any Japanese studies scholar, and if you can get past the difficult language, it really is a gripping tale. As for Japanese media, I have been getting into J-rock recently. I really like FLOW and One OK Rock!
What's your 'writing area' like? Do you listen to music or have any rituals for writing?
My writing area scares neat-freaks. Most of my apartment is clean, but my work space/kotatsu is a mess. I am one of those writers who thrives in chaos, I'm afraid. There are notebooks with hastily scribbled timelines, character sketches, and thousands of pens scattered about. I do enjoy listening to music, but it has to be something that won't tempt me to have a karaoke session and forget about writing. Also, the hot tea has to be constantly flowing or the words simply won't come!
It's November. Have you been participating in NaNoWriMo?
Of course! I actually kind of freaked out about not finishing while I'm in Japan and finished my 50k last week. I doubt I'll be able to do that again next year, but we'll see! Half of it was for Lucid's sequel, and the other is for a story that takes place in my hometown, New Orleans. There are some Japanese themes going on in that story, as well!
Aside from fiction writing, do you have any other hobbies?
I am currently regretting my decision to not bring my guitar with me to Japan. My ukulele is a decent stand-in, though, so I play my uke and write songs in my spare time. I also enjoy MMA and practice on my tatami, making the practice that much more authentic! Hoping to get a car soon so I can drive to the nearest gym with a pool and reclaim that hobby, as well. Fingers crossed!
Any last advice for aspiring authors looking to publish?
Keep your chin up! Publishing is the hardest part of writing, and it will test you in ways you didn't know you could be tested! Just remember why you wrote in the first place, and if the passion is there, it will all work out :) Can't wait to read what you have to offer. The world needs your story!
Lars Martinson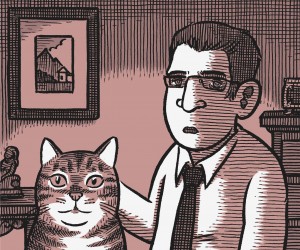 After finishing his time on JET, Lars Martinson studied calligraphy under the Monbukagakusho scholarship in Fukuoka. To convey the experience of living in a foreign country, he began work on Tonoharu. With Part One and Two complete, Lars hopes to end the trilogy strong.
It's a question that a lot of ALTs are asked at one point or another, so we'll ask. Why Japan? What brought you to the country in the first place?
I was introduced to Japan in middle school via anime and manga. This is pretty common gateway for young people nowadays, but I came of age in the early 90s, before the internet provided the easy access that it does today. I remember watching third generation video tapes of anime taped off of Japanese TV, calling long distance from Minnesota to California to order Japanese comics, and having my parents drive me to a library halfway across town to see a monthly anime screening put on by university students. Jumping through all these hoops was a hassle, but the inaccessibility added to the mystique of what were (at the time) pretty obscure art forms.
Tell us about when you first started working on Tonoharu. How did the idea come about?
Prior to JET I had lived in Thailand and Norway for a year apiece. As JET participants well know, it's really hard to convey what its like to live abroad is to people back home. It's sort of like trying to describe a dream to someone. It's fascinating to the dreamer because they experienced it firsthand, but its usually not all that interesting to hear about.
Since my first trip abroad I always I wanted to draw a comic about it. My hope was that I could better relate the experience in words and pictures than I could with just words alone. I put it off for years because I felt that my art wasn't good enough to do it justice, but around 2003 I felt I finally felt ready to tackle it. This coincided with my first stint on JET, and so Tonoharu was born.
Some have accused Tonoharu as being pessimistic. Do you feel it reflects a negative image of Japan?
That certainly wasn't my intention. I love Japan; I've spent half of my adult life here and at this point consider it a second home. I would hope that the hundreds of meticulous crosshatched illustrations depicting rural Japan contained within Tonoharu suggest my affection for the place.
That said, I have heard from more than a few people that they find the tone of the book to be bleak. This leads me to believe that in my attempts distill down and dramatize the JET experience, I too strongly emphasized its negative aspects. If I had to do it over again I would probably try to strike a better balance.
Japanese in the book is presented without translation. What made you decide to go with full Japanese writing over romanized or translated text? Are you worried people will miss parts of the story?
Originally I planned to include translations throughout. But as I finished the first book and looked over my use of Japanese, I realized that most of it was incidental. There was only one brief section in the book that I felt understanding the Japanese provided useful exposition, and even there it wasn't strictly necessary. Since the book is trying to convey what it's like to move to a place where you can't understand what people around you are saying, I ultimately decided that leaving the Japanese untranslated was the way to go.
People have speculated about what 'the deal' is with Dan, suggesting everything from Asperger's to depression to just plain social awkwardness. Is there any weight to any of those theories? What made you decide to go with a character like Dan as your protagonist?
Conventional narratives favor proactive, ambitious protagonists. With Tonoharu, I wanted to feature a character that ran counter to this archetype. Casting an introvert as the protagonist presents its own unique set of challenges. They are harder to flesh out since their conflicts tend to be internal, and they don't push the story forward in the way conventional protagonists do. I'll let each individual reader decide if I answered these challenges and created a compelling story. But I'm happy to say, at least, that it seems to work for some readers. I've received e-mails from people who really connected with the character.
That said, Dan is divisive. Some people (perhaps the same people you referenced who wonder what Dan's "deal" is) seem frustrated with him and his choices. This is fine of course; I wouldn't expect him to resonate with everyone. But some express frustration that borders on the hostile, and I have to admit this baffles me a bit. Everyone has their own strengths and weaknesses; things they are and aren't capable of due to biology, disposition, and circumstance. To me, getting mad at Dan because he has difficulty connecting with those around him would be like getting mad at someone in a wheelchair because they can't do jumping jacks.
Are there any interesting background details or funny signs that you'd like to point out for people who may not have noticed them?
One of my favorite background details is a sign advertising a kindergarten that includes the text "Think Gentle Guts". This is a sign I'd pass everyday on my way to school. If you read the Japanese next to it makes sense, but without that context is sounds like a Dadaist poem or something.
How's Part Three coming along? Are you still on track?
I continue to chip away at the third and final book. I anticipate to release it in the second half of 2016. That probably sounds like a ways off, but since I've been working on Tonoharu for more than a decade, it feels great that the end is finally in sight.
Josh Shelton, author and creator of FictionArcade.com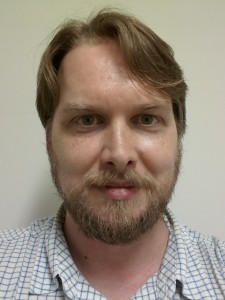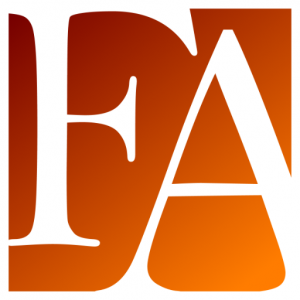 Josh Shelton loves short stories, and wanted to give authors a chance to connect with readers while also being rewarded for quality work. Thus, Fiction Arcade was born as a digital marketplace catering exclusively to the short form.
Where and when were you on JET? What was your experience like?
I was an ALT in Ibaraki Prefecture from 2000 to 2003. The experience was life-changing. Quite literally so. If I hadn't gone on JET, I wouldn't have my current career as a translator. I also wouldn't have met my wife. And that means I wouldn't have my three wonderful kids.
How did the idea for Fiction Arcade come around? What inspired you to 'bring back the short story'?
I've always loved the short story as a literary form, but you just can't make any money as a short story writer. People don't read magazines like they used to, which means magazines can't afford to buy as much fiction. And for the fiction the magazines do buy, they don't pay much.
But people are becoming increasingly comfortable with reading online. More importantly, people are becoming increasingly comfortable with purchasing electronic versions of books instead of paper copies. So, if people will buy novels in electronic form, why wouldn't they also buy shorter fiction?
There are a lot of great online fiction websites already out there, but they either give away their stories for free or are geared towards selling novel-length fiction. There just isn't much that is tailored to selling short fiction. So I had the idea to fill that niche with Fiction Arcade.
What were some challenges starting up the site?
Before we could attract readers to come and buy stories, we needed to have stories to sell. To get stories to sell, we needed authors. But authors aren't going to put their stories up on a website that doesn't have any traffic.
It's kind of like that old conundrum where you need experience in order to get a job, but you need a job in order to get experience.
How did you get the word out? How did you attract writers?
Since we didn't have an established reader base to offer authors, we hit upon the idea of monthly contests. Between May and December we're awarding a total of $9,000 to our top-selling authors.
The idea is to encourage authors to upload their stories and then spread the word amongst their readers and social networks. Thus, even if sales are slow initially, even a modest number of sales can win an author one of the monthly prizes. And the more authors tell people about the site, the heavier the traffic and sales become.
What's your own writing background like? Do you write any fiction?
I studied journalism and professional writing at university, but the only writing I do now is as a translator. Well, that's not entirely true. I do have a couple of stories up on Fiction Arcade under pseudonyms, but they're embarrassingly amateur compared to some of the stories which people have uploaded.
What's your favorite stuff to read? Do you have a favorite short story?
I'm a huge sci-fi & fantasy geek. I love H.P. Lovecraft and all things Cthulhu. I also love Ray Bradbury's stuff.
I can't say that I have a favorite short story, but "Skeleton" by Bradbury would be up there. In the story a hypochondriac becomes convinced that his own skeleton is trying to harm him, so he wants to get it removed. Everyone thinks he's nuts except for one creepy 'specialist' who agrees to help.
What advice would you give to aspiring authors looking to submit to Fiction Arcade?
Find at least one person who a) likes to read and b) can provide you with constructive, brutally honest feedback.
Also, don't assume that all you have to do is write a great story. If people don't know about it, how can it sell? Don't be shy about letting people on Facebook, Twitter and anywhere else know that you have stories for sale. Even online giants like Amazon don't have the resources to trumpet every new author's book. It's up to the authors themselves to be their own loudest spokesperson.
October's contest theme was horror, and November's was mainstream. What's the contest going to be for December?
December is the grand finale to our contest. In each genre the top-selling author for that month will be awarded $250, and the three highest sellers overall from May to December will be awarded $1,750, $1,250 and $750 respectively. For more information, check out the FAQ on the Fiction Arcade website .
---