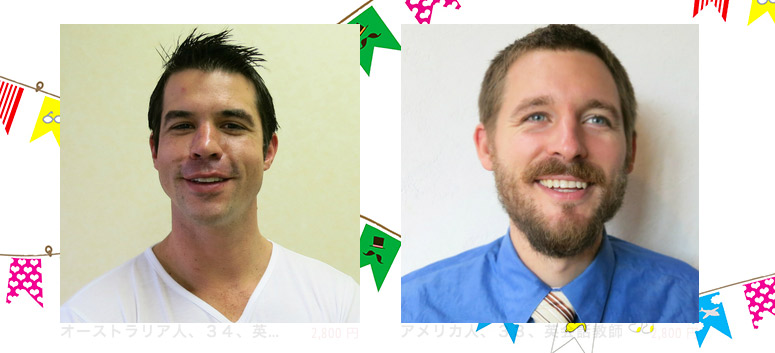 We were lucky to be able to chat with the team behind Gaikokujin Rental about how the service came to be, their philosophy about networking in Japan, and their response to the criticisms online. You can read more about their service in Connect's Culture section Spotlight this month.
Connect — What is Gaikokujin Rental?
GR — Gaikokujin Rental (or GR) is an online platform; foreigners post their services in the form of a profile, and Japanese "order" or request those services via standard online shopping cart technology. Gaikokujin Rental forwards the orders to the foreigners and new business deals are born.
Connect — What does it do?
GR — Gaikokujin Rental is two pronged: It is useful for foreigners who want to expand their client network in Japan, by helping them connect directly with paying customers. It is also useful for Japanese, who can access foreigners directly via Gaikokujin Rental.
Connect — Who are the founders?
GR — Two long-time friends, one Australian and one American. Both of whom are long term residents of Japan: Austin and Adams. Now, there are over 20 foreigners using the site to promote themselves and make business connections.
Connect — Why did they found Gaikokujin Rental?
GR — We think peer-to-peer business in Japan has always been BIG. Big for both client and contractor, yet it seems every year the market is not adequately accessed, and unfortunately for many, the public space for self-promotion is in, we feel, terminal decline. We want to bridge that widening gap. GR serves as an alternative meeting space to the usual foreigner/Japanese social venues which exist in Japan today.
Connect — What kind of clients does the company attract?
GR — Foreigners and Japanese of all ages and makes—we are on the internet, after all. Have a look at our website, www.gaikokujin-rental.jp. There you can see foreigners, both abroad and in Japan, promoting themselves. Among them there are, to name just a few: university professors, tour guides, freelancers, graduate students, bartenders, actors and actresses, illustrators, models, DJ's, and language teachers.
Connect — What kind of reaction has the company received?
GR — We have had an overwhelmingly positive response via social media, interviews conducted online and new people setting up their profile. A common misconception so far, however, has been that Gaikokujin Rental is "renting" people. In fact, we are not. As mentioned above, what we are doing is striving to turn the disconnected peer-to-peer business (foreign and Japanese) into uber-connectivity!
Connect — What does the future hold for you?
GR — Nothing is completely sustainable of course, even the sun will eventually burn out and we will all be gone. Before that happens, though, to us growth means lots of little success stories the length of Japan, new networks forged, smiles, and satisfied customers. We plan to make this happen by staying online as a professional go-between for that all-important first connection between Japanese and foreigners. For Japanese, we hope to attract anyone and everyone, including businesses, who seek to employ foreigners in one way or another.
For foreigners, we hope to attract everyone from young transplants to long-timers to even those residing abroad who perhaps offer services via the Internet, and in general anyone here who seeks odd-jobs, freelance stuff, part-time work, one-off arrangements, and basically new money and customers. That's teachers of all sorts, musicians, caregivers, models, IT people, photographers, artisans, entertainers, self-proclaimed ambassadors and more. So, the sky is the limit!
---