By Verity Townsend (Hyogo)
We hope you enjoyed our exploration of 60s and 70s Japanese cinema in the April issue. Here are our hand-picked recommendations of films that are stand-out examples of the genres discussed in the main article.
Recommendations:
Pale Flower (Masahiro Shinoda, 1964)
A noirish thriller in which Ryo Ikebe's middle-aged yakuza falls for a wealthy, thrill seeking girl played by Mariko Kaga


Pale Flower poster – taken from Criterion Reflections blog
This stylishly filmed and emotionally complex work features compelling scenes of hanafuda card gambling, shadowy alleyways and late night car racing all complimented by a staccato experimental score. It is a prime example of Japanese New Wave noir, and also includes a fantastic symbolism-filled dream sequence. Pale Flower will have you analysing the characters and their motives long after the final frame.
Watch the trailer here.
This film is part of the Criterion/Masters of Cinema releases.
Red Angel (Yasuzo Masumura, 1966)
An unsentimental look into the life of a Japanese nurse on the front line in the last days of World War 2


Red Angel promotional shot- taken from Kadokawa Pictures' Official site
This film pulls no punches in its frank depiction of atrocities committed in times of war, as well as the gruesome amputations without anesthetic that become necessary due to the field hospital's lack of supplies. At the heart of the film is a doomed, yet touching love story between a morphine addicted doctor (Shinsuke Ashida) and a young nurse (Masumura regular Ayako Wakao). Subtly acted, this film pushed boundaries at the time of its release and remains an essential watch today.
See the trailer here
The DVD is available with English subtitles here.
Cruel Story of Youth (Nagisa Oshima, 1960)
Oshima's dark examining of the disenfranchisement of post-war teenagers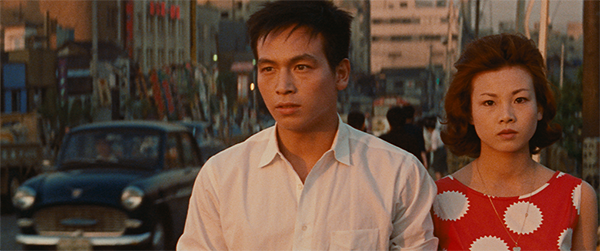 Cruel Story of Youth- screenshot from Cannes Film Festival
Cruel Story of Youth can be seen as extension of earlier taiyo-zoku films dealing with the dissatisfaction and aimlessness of the immediate postwar youth. This early film by Nagisa Oshima is a pretty gritty take on the topic- both his main characters are self-absorbed and struggle fruitlessly to gain a sense of independence any way they can. An exploratory look at the social concerns and political environment of early 60s Japan.
Watch the trailer here.
The Naked Island (Kaneto Shindo, 1960)
An almost dialogue-less film depicting the daily struggle of a family living on a small island with hard soil and no fresh water


The Naked Island- screenshot taken from Japan Property Central
Kaneto Shindo was an excellent director and screenwriter, who lived until the aged of 100, and whose name can consequently be found on various diverse productions from the 60s and 70s. In The Naked Island, Shindo presents a humanist view of a struggling family eking out an existence almost untouched by modern life. The director uses many long shots to show how the environment dominates the characters' lives- there is hardly any verbal interaction between them as they have no energy to spare on talking.
View an except of the film here and the film is available as part of the Masters of Cinema collection.
Black Lizard (Kinji Fukasaku, 1968)
A fun and stylish adaptation of Edogawa Ranpo's detective story, starring female impersonator Akihiro Miwa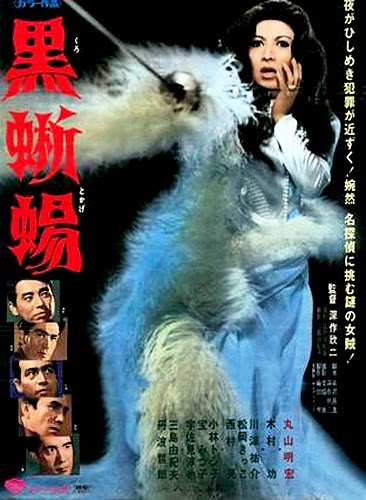 Black Lizard poster- taken from Cinephile Dreams blog
This is the film to watch if you are looking for a very 60s psychedelic detective thriller. Both flashy yet intellectual, the screenplay adaption was written by the novelist Yukio Mishima- he also has a brief cameo as a human statue towards the end. A hugely entertaining and unusual piece of cinema.
Sadly, this film is currently out of print but it sometimes crops up on YouTube.
You can watch the trailer here.
Female Convict Scorpion: Jailhouse 41 (Shunya Ito, 1972)
A prime example Toei's violent exploitation films- this second film in the series sees the prisoners on the run- through a series of surreal, brutal, dark and at times dream-like scenes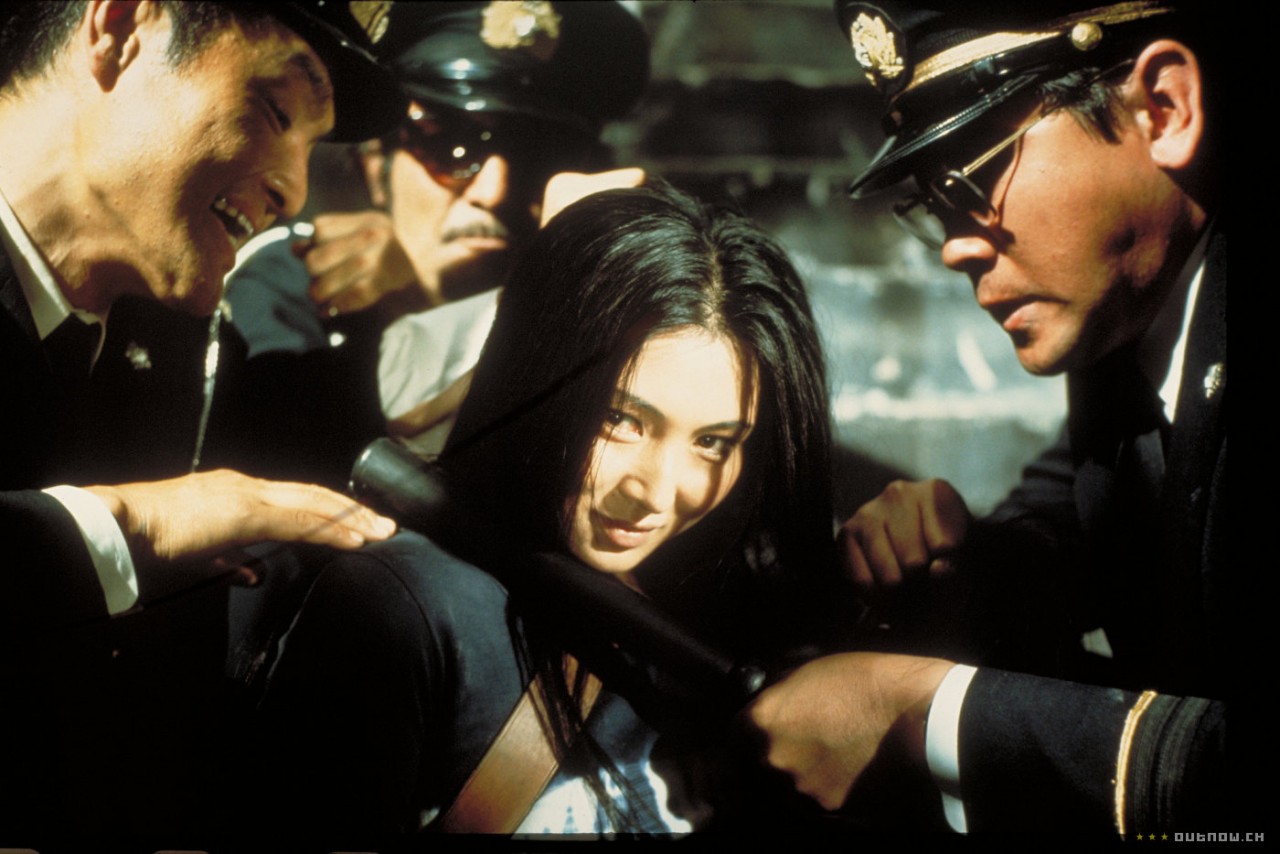 Female Convict Scorpion- taken from Jailhouse 41
Not content with being merely a women-in-prison film, Jailhouse 41 gets surprisingly subversive and deep in parts- questioning the nature of authority and justice. Once again the standout performance comes from theme song singer Meiko Kaji playing the almost mute titular character, Matsu (known as Scorpion). Her expressive, haunting countenance tells the audience all they need to know. Not for the faint hearted, this film is at times hard to watch- yet the compelling and stylised trip it takes you on will stay in your mind.
Watch a clip of the film's theme song here.
Buy the DVD here.
Vengeance Is Mine (Shohei Imamura, 1979)
Imamura's probing documentary style of filming is used to devastating effect in this dark and claustrophobic film which follows a serial killer, played chillingly by Ken Ogata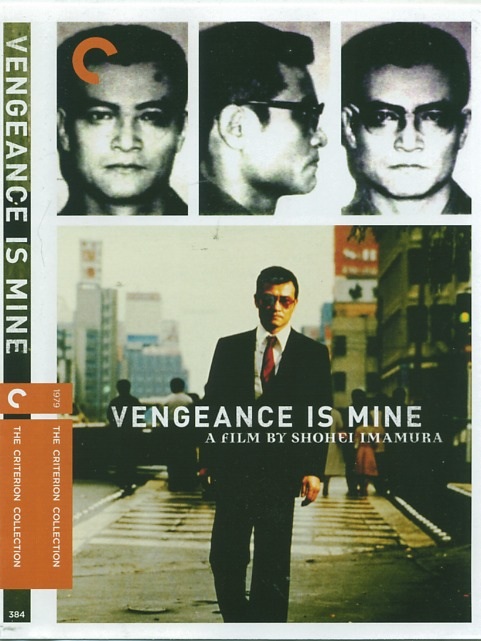 Vengeance is Mine- Criterion Collection boxart by Eric Skillman (image taken from Aphelis.net
Based on real-life events, Imamura's curious examinations of both the main character, his family and the subsequent people he meets are almost anthropological. The narrative always centres on the main character, however it is interesting in that it doesn't purely depict the criminal as the villain of the piece, leaving the viewer to make up their own mind. In it's depictions of the other characters it also shows the darkness present in all humans.
Watch the trailer here.
This film is available on Criterion Collection in the US and Masters of Cinema in the UK.
Funeral Parade of Roses (Toshio Matsumoto, 1969)
A fresh and arty film which follows Eddie, a transvestite working at a bar in Shinjuku's gay district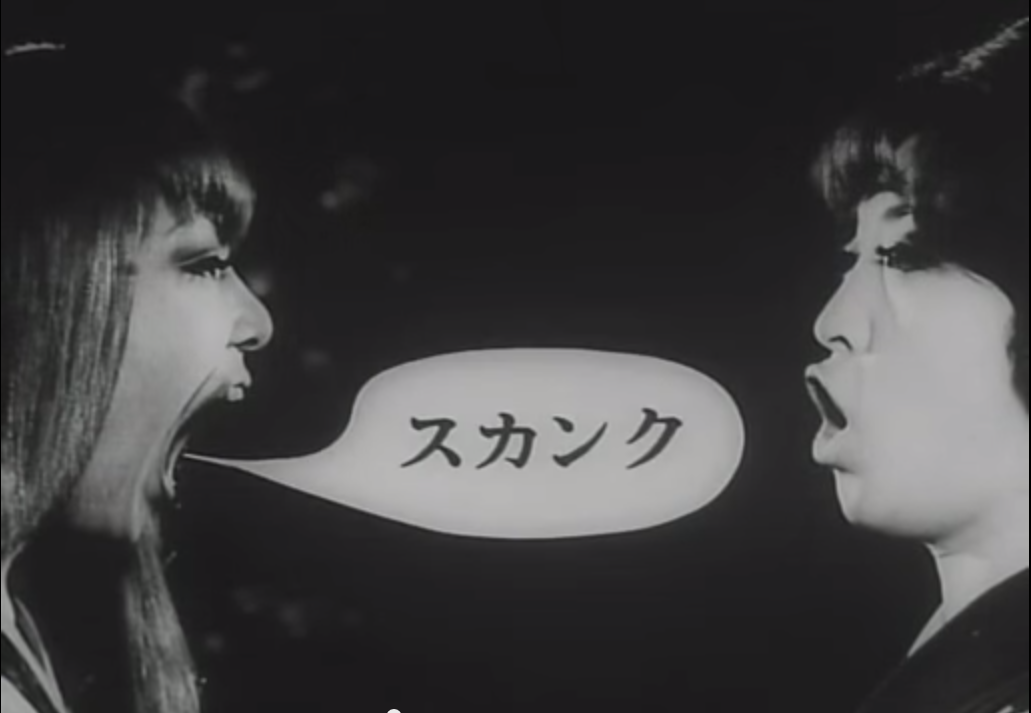 Funeral Parade of Roses- screenshot of arguement scene taken from this video at 0.55
Made outside the studio system, this film is groundbreaking for its time. The skillful editing ensures that the experimental filming techniques used don't outstay their welcome and serve to enhance the film's content. One of the highlights is a comic book style shouting match between the two rival bar workers, in which their insults are displayed in a series of speech bubbles. It is an unusual film that portrays Tokyo's gay subculture in an almost documentary style before twisting towards its dramatic ending.
Watch the first part of the film here.
Buy the subtitled version here.
Battles without Honor and Humanity (Kinji Fukasaku, 1973)
The first film in Fukasaku's edgy, gritty and critical yakuza series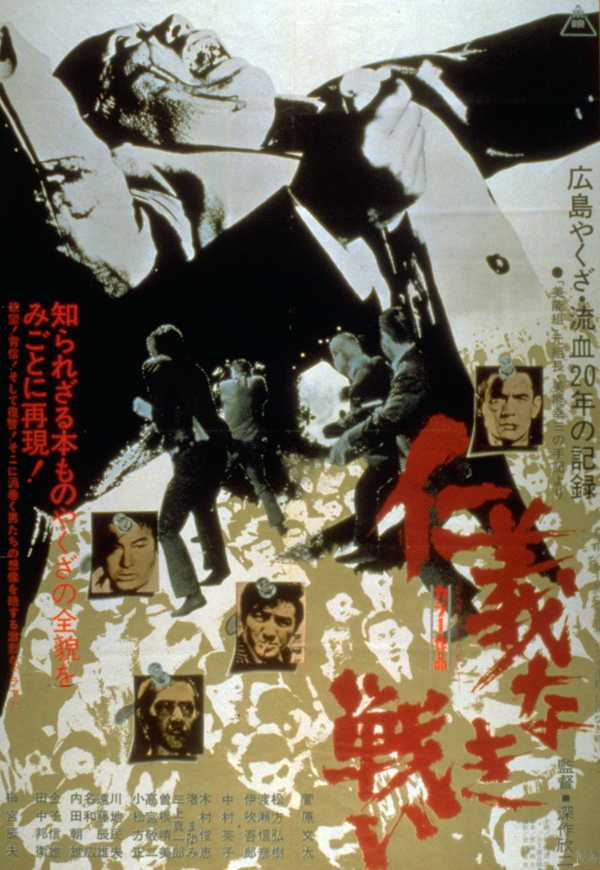 Battles without honor and humanityーOriginal poster art from Toei.
Similar to his last film Battle Royale (2000) in the way it documents the pointlessness of each character's death through still shots, this series of films lack the glamourous depictions of the yakuza as chivalrous modern-day samurai that are sometimes found in other yakuza films of the previous decade. In fact, it often directly criticizes Yakuza practices, such as the darkly comic scene in which a character has to cut of the tip of his finger, only for the digit to roll off into the garden leading everyone to scrabble around after it.
Watch the trailer here.
Buy the film here.
Double Suicide (Masahiro Shinoda, 1969)
Gorgeous re-imagining of Chikamatsu's puppet play, complete with real-life actors… and puppeteers!


Double suicide- screenshot from Scribblings of a Cinema-Obsessed Mind blog
At first, this film appears to be a straight-up film version of Chikamatsu's tragedy about an impoverished merchant and a courtesan who are unable to be together because he cannot afford to take her out of the brothel, so they decide to elope and commit suicide. This adaption is has a depth which goes beyond the original source material. It plays with the fourth wall brilliantly with its use of moving sets and black-clothed 'puppeteers', who go unheeded by the actors. Shinoda also chooses to have the same actor (Shima Iwashita) play both the merchant's wife and the courtesan, raising interesting questions about who is the true object of the character's love.
Watch the hyponotic trailer here.
Buy the film here.
Sources:
Desjardins, C., Outlaw Masters of Japanese film, IB Taurus, 2005.
Johnston, M., Syndromes of corruption: Wealth, power and democracy. Cambridge University Press, 2005.
Schilling, M., No Borders, no limits: Nikkatsu Action cinema, Fab, 2007.
Norifumi Suzuki interview: http://youtu.be/4urEFOXPpIo (very NSFW!)
---