You already know how to pack, and you've probably moved before in your life, but what's it like in Japan? What all do you need to do? We recently heard from Hannah Brown, a first-year JET in Oita prefecture who is currently in the process of moving apartments. She offered to share her experiences in the process, as well as some advice.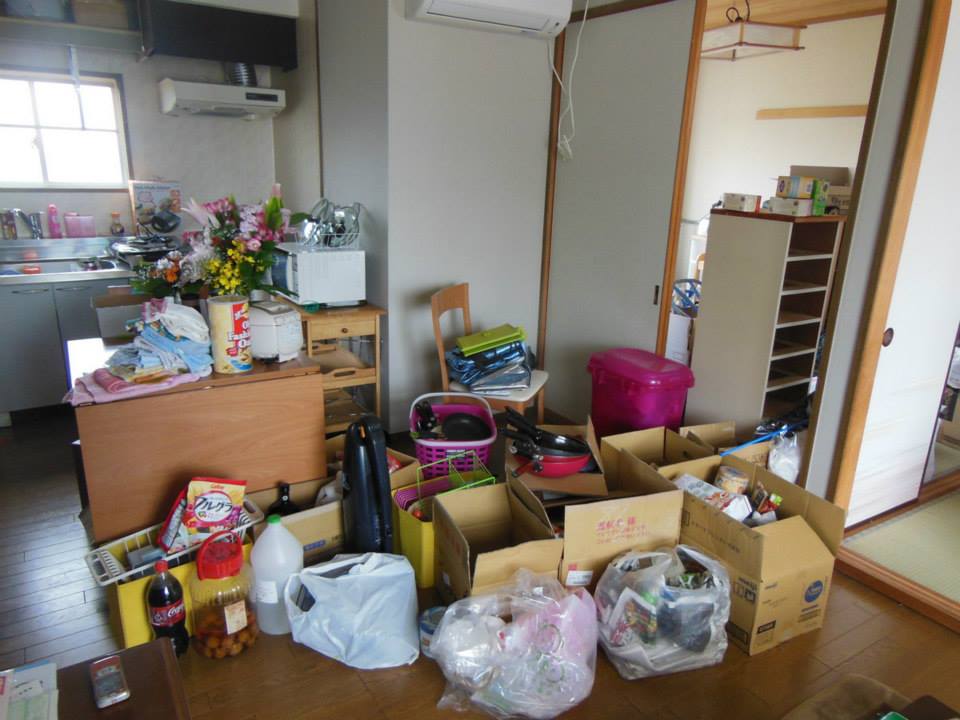 DISCLAIMER: Moving is not possible for some JETs and other employees in Japan due to contract stipulations. If you're interested in moving, please get in touch with your supervisors first to discuss the possibility. You may be responsible for maintaining your provided apartment in addition to a new apartment, or not allowed to move at all.
So you've come to Japan, settled down into your new apartment and made a cozy little place for yourself. You're happy there for a while, but then something happens: the space gets too small, you realize you want a lower rent or to live in a different area, or you decide to move in with a friend. In my case, all of the above happened to be true. This meant that I got to experience the absolute pleasure of moving from one apartment to another, just eight months after having moved into my first apartment in Japan. As my friend and I planned our move, we realized there were more steps to consider and more actions to take than we had previously thought. Luckily for you, I've been taking notes along the way. Here are the most important steps and tips to consider during your move according to my experience.
Finding a place
You have a few options for this. You can ask your supervisor to help you look (my supervisor was a pro at moving, so she was the best resource I could have asked for), you can use online real estate agent websites, or you can go to a real estate agent directly. Many cities will have multiple agencies who all offer different selections, so going to a few may not be a bad idea. I lost count after four…
Tip: If you are going to go to a real estate agent, be prepared to pay a hefty fee. When I finally chose a place, the final fee included the agent's fee as well, which was a third the price of our key money! Real estate agents are very helpful, but if you want to save a few yen and do some exploring of your own, searching online is also a great resource.
Guarantors
Once you've found a place, you'll need to do all the necessary paperwork, which includes a guarantor form. What is a guarantor? Called 'hoshounin' (保証人) in Japanese, a guarantor is a person who vouches for you in a loan or contract. In essence, they're co-signing the apartment for you. If you skip a payment or run out on the apartment, your guarantor will cover the expenses. This means you need to find someone you trust, and who would be willing to co-sign for you. My supervisor and vice principal both offered to sign for me, so if you have that close of a relationship or are comfortable asking, they are good options.
Tip: Most places will ask for a guarantor, so be prepared with one BEFORE you find your place. There's nothing worse than finding the perfect place and then having to hunt down a person to guarantee you. So start asking as soon as you start looking!
Key Money
This is lost money. Wave it goodbye and don't look back, because it is very unlikely you will see any of it ever again. The key money for my place was 150,000 yen. As I gaped at this figure, trying to figure out what in the world my landlord was trying to pull, my supervisor helpfully asked if I would like an explanation of why it was so high. Nodding numbly, I listened. First you have to replace the tatami mats (about 50,000 yen), then there's the cleaning and repainting (sayonara 30,000 yen), first month's rent (50,000 yen invested into the place), and a safety deposit (a fabled 20,000 yen that may come back later). Thankfully my roommate and I were splitting the cost so it didn't hurt us too much, but if you're moving alone or in general, keep the key money cost in mind before you move in.
Before moving out
What did you have to do again? Internet, utilities, mail? What are you forgetting? How do you turn on the gas and water again? This is the hectic part of your move—an uphill battle with time and responsibilities. Push past it and you'll reach the blissful flat area above where you can relax a little and enjoy the slow unpacking stage.
Once you've finalized that you're moving, you should tell your landlord (if you haven't already) that you'll be moving. Give them a specific date that you'll be out by (two weeks is a good timeframe), and ask some important questions: Does my rent cover the month before or the month behind? Are there any extra expenses I should pay for before leaving? When should I turn in the key? If you have tatami, ask about any special conditions pertaining to its replacement: is that your problem, or the next person's?
Next on your list is to forward all mail to your new address and change your mailing address. This requires going to city hall, usually during the work day since those are the only hours they're available. The process was relatively quick for me; however, every situation is different. I was moving during spring break and had an understanding vice principal, so I didn't have to take time off, but that won't always be the case. You should ask your supervisor to go with you if you aren't confident in your Japanese skills (or if you'd just like some support).
At city hall you can also change your official address. For this you will need your gaijin registration card and your inkan. Always take your inkan when filing important paperwork since you never know when you'll need it.
Utilities
Changing utilities is surprisingly quick and easy to do. You can start and stop electricity and water at any time simply by calling the companies and making appointments to do so. No one needs to be home, and you'll receive the bill for the utilities used after your last bill. Turning on the gas, however, requires someone to be home. Keep this in mind.
Also, watch out! If you don't have automatic withdrawal for your utilities, the bill will be sent to your home address. Whether that's your old or new one is hard to say, so keep an eye on both and check them frequently.
Internet is the same as electricity, except that depending on when you are calling (if it's a busy time of year) you may have to wait two weeks or more from the time you call to set up internet at your new place. Thankfully you don't have to be there when they shut it off or turn it on, unless you have wireless. In that case you may have to present. Check with the provider when signing up.
Presents
Cultural note! When you leave your old apartment and move into your new one, there's an important step you must make. This is hikkoshi no aisatsu (moving greeting) and the buying of soshina or aisatsushin. Just like omiyage is the giving of a present after a trip and giri-choco is obligation chocolate, soshina is the obligatory "bribe" gift for your new neighbors and landlord, and a "thank you" gift for your old landlord and former neighbors (if you're close to them). A small tin of chocolate, cookies, or senbei will work for the neighbors, and a larger one for your past and future landlords. Of course buy special gifts according to how close you are to people, and whether they helped you at one point or another.
Other paperwork to file
Fill out the change of address form with CLAIR
If you're moving in with a roommate, make sure you decide whose fridge and washing machine you're going to keep. Find out who the unwanted ones belong to (your school, BOE etc.) and make arrangements for them to be moved.
If you're registered under any governmental sites such as the Smart Traveler Enrollment Program (STEP), make sure to change your address so they can reach you in case of an emergency.
If you are a US citizen, you will need to file an 8288 form with the IRS before you file taxes. This lets them know that you have changed addresses. For other nationalities, check with your federal government for their particular requirements.
Summary
Find a place. Choose whether to use a real estate agent or not.
Find a guarantor. File necessary paperwork
Pay key money
Notify old landlord
Change mailing address and forward all mail
Change official address
Stop utilities and internet at the old apartment, start at the new.
Hand out presents to old landlord and neighbors, as well as new ones.
Change address with governmental sites, CLAIR, and IRS/Tax agencies.
Congrats! Now that you've somehow managed to move all your things to your new place, all you have to do is unpack! Treat yourself and those brave souls who helped you move with some relaxation and a good meal. You all deserve it.
Hannah Brown is a first-year JET living in Oita prefecture. Passionate about food and cultures, she spends most of her time investigating both through cooking and searching for delicious food spots where she can chat with the people in her community. When not in the kitchen or talking with others, you can find her hiking and exploring her area… Which she will resume doing once she's fully unpacked!

---