Oana Marasescu, an elementary school JET alum from Okayama (2012-2014), spent her second JET year developing an entirely volunteer-made classroom activity book and video. Oana is currently finishing up a Linguistics and Speech Language Sciences B.A. at the University of Calgary, and plans to complete a Master's of Science in Speech Pathology. We Spotlighted Oana in the May issue of Connect, but also sat down to talk to her about how exactly the project came to be.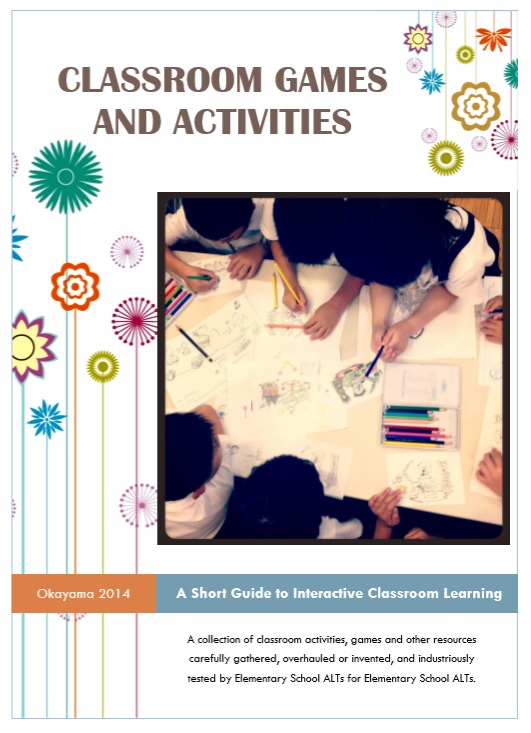 With such a big undertaking ahead of you, what was your exact project plan?
The initial plan was just to create a bilingual collection of classroom games and activities for ES ALTs (Elementary School Assistant Language Teachers) and their Japanese co-teachers. The end result was a small 116-page book containing about forty games, some of which are adaptable to all units in the elementary school curriculum, and some of which are unit-specific. Next, I planned out a short video for each game to outline the materials and set-up needed, and to provide a demonstration.
At present, there's also a website in the works to combine the written material and videos. If you know anyone who wants to get involved with this final stage, send them my way! [laughs]
What exactly inspired the project?
The idea came from my own process of trying to connect the dots during my first year as an ES ALT. I wanted to bridge the gaps in communication between ALTs and HRTs (Homeroom Teachers), but specifically at the ES level, since many prefectures don't even start English lessons until fifth grade.
While the Orientations both in Tokyo and in Okayama were very well structured, they lacked ES-specific training and materials, which led me to begin my job with three consecutive weeks of playing karuta. After that, I decided it was time to put together a games collection more applicable to the curriculum, so I began developing my own quick-reference activity list, and just kept adding games I had either found or made up.
Half-way through my second year, I started thinking about what I would leave behind for my successor, and I noticed that a fellow ALT (Maggie Anders, a JET from 2009-2014, Okayama) had created and distributed her own booklet of games for JHS ALTs at the Mid-Year Conference. I figured that ES ALTs might benefit from having their own quick-reference guide, and I went to work!
How did you select your activities for the book?
I tried to stay as creative as possible in assembling a list. Naturally, I included your typical Japanese classroom activities—Karuta, Fruits Basket, et al—and then adapted some party games, some activities I found online, and some from childhood.
Of course, most of the games on my list have been around for a while under various names and rule systems, but while there's no need to reinvent the wheel, we can always spruce the wheel up, attach it to a fancy new vehicle, and go!!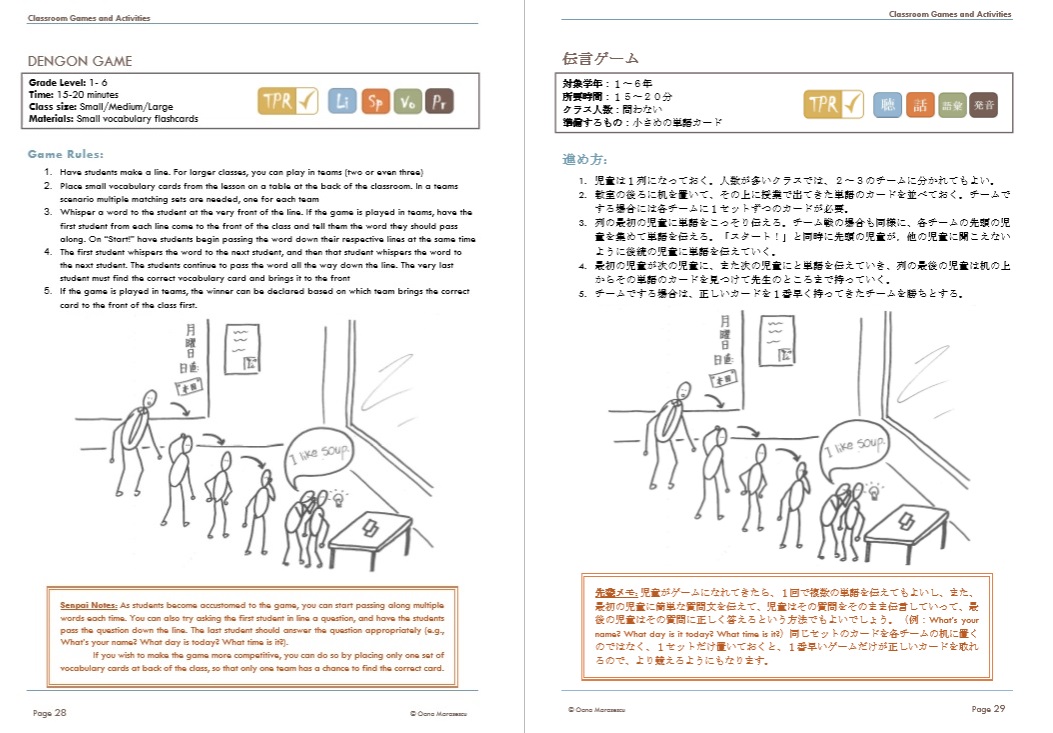 How did you develop the bilingual lesson explanations and companion video?
I speak very little Japanese, and most of the teachers I worked with spoke very little English, so the best solution was to make the book bilingual, (English instructions on the left of each page, and Japanese on the right). I was also inspired by the impromptu games of charades and pictionary that we always ended up playing during our planning meetings, so I convinced an ALT friend to illustrate the games.
The videos were actually an after-thought. By coincidence, after we wrapped a demonstration at our Midyear Skills Development Seminar, Maggie mentioned that my physical demonstration of the game "Typhoon" had helped her to feel more comfortable using it in class. With that in mind, a demo video became the natural next step.
How did you approach schools for help? Did you need to convince them that it would work?
I approached my Board of Education supervisors first, and they simply said "Go crazy with this, and show us what you come up with." One of the BOE staff also volunteered to translate the games for me, and worked to help me stay on track.
From there, the BOE's support helped with approaching my schools, and the teachers I worked with proved all the more supportive. I kept them updated as I went, and one of my favorite teachers even agreed to edit the Japanese instructions! It was very encouraging to see that HRTs saw the value in the project.
How did the Okayama prefectural office respond?
Initially, I hadn't planned on approaching the Okayama BOE, but thanks to everyone's support, and particularly from my illustrator and translation editor/proof-reader, Craig Penny (ALT 2013-2014, Okayama), I approached our Okayama CIR—the wonderful Kayne Brookes—and received his help in pitching it to the Kencho office. Kayne ended up taking care of the actual pitch for me (for which I'm very thankful), and the book has since been suggested as part of the training materials at the Okayama Orientation.
Regarding the actual designing of the book and shooting of the video, how did you secure and manage the space, materials, technology, and help?
It turns out that you don't really need to get too sophisticated to secure a high quality product. I put together and designed the book on my laptop, and then assembled and edited the video footage myself. For the sake of time, we shot each game demo in one take, and supplemented the footage with iPhones and iPad cameras.
For materials, my base school offered up everything I needed: printing, flashcards, flyswatters, balls…you name it. We ended up shooting in a meeting room the Niimi BOE rented for us, and a number of Niimi ALTs volunteered to act in the videos (some of the staff even participated, too!).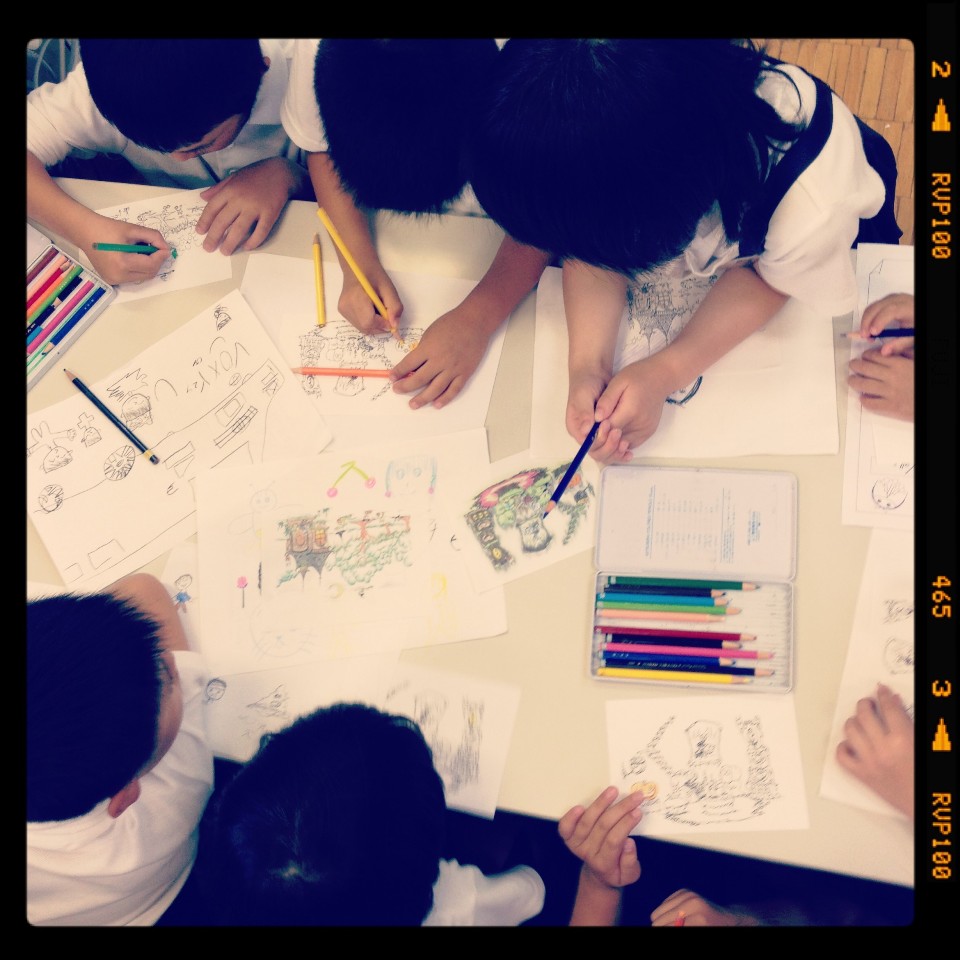 What unexpected obstacles appeared during or after production?
Keeping everyone involved and on-task for the shooting can be challenging, especially with time constraints. There were only three four-hour sessions to get forty-some game demonstrations on video, but with some editing magic, we stayed on track!
What advice do you have for any ALTs with similar ambitions?
Just remember that an inspired idea does not require you to reinvent systems that already work. Just take what's established, and build something from there.
Once you have that idea, test its feasibility, look at pre-existing resources, and consider why they aren't being used. What makes your idea better? What underlying issues would your idea resolve? Is there an actual need for what you are envisioning? Be your own toughest critic, and then reach out to your Board of Education. Though there might be limited resources, always ask for them.
Final words of wisdom?
As an ALT, you are instantly part of a far-reaching community with a wide range of skills outside of classroom teaching, so don't be afraid to get creative in recruiting support. Be flexible and prioritize tasks, and be sure to take criticism well and make it work for you.
Be sure to check your pride, too. When we invest our time and effort to become the driving force of any venture, we develop a sense of ownership, especially when it's supported and validated by other members of our community. In that regard, my advice is to simply listen.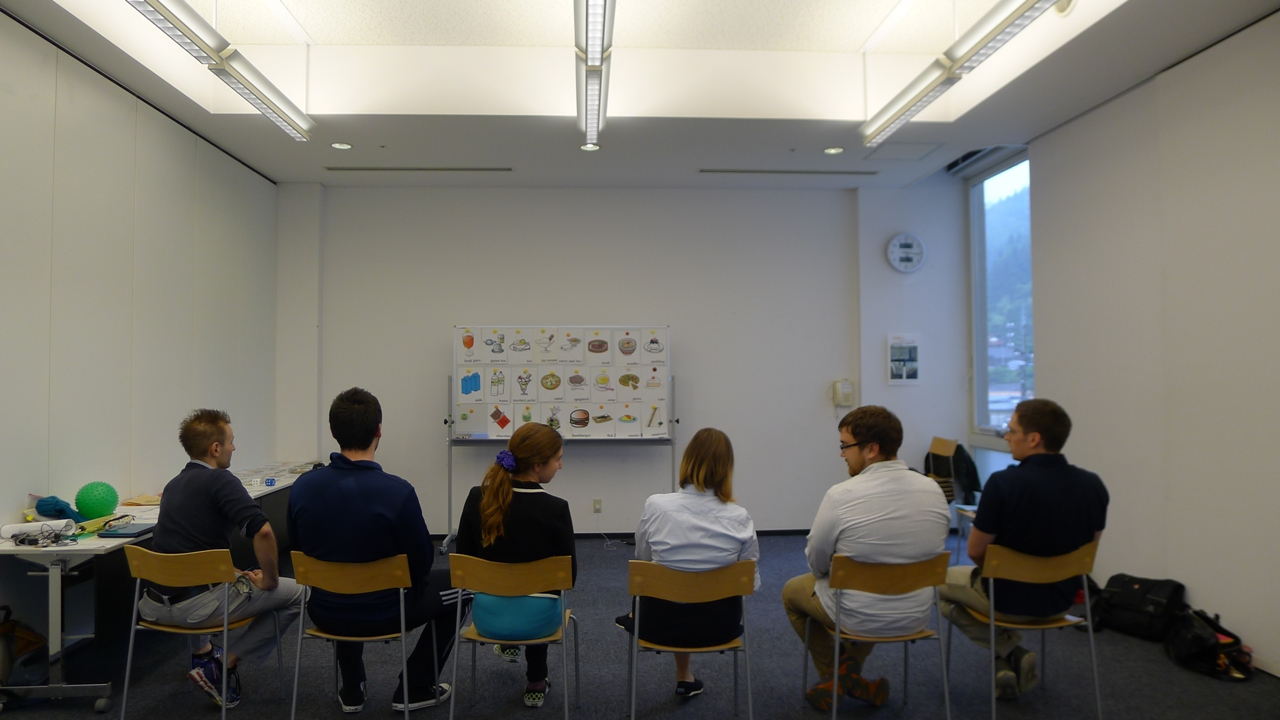 For updates and questions, feel free to get in contact with Oana at .
---