This piece is brought to us by Kumamoto's prefectural magazine, The Yoka. This story (and a great piece on skateboarding, featured in the upcoming October issue of Connect) came from the Summer 2014 issue.
Contributed by Chris Ott, Kumamoto
Summer is here. And with summer comes the vivid rice fields and blue skies above green mountains. It is truly a beautiful season in Japan. But with summer also comes the heat! Kumamoto summer is notoriously hot and humid, and perspiration becomes a continual state of being. Air-conditioned stores become oasis-like havens from the sweltering afternoons, and tap water never seems cold enough. But there is a silver lining to this horrible heat: swimming in rivers. Having so many great rivers to swim in during the summer makes answering the all so frequent "Which season do you like best?" question difficult. Spring and fall seem obvious answers, but oh the summer swimming! In Kumamoto and Kyushu there are numerous swimming holes where one can go to quelch that summer heat and forget for a couple hours that it's 36 degrees out with 70 percent humidity. And I am here to tell you about them. Below is a list of some of the great swimming holes on the island.
Ryumon Taki / 竜門の滝
(Aso and Oguni ALTs are closest. Google coordinates: 33.275758,131.206666)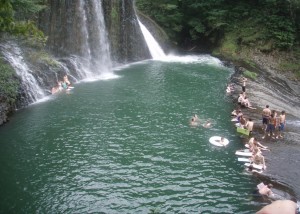 Ryumon Taki with its waterfall, swimming hole, and natural water slides, is one the more spectacular places to swim at on the island. It has a little bit of everything. There is a huge, deep pool for swimming. There is great diving to be done from the rock cliff, which you can see in the left side of the photo, or from the waterfall (aaahhhh!). For those with a sturdy inner-tube, the slides are fun. And there is also a great place for barbecuing, which is out of the picture to the right. Ryumon Taki is located in Kokonoe Machi (九重町), which is just northeast of Kumamoto, in Oita. It's about a 2 hour drive from Kumamoto city. In the nearby area there are onsens to soak in. There is even a luke warm one (Fukumotoya/福元屋) that is tucked into a cave on a river bank, perfect for the summer time. It's a mixed bathing onsen, so it's good for a group chat (girls and guys can wear towels in the water). Here is a picture taken from the jumping cliff near the top of the water slides. This picture was taken during an ALT event in early September.
Yougan Pool / 溶岩プール
(Aso ALTs are closest. Google coordinates: 32.894345,131.1007)
Yougan means lava in Japanese, and this is, yes, a "lava pool". This gem of a swimming hole is located about halfway up the side of Mt. Aso. If there is such a thing as a purist when it comes to swimming holes, this place would be a purist's dream. In addition to being beautiful and deep, it also has as pure of water as you can find because there is no human development or activity above the pool. This pool also doesn't seem to be very well-known, so if you go, it is likely that you will be the only one there. Skinny dipping anyone??? The water is surprisingly not cold, and it's possible to swim there up into October. There are two pools to enjoy (the above pic is the upper pool):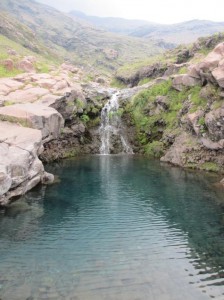 Upper and lower yougan pools
Kikuchi (菊池) swimming holes
(Kikuchi and Yamaga ALTs are closest. Google coordinates: 33.007872,130.881347)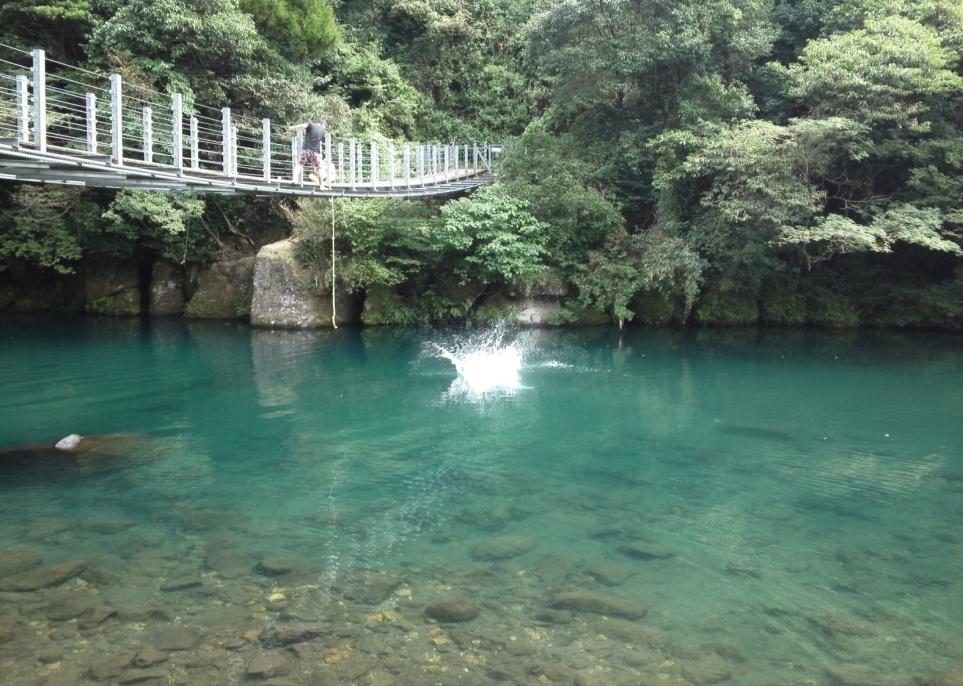 If the summer temps are too much and you are aching to ache from some serious cold water, wanting to numb that persistent heat, then Kikuchi River is the place to go. Kikuchi River is popular not only for Kikuchi Gorge, but also for its swimming holes. Both of the places pictured here are fairly popular and are full of eager swimmers in the summer. The river is fairly (extremely?) cold, and after swimming in the water a while you'll completely forget about the heat that earlier drove you to contemplate whether the ice pack would do more good under your armpit or down the pants.
Oono keikoku / 大野渓谷
(Hitoyoshi ALTs are closest. Google Coordinates: 32.14762,130.782277)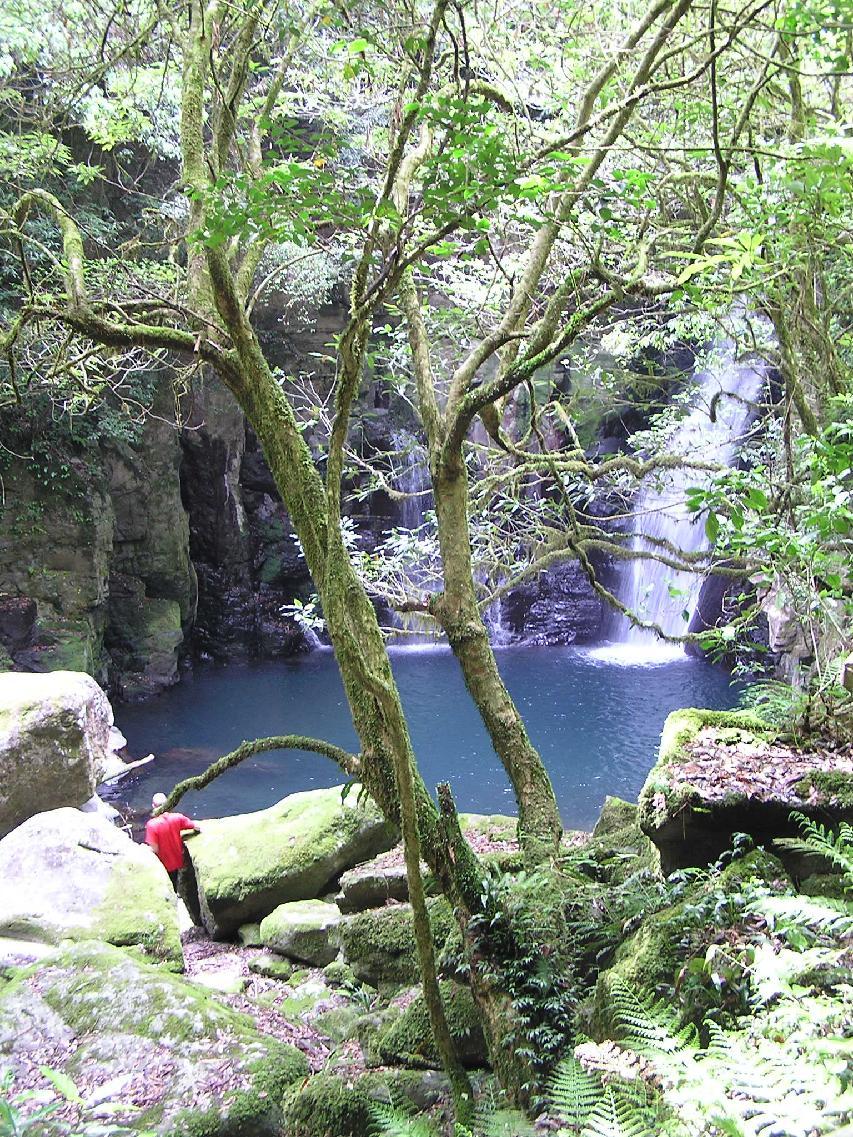 For those of you living in the Hitoyoshi area, this pool is nice for a quick dip. The water is deep here, so you can enjoy jumping from the rocks. It's also likely that you will have the place to yourself. There are some downsides to this place though: it's in a narrow gorge with a lot of tree cover, so you don't get much direct sunlight outside of midday; and there is no beach, only rocks to sit on. It's also a bit of a hike down to the river on the trail. It's still fantastically beautifully though. This place could have been in The Beach.
Mother Nature Campground
(Kikuchi and Yamaga ALTs are closest. Google coordinates 33.090553,130.821802)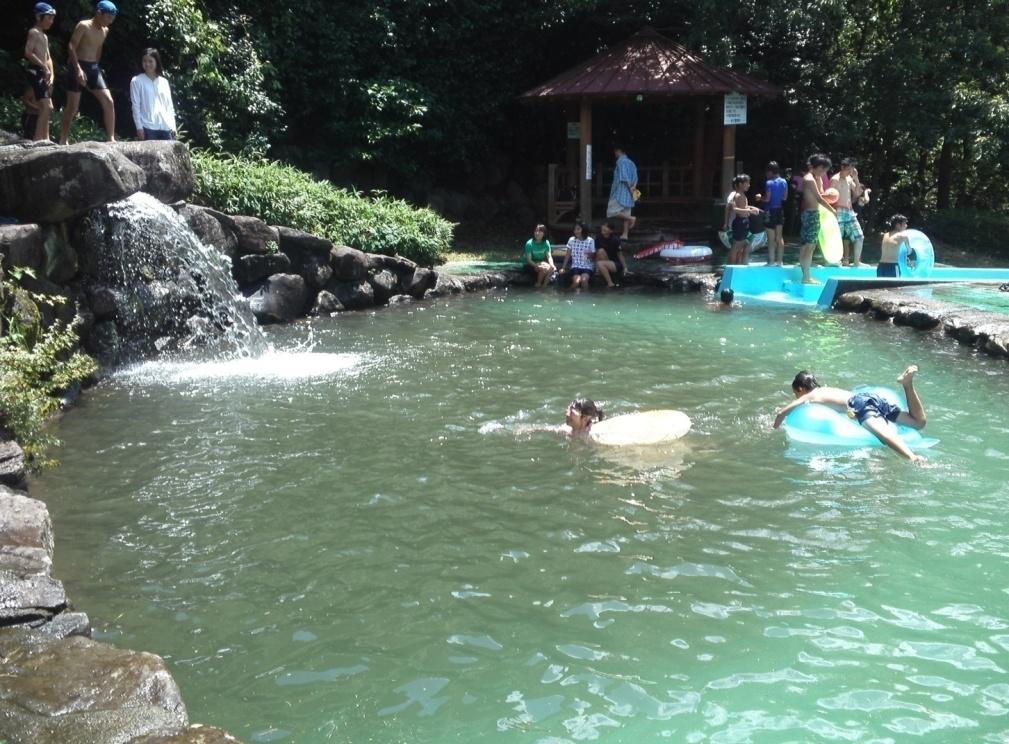 I probably frequent this swimming hole the most, even though it is the least picturesque of all the spots mentioned here. Perhaps it's the waterslide, which is really fun, even though it's short. This swimming hole is man-made, but it uses mountain river water from a nearby river. For those people who like swimming spots with amenities, there are toilets, drinking fountains, vending machines, and a small campground store that usually has some snacks, like chips or ice cream. There is an access fee of 200 yen. This place also has bungalows and would be a really good place to organize a JET event.
And just down the road from here there is Yatani Gorge (矢谷 渓谷). It is always packed during the summer with people enjoying the river scene. There is an unusual water hole to dive into, and natural water slides for taking some of the color out of the rear of your swim shorts or bathing suits.
Shiraiwato Park (白岩戸公園)
(Yatsushiro and Misato ALTs are closest. 32.560269,130.802321)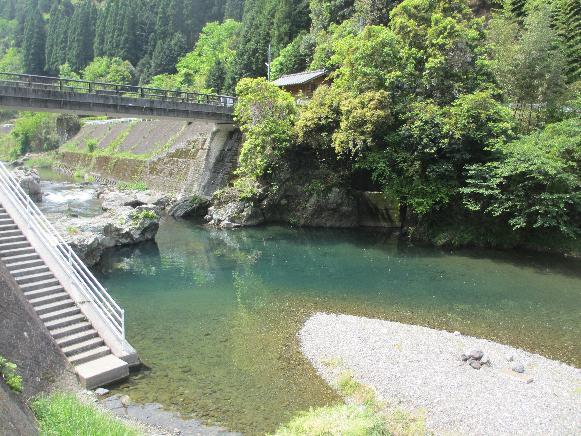 This swimming area has a decent river bar to lounge on, and a rock to jump off of. The park area is also good for picnicking and tossing the Frisbee. Just downstream from the park there is a short hike that goes up to a long foot bridge that crosses the river.
Shirataki Park (白滝公園)
(Yatsushiro, Hitoyoshi, and Misato ALTs are closest. 32.444197,130.778074)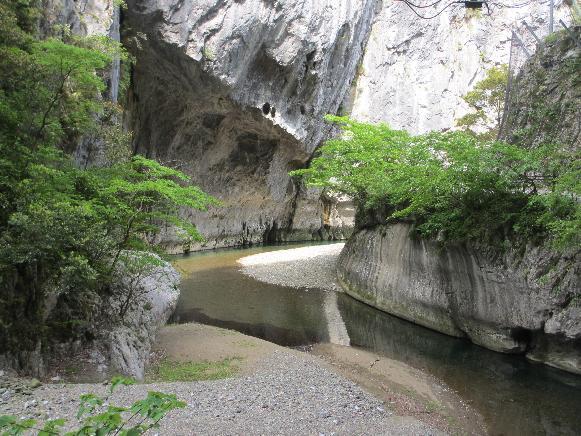 This is a really picturesque place to take a dip. The swimming area isn't particularly deep, so no diving, but the river is quite the site, running through a stunning gorge with rock formations rising high above it. There is also a cave from which issues spring water. You can just see the cave in the center of the picture.
Isuzugawa(五十鈴川)
(Misato, Yamato, Aso, and Hitoyoshi ATLs are closest. 32.510811,131.552341)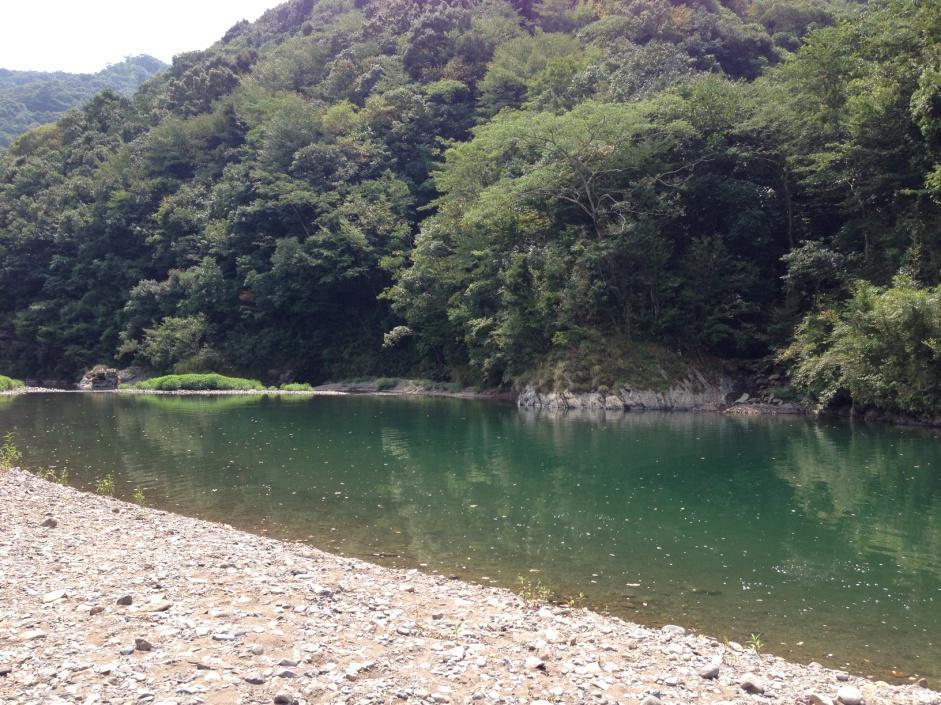 For any Americans (I can't speak for other nationalities) that are looking for an American river experience, then this swimming hole is the one for you. The river is fairly wide, the water is warm, there is a jumping rock, a there is even a big sandy beach for barbequing (the beach isn't shown in the photo, it's to the right). This is one of the best river spots for a big group outing, river barbequing and merriment, and free camping. And there is an added bonus: in the river there are Dr. Fish like you see in onsen lobbies, so you can sit back in the warm water and let finish nibble on you.
This is one place where you really need to bring sunscreen because your whole day will be a pleasant rotation between sitting on a warm (or scalding hot) sunny beach and floating in warm, slow water. This place is located in northeastern Miyazaki and is about a 2 hour drive from Kumamoto city.
Honjou River(本床川)
(Hitoyoshi ALTs are closest. 32.029085,131.170132)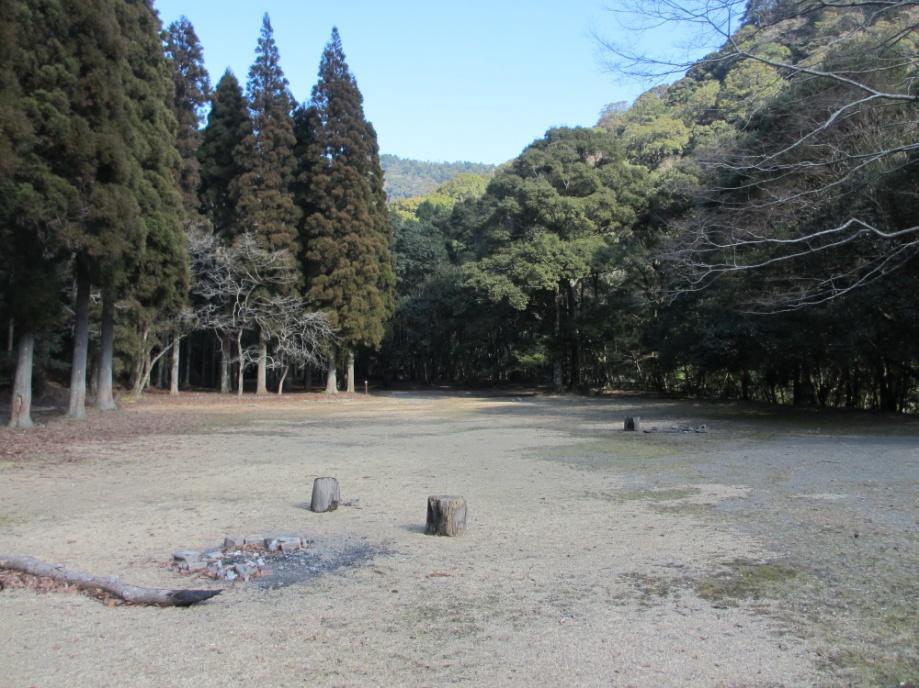 This place has the most potential to be an amazing Japanese sightseeing experience that you'll want to write to your friends and family about. It's located in southwestern Miyazaki and is about a 2 hour drive from the Kumamoto city.
I'm just going lay out what this place has to offer in bullet format.
A scenic 1~2 km stretch of river running along Japan's largest remaining virgin forest. It's perfect for inner tubing, though it is necessary to get out and walk in a couple of places. There is a trail that runs along the river making access possible. The trail also makes for a nice hike.
One of Japan's top 100 cold water springs is located along this stretch of river, so you can get out an quench your thirst on some sweet 名水 (meisui: delicious water)
There is a HUGE campground area (pictured below) that is in the middle of nowhere. The campground isn't even labeled on many maps, and I'm not sure if many people know about it. It's the perfect place to break out the boom box and do some lively camping. The campground has a nice restroom, though no drinking water.
Across the river, there is an even larger flat area that used to be a homestead or something many many years ago, and it would be a great place for noisier camping, sports, picnicking and sunbathing.
There is a trail leading from the camping area across the river to a very rural and beautiful shrine in the mountains that is surrounded by an old peach orchard that must be more than a hundred years old. I wonder if anyone still picks the peaches, as there is no road to the shrine or orchard, and there are no houses for many a kilometer.
The 2nd longest suspension foot bridge in Japan is a couple kilometers down from the camp area. It used to be the longest one, but now the longest one is in the Kuju area.
Just past the foot bridge is a restaurant that serves amazing deer and wild bore meat that is caught locally. You can even have deer sashimi there – it's good!
About 10 kilometers upstream from the campground is a place called Sukimurando, where for 8000 yen (per person) you can rent out a whole traditional Japanese thatched roof house, and wear a yukata around and feel like you are back in the Edo period. The 8000 yen also includes an out-of-this-world traditional Japanese dinner and breakfast. There is a nearby onsen, too (ticket included in the 8000 yen). The onsen is one of the only onsens in Kyushu that has a hot rock sauna that you can actually poor water over the rocks yourself. The rocks were imported from a Scandinavian country.
Here is the website for Sukimurando: http://www.sukimuland.jp/tomaru/tomaru.html
This river and camping area would be a great place to organize a JET camping – inner tubing – hiking – bbqing – frisbee playing – merry making – sightseeing event.
Caution
Last, I have some words of advice and caution. The rainy season runs well into July, so during the end of July and early August rivers can be running a bit high. Make sure to be careful and not go swimming in any swift rivers. Also, rice paddies are drained sometime in late summer, so try not to drink the river water then.
If you have any questions about any of these spots, send me an email at .
Happy swimming!
---