AJET Elections
Be a part of the 2022-2023 National AJET Council!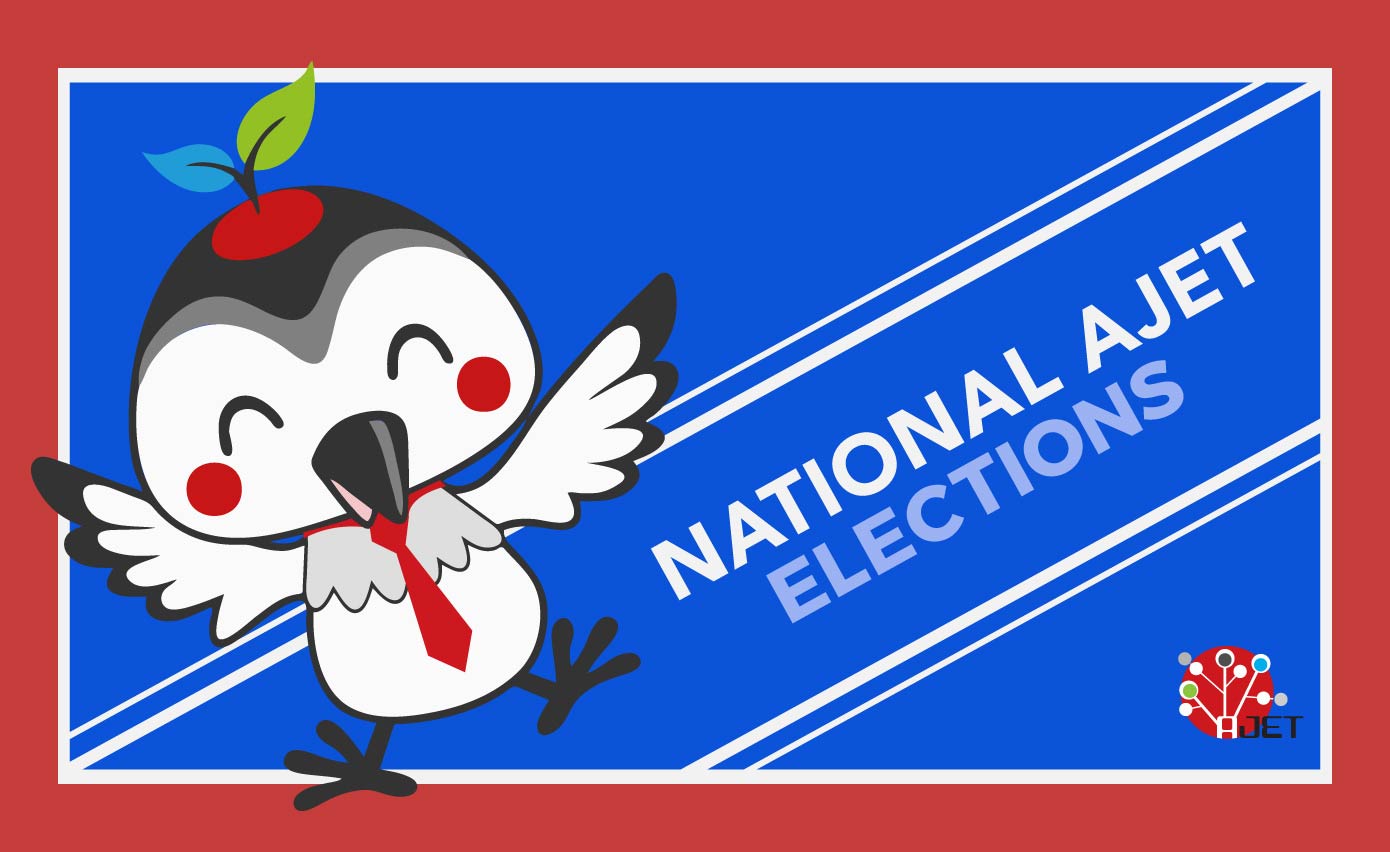 Notice: The application deadline has been extended! We are accepting applications through April 29th. Elections for elected positions will now open on May 1st.
What is National AJET?
The Association for Japan Exchange and Teaching (AJET) is a volunteer organisation of JET Programme participants. AJET serves the JET community by building support networks, organising useful information, and offering resources to enhance the lives of the Programme participants in Japan and abroad. 
We maintain a counselling service and an online magazine. We also hold a yearly meeting with representatives from CLAIR, where we voice the opinions and concerns of JETs directly to the Japanese government ministries that manage the JET Programme. (Read a summary of the 2021-2022 meeting here!)
AJET has existed since the inception of the JET Programme; at the national level, it is headed by the AJET National Council, a body of elected and appointed current JETs from across Japan. All of these positions are open to new JETs (2022 arrivals).
Why should I get involved?
This is the perfect opportunity for any JET Program participants who want to utilize and develop their professional skills while working in Japan on JET! 
Our current projects include collecting data from the JET community on participants' wellbeing in their placements, working with different organizations to offer discounts and professional development deals for JETs and JET Alumni, and developing a brand-new website to host our wealth of resources.
National AJET is currently in a transitional stage as it adapts to the impact of the COVID-19 pandemic on the JET community, and we're looking for creative, motivated people to help define what we'll look like in the future.
Open Positions
Elected
Chair
Vice Chair
Treasurer
Learn more/apply for an elected position →
Appointed 
(Note: if there are vacant appointed positions after the election cycle, we will accept applications for those positions at any time.)
CIR Representative
PA Representative
Director of Social Media
Director of Digital Resources
Website Coordinator (Two Positions)
Project Manager (Two Positions)
Director of Volunteering
Director of Advertising and New Partnerships
Director of Affiliate and Community Relations
Director of Professional and Educational Development
Director of Alumni Relations
Director of Alumni Resources
Director of Visual Media
Translation and Interpreting Coordinator
Learn more/apply for an appointed position →
Election Timeline
Applications Open
April 11, 2022 at 8:00
Applications Close
April 29th, 2022 at 23:59
Election Opens (

Chair, Vice Chair, Treasurer

)
May 1st, 2022 at 08:00
Election Closes (

Chair, Vice Chair, Treasurer

)
May 12th, 2022 at 23:59
Results Publicized
Prior to May 18, 2022
Turnover
Prior to May 31, 2022
New Term begins
Prior to June 1, 2022
More details on the election timeline and election rules →
If you are interested in joining the Peer Support Group or Connect Magazine, please keep an eye out for their recruitment initiatives, or contact their leadership at or .
ANY INQUIRIES?
If you have any questions about any aspect of the National AJET Council application, election or selection process, please feel free to contact .
Quick Election Links
Main Election Page
Election Rules
Elected Positions
Appointed Positions
Application Rules and Guidelines
Advice for Candidates
Platform Examples