2020–2021 Block Representative Platforms
Block Representative Platform Quick Links
| | | | |
| --- | --- | --- | --- |
| Block 1 | Block 2 | Block 3 | Block 4 |
| Block 5 | Block 6 | Block 7 | Block 8 |
| Block 9 | Block 10 | Block 11 | CIR Representative |
Block 1 Representative
Justin Randall
Fun Fact – Arnold Schwarzenegger once threw a T-shirt at me.
Hello everyone, my name is Justin Randall, and I am a first-year JET placed in Kushiro, Hokkaido. I'm contracted with the Kushiro City Board of Education and serve 18 (yes, 18) Elementary and Junior High schools within Kushiro. Before I came to Japan, a former JET told me of the close connection that the Hokkaido JETs shared. Despite the large geographic, and sometimes cultural differences, Hokkaido JETs were family. For this reason, I am running for the Block 1 representative for AJET. I want to see that sense of community and family grow across Northern Japan.
Ultimately, all of us JETs share the radical decision of uprooting life back home to come to Japan for something. I hope that my time as a Block Representative is spent making sure that you accomplish the goals you set forth. Whether it's a question about the workplace, life, or where to find the best ramen, I hope to serve you in whatever way I can.
In University, I was active within our Student Government, multiple organizations and honor societies, and focused primarily on communication and mediation. For example, I manage a newsletter between my fraternity and our alumni to drive engagement, funding, and philanthropy. In all, event planning and media communication were skills I was most actively engaged in learning. I believe that these are prime within the role of Block Representative.
A little about myself, I graduated from Austin Peay State University with a degree in history and a minor in Asian Studies. My family has lived all over America, but Tennessee will always be my home. When not at work, I'm usually out on a run or hiking, sometimes both or at Hot Sauce Jazz and Soul Bar in Kushiro. Other than that, I'm a huge fan of watching Ultra marathons or listening to my favorite podcasts.
Block 2 Representative
Storm Manson
Fun fact: I was an official FIFA flag bearer at the 2010 FIFA world cup in South Africa.
Howzit Block 2! My name is Storm Manson, I'm currently a 2nd-year JET participant based in Sendai City, Miyagi. As your representative, I can offer a wealth of experience and professional insight into the way that we will be able to showcase our prefectures as sustainable role models for AJET through many potential project ideas and organized approaches by providing a safe space for the elected members to share their thoughts, ideas and suggestions on ways to improve the lives of our local JETs.
Why should I represent you?
● Current MAJET (Miyagi) president. Through this opportunity, I was able to grow and connect with many different individuals and grasp new perspectives on the exciting and challenging experiences faced by JETs. I made an effort to utilize democratic and fair decision making in order to connect people together in meaningful ways, whilst fulfilling objectives set out by our committee and AJET.
● I have previously held leadership roles in many different spheres such as sports (team captains), education (subject leader), student councils (Technology) and local committees (MAJET – Miyagi Prefectural President and a volunteer group). These different perspectives have motivated me to want to be a role model for change.
● I wish for the best for our fellow JETs and to provide them with the opportunities to become meaningful change-makers in their communities. What are my promises to you?
● In order for AJET to maintain its image as a reliable ally, it's important that we continue to communicate the many areas of interest that matter most to JETs and their respective committees.
● I will continue to uphold my personal objectives such as embracing ways to effectively communicate, collaborate and assist JETs with their concerns and be their voice on a national level.
● Actively listen and engage with important and pertinent information to be relayed to JETs, especially during difficult times.
Block 8 Representative
Steven Coyne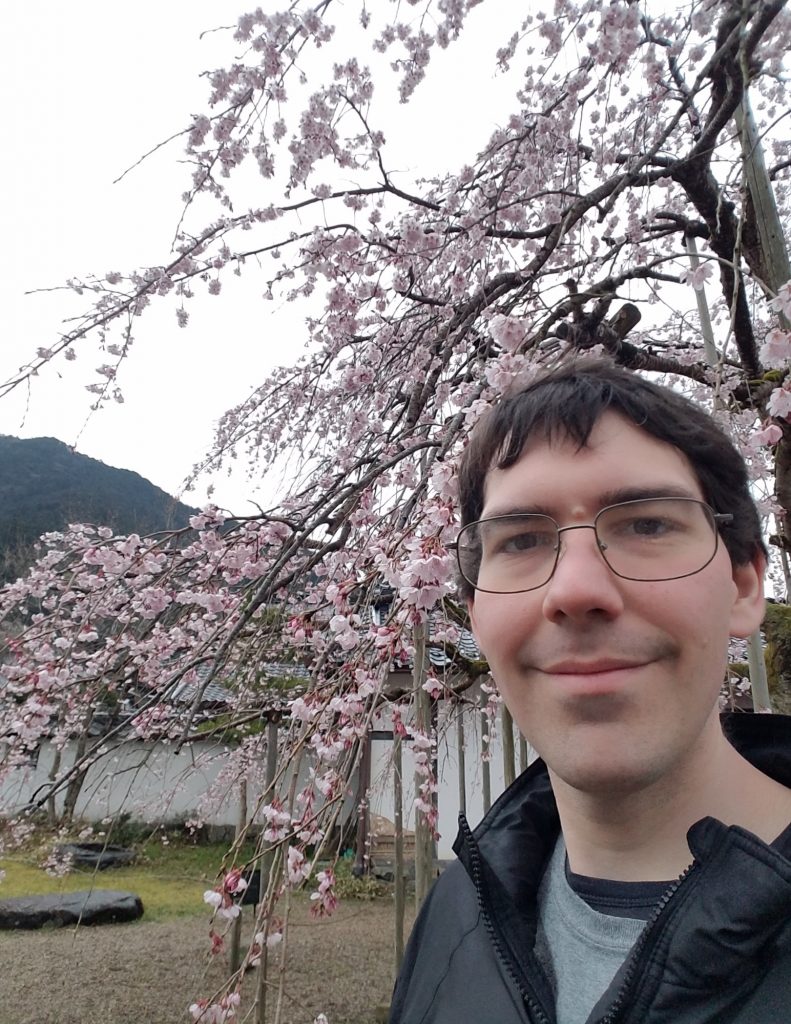 My "fun" fact is that I have lost 100 kg in the last 5 years.
Hello, everyone. I'm Steven Coyne, a third-year US ALT in western Tokushima. I am your current Block 8 Representative, running again as incumbent this year. Perhaps you know me from my posts on JET social media pages, or from Tatami Timeshare, or maybe you met me at one of the many Shikoku events I participate in, such as rafting or Meet the World.
I love the JET community we have in Shikoku. Having settled in to that community during my first year, I felt ready to give back by helping with AJET duties. Thus, I became the Block 8 Representative, working to keep everyone abreast of notices from National AJET, and cross-posting events from different prefectures. To reach a broader audience, I created an instagram account for Block 8, and built relationships with certain towns via CIRs. I also organized some events including a two-day experience in Tokushima with Block 7 leadership.
Shikoku JETs have a few unique concerns due to the state of access to the island and our often rural placements. As your representative, I make sure your voices are heard by the national council. Going forward, I plan to organize more frequent block-level events to bring JETs together. I want to host at least one in each prefecture. I also intend to increase activity on block social media, particularly by featuring content created by JETs in Shikoku.
As for qualifications and experience, I am the incumbent and therefore very familiar with this position. I am also the National AJET Director of Affiliate and Community relations, directing Tatami Timeshare and JET-affiliated Special Interest Groups. Thus, I am quite used to communicating with our national leadership. I have extensive experience organizing events, including handling money, managing timetables, and making reservations using Japanese.
I hope to continue to serve the Block 8 community as your representative in 2020-2021. I will do everything I can to help the JET community thrive in all four prefectures.
Block 9 Representative
Rachel Boellstoff
My fun fact is that I can hold my breath for 3 seconds.
As a 5th year, I have seen a lot of the situations that JETs can expect to encounter. I want to be the Block 9 Representative so that I can be helpful to JETs in my area. I understand a lot about what AJET can do to help people, from my 2 years as Chair of National AJET and 1 year as the Vice Chair.
In my final year on the program, I hope to use my accumulated knowledge and experience to help JETs with expected problems, and also with things that can't yet be predicted as a result of the COVID-19 pandemic. I suspect that AJET will have to adjust this year, and Block Representatives may not be able to arrange many of the recurring events of past years. I want to make sure that we are still working to ensure community connections even though traveling and gathering will be limited for an unknown length of time. I hope to help foster community and well-being for the upcoming year.
Block 10 Representative
Jonathan Amanatidis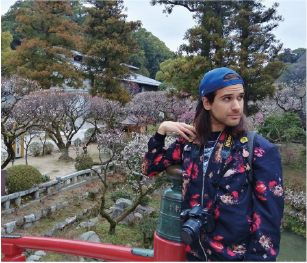 A fun fact about me: I've visited 29 prefectures, including seven in Kyushu (sorry Okinawa)!
My name is Jonathan Amanatidis, and I would be thrilled to be your Block 10 Representative for the 2020-2021 year! I am currently a second-year ALT living in Saga Prefecture, and I'm gonna be real with you – I love Kyushu. I love our block. I've endured the scalding-hot Kamado jigoku footbath, spent a night out in Tenjin until the first train home, risen at the crack of dawn to watch the Balloon Fiesta launch, and stuffed my face with castella while walking up to Oura Church. Now, I want to share my love of northern Kyushu with all Block 10 JETs.
I believe AJET is suited to not only make JET a positive experience for participants, but to advocate for real change in our work and inspire personal growth. We are stronger together, and we all have a lot to learn from each other. If elected, I would make building relationships across CO's and prefectures a priority through responsible online presence and great in-person events. Every situation really is different, so let's find out what tips and wisdom we can offer one another! This past year I served as a District Representative in Saga, where I was responsible for welcoming new JETs into my local area and helping them adjust to life here. I also took the initiative to create a brand-new welcome barbecue in my town for all new JETs in the prefecture, as well as some small get-togethers (my favourite was our hummus party). I'm no stranger to building community and relaying concerns between relevant parties thanks to my long history in Residence Life, and I'm confident I have the skills it takes to represent you. So, please consider me for Block 10!
CIR Representative
Brendan Murphy
Fun Fact: To my knowledge, I am the only current JET Programme CIR married to a current JET Programme ALT.
My name is Brendan Murphy, and I'm a first year CIR in Niigata Prefecture. (Niigata is a Designated City, so I belong to the prefecture but live and work in the city.) I am originally from Tucson, Arizona. I would like to be your CIR Representative for the 2020-2021 term.
There is value in the structure AJET already has in place to advocate for JET participants, but AJET's full potential to do so for CIRs, PAs, and SEAs often feels under-realized compared to the structure for ALTs. I would like to be your CIR Representative because I feel like I can push for expanding the value of this structure to all JET participants.
I have an unusual background for a CIR – I spent a couple of years at an IT firm in the US before applying as a CIR. However, the principles of good system administration apply to most other types of jobs. Adequate communication with colleagues and clients, knowing your own strengths/weaknesses and when to ask for help, and collecting as much feedback as possible when making changes to systems are all core elements of system administration. They are also core elements of being an effective representative.
My main goal is to help CIRs function as an equal pillar of AJET. CIRs have different roles, backgrounds, goals, and worries than our ALT counterparts, and I promise to be an unrelenting voice to advocate for issues that matter most to CIRs, and to make sure we never feel forgotten about by AJET or CLAIR.
Some of you may have already seen me as a strong voice supporting the activities of CIRs both on social media and in person. I promise to continue to do so as your CIR Representative.
Thank you for your consideration!
Check out the the executive candidates' platforms.
Go back to the elections page.