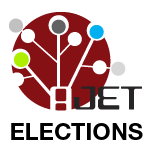 The voting for the 2012 AJET Elections is officially open! Please review the list of candidates here, and cast your votes here. Voting is now closed! Thank you for voting!
For those who voted on the premature ballot early Monday morning (3/5), PLEASE VOTE AGAIN. We're very sorry for the miscommunication earlier.
The ballots close on Wednesday March 21st at midnight.
*Names and personal information are collected for identity verification purposes only and will not be shared with any third parties. Failure to enter the information requested will result in an incomplete ballot. No duplicate votes will be accepted.
---