The votes have been cast – the new Block 11 Representative will be CJ Fischer from Okinawa. Congratulations CJ!
The election was conducted using the Single Transferable Vote/Instant Run-off Voting method, where voters were asked to rank the candidates in order of preference to ensure that the winning candidate would win on the basis of a 50% +1 vote majority of their cumulative preference rankings. Elections were re-opened due to the earthquake in Kumamoto, making many people unable to cast a vote in the original time frame.
You can see a breakdown of the voting in the graph below.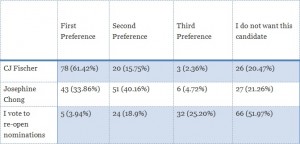 Total votes: 127 | Votes needed to win: 64
CJ Fischer: 78 | Josephine Chong: 43
---
In response to his election to the position of Block 11 Representative, CJ says:
"Hello and thank you members of AJET Block 11!
I appreciate your patience and support during our election and I want to thank you again for the chance to serve as your representative. I look forward to providing Block 11 with the resources necessary to get the most out of our time in Japan through proper self care. I am also excited work with you and the national council to address whatever challenges we may face. Finally, I cannot wait to meet as many of you as possible as we adventure through each of the 4 prefectures of block 11 together.
Please do not hesitate to reach out to me with questions, suggestions, or any concerns you may have.
Thank you!"
You can contact CJ at .
---