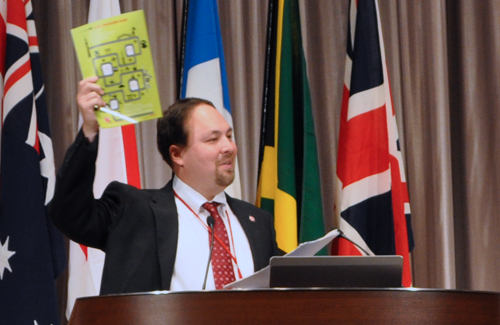 I am very excited to write to you about AJET elections!  Are you looking for a new challenge in the coming year?  Are you eager to try your hand at improving life for JET participants across Japan?  Do you want to work with an amazing team of dedicated and talented individuals?  Well, I have a job for you…  Please consider running for the AJET National Council.
Without a doubt, this work has provided me with new challenges and experiences during my tenure.  If you are like me, you enjoy new challenges and AJET has certainly been one.  During my second year, I stepped up in my local Fukushima AJET chapter, and subsequently ran for an AJET National Council position at the end of that year.  Shortly before I began my fourth year on JET, I became Chair of the Council.  Each of these steps greatly complemented my ALT job, keeping me active and growing in areas outside of my work at school, which has essentially remained the same each year.
I have heard many council members discuss how they love the work and team environment on National AJET this year.  And I have to say that I agree 100 percent.  I have learned and grown so much as a result of my experiences on the Council, and I believe we have accomplished a lot of great work as a team.  Of course, AJET is far from a perfect organization and that's where we need you.  You can continue to help AJET grow in new and amazing ways that will benefit not only the JET Programme, but its participants and people across Japan.
AJET can be quite an adventure, so if you are looking for an easy year, this might not be the job for you.  However, if you are looking for a new challenge doing some interesting and meaningful work for the JET Programme, then AJET might be what you're seeking.  Take a look at our elections page online at https://ajet.net/ajet-elections/election-rules/.  There are both elected positions and appointed positions.  Please feel free to contact me or any of the council members about running.
Also, please consider stepping up for leadership in your local chapters, as well as applying to be a Tokyo Orientation Assistant.  These are all great ways of getting involved in the JET community.  Really, my advice is to look for new opportunities each year that allow you to take on new roles within the JET Programme.  Doing so has kept each year fresh for me.  .  I've gotten to take on new challenges, and I've grown a lot in these positions, but more importantly I feel like I am able to give back to a community that has enriched my life in so many ways.
As we head into the new elections, I am very excited to see who will step up in the various blocks, appointed positions and executive leadership roles on the council!  I hope that some of you will throw your name into the ring.  Maybe one of you will be writing this column in a few months' time.  I look forward to reading it!
All the best,
Mark
---