What is Education USA?
Education USA is a US government backed, large scale internationalization initiative which seeks to provide free information and advising resources to Japanese students and teachers about studying abroad in the United States.
From the Education USA Website: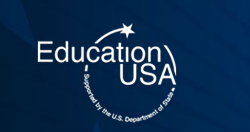 EducationUSA centers actively promote U.S. higher education around the world by offering accurate, unbiased, comprehensive, objective and timely information about educational institutions in the United States and guidance to qualified individuals on how best to access those opportunities. Millions of prospective students learn about U.S. study opportunities through EducationUSA centers each year. Centers are staffed by professional advisers, many of whom have first-hand experience having studied in the United States themselves, adhere to ethical standards, abide by the policy to refrain from working with commercial recruitment agents, and/or have received State Department-approved training about U.S. higher education and the advising process.
We offer free, unbiased advising/resources about educational opportunities in the US. 

EducationUSA in Japan actively seeks scholarships and opportunities specifically made for Japanese.

EducationUSA is interested in collaborating with youth outreach programs and would be interested in hearing about projects where we can assist. We can also provide training/assistance for those who want it.
What does Education USA do for Japanese students?
EducationUSA is a global network of more than 400 advising centers supported by the Bureau of Educational and Cultural Affairs at the U.S. Department of State. The Bureau of Educational and Cultural Affairs (ECA) fosters mutual understanding between the United States and other countries by promoting personal, professional, and institutional ties between private citizens and organizations in the United States and abroad, as well as by presenting U.S. history, society, art and culture in all of its diversity to overseas audiences.
Education USA seeks to combat the declining number of Japanese students studying abroad, by maintaining advising centers all over Japan. These centers exist to show Japanese students the ways they can plan, afford, and decide on studying abroad. AJET has been in contact with United States embassy officials and Education USA about how AJET and you, the JETs across the country, can help to with this effort.
How can I get involved?
For more information about how to help your students and schools gain access to these resources, or access to materials and speakers for your contracting organizations, please email us at
---