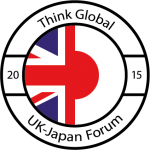 The UK-Japan Forum on International Perspectives in Education is a series of conferences focusing on facilitating idea exchange between Japanese and British t
eachers, encouraging a global outlook in the classroom, and working towards furthering global perspectives in teacher professional development in Japan and the UK.
In partnership with local Japanese high schools, the conference will provide a forum for teachers and students to exchange and discuss ideas on international perspectives in education and global awareness in the classroom.
The forum will be held on three days in the following locations:
JET Program participants and Alumni are invited to attend the conference. The cost to attend is ¥5,000.  In addition, the forum is seeking volunteers to help facilitate discussions and assist in conference operations.  There are 10 spots available for volunteers on each day, and free lunch is included for volunteers.
If you have any questions about participating in the conference as an attendee or volunteer, please contact Rory Gallagher  at.
For more information about the conference, please visit the forum's website at http://thinkglobalukjapan.edublogs.org/about/
---