Originally written for the October 2012 issue of Connect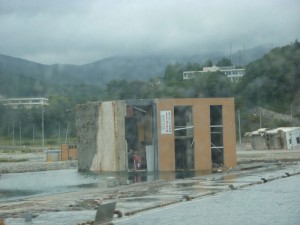 Some of us already know the international nonprofit organization Habitat for Humanity (HfH) from their work in our home countries. HfH's goal is to provide decent housing to those who need it, for which they are very much reliant on the work of volunteers. In 2002, Habitat Japan was established and they focused on fundraising and sending Japanese volunteers to international HfH building sites. Since 3.11, most of Habitat Japan's work focuses on disaster response and supporting those affected by the natural disasters. While they continue to organize international volunteer trips, every week Habitat Japan volunteers head to Tohoku to take part in recovery efforts.
Projects vary depending on the needs and schedules in the area. The first time I worked with Habitat Japan, we helped clear debris and plants so a house could later be built at that site. In September, I had a chance to work on a building project and I couldn't pass it up. Habitat Japan posted a call for volunteers for Monday, Sept. 17 to Wednesday, Sept. 19. Since that Monday was a holiday, I decided to go to Tokyo for a day and then take a day bus from Tokyo to Sendai. I hope the following diary helps in understanding how Habitat Japan's Izushima program works.
Monday, September 17
I arrived in Sendai with plenty of time to grab food and search for last minute supplies. (FYI: Daiso carries rubber dipped gloves if you can't find them elsewhere!). The train from Sendai Station to Tagajo Station takes about twenty minutes and then there's a ten minute walk from the station to the Habitat house. Once I got to the house, I met the rest of the 13 member team and we had an orientation about the Izushima project. Izushima is an island off of Onagawa Town in Miyagi prefecture and home to about 650 people. Many people in Izushima relied on growing sea pineapples as a source of income. The tsunami destroyed all those facilities and almost all the homes on the island. Habitat Japan and It's Not Just Mud have helped in some of the rebuilding efforts on the island. On this trip, the team would work to complete a building that had been started. This building would serve as a multipurpose community center. The orientation was all in Japanese, but the Habitat staff and some of the volunteers spoke English so I was still able to understand. The Izushima volunteer project participation fee was 10,000 yen, which included transportation from the Tagajo office to the site and back, meals for Tuesday and Wednesday, and insurance. After the meeting, we set out our futons, took showers (there wouldn't be shower facilities on the island), and went to bed.
Tuesday, September 18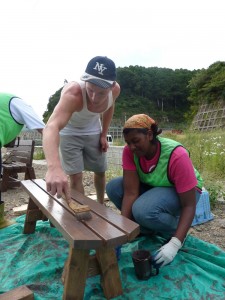 I woke up at a cheery 4:30am and at 5:15am we all piled into the vans and left Tagajo. On the way we stopped at a combini and were told to get 1500 yen or less for breakfast and lunch, which the Habitat staff paid for. At about 7:15am we arrived at the ferry dock. We unloaded our things onto the ferry and the construction materials were transferred to the boat of a local man who was also volunteering. After a forty minute ferry ride and a twenty minute car ride, we were finally at the site we'd be working and staying in. We put our belongings in the temporary volunteer house and geared up to begin our work.
The building we'd be working on was only walls and a ceiling and at 9:30am we had a quick meeting about the day's work. The man from the boat was helping with construction work and two local women made sure we had plenty of snacks and drinks at breaks. Before I knew what was happening, I was given a hammer and told to put nails along the chalk marks on the walls. I have very little building experience but gained confidence as I realized no one was watching me work. Once all the nails were in place, windows were cut into the walls and I helped take down support beams. Then, tasks were divided up. Some people measured and drew lines on more plywood, marking where nails would go. Others weatherproofed pieces of wood for a table and another team was doing work on the roof. I helped install the insulation to the walls and ceiling of the building. At around 1pm we took our lunch break in the housing shelter. It was interesting talking to other people on the team and hearing their reasons for volunteering. We had a diverse volunteer group and I met some genki college students from Tokyo. Some of them had lived abroad or were international students and I sat in awe as they switched from English to Japanese and back all in a sentence.
After lunch we finished putting in the insulation, covered it with plywood and nailed it in. The roof work was progressing; one group started building a table and the entrance way, the other painted the outside of the building to weatherproof it. Another girl and I were given the task of rebuilding a bench that had been taken apart for shipment to the island. Like a puzzle with only a picture to look at, it was mainly trial and error. Other teams finished the front windows and we called it a day at 5:30pm. For dinner, everyone pitched in with prepping, cooking, and setting the tables for a family style meal. One of the ladies from Izushima gave us a ton of shelled scallops and scallop sashimi, too. After dinner we set up our sleeping bags and had a quick meeting before bed. At the meeting we each shared our impressions of Izushima.
Wednesday, September 19
On Wednesday, we woke up at a more respectable 7am and enjoyed leftover curry for breakfast. At 8am we had our brief meeting and then continued our work. A few volunteers from It's Not Just Mud joined the work, which really helped. While I worked on continuing to assemble the bench from the day before, most people were working on roof details. Before long, it was already lunchtime and we had kimchi yakisoba. We couldn't relax too long, though, because we needed to finish working by 2:30pm so that we could pack up and catch our 3:30pm ferry. My group finished assembling and repainting the children's bench while another finished the roof and entranceway. It was a lot of work but the finished building looked pretty sweet! We spent 2:30-3:30 finishing up, packing everything up and loading it into the van, unloading it at the ferry port, and loading everything onto the ferry. People on the ferry helped us carry things and didn't care that the ferry was behind schedule because of us. Once back on the mainland, we loaded everything into the appropriate vans and those of us who had to catch trains and buses headed out early. We made it back to Tagajo at 7pm and I took the train to Sendai, quickly grabbed some combini food for dinner, and boarded my night bus at 7:50pm. Since I hadn't had a chance to get omiyage, I bought some zunda dango at the first pit stop and then slept all the way to Kyoto.
My Impression
Habitat Japan offers a quick way to volunteer and see how Tohoku is today. Every month they post calls for volunteers on their website and Facebook pages. It's easy to get involved so don't worry about your language or building skills. And the Habitat members of staff are all truly awesome to work with!
You can find out more about Habitat Japan at http://www.habitatjp.org/index_e.html and http://www.facebook.com/habitatjp.en.
---