This month features Jay Gould, who was a JET in the earliest days of the program as both an ALT and a CIR. Originally from Western Canada, he is currently back in Japan and his family lives trans-Pacifically. He and his wife, Melinda, who was also a JET, have their own business in Osaka. Jay is a firm believer in the value of JET to its participants and has remained connected to the program in various ways since his stint more than two decades ago.
Where are you from? A small town called Nelson in British Columbia.
When and where were you a JET? I was on the program from 1988-91. 1988 was the first year for Canada to participate and was only the second or third year of the program. There were very few of us then – I think only about 500-600 in the whole country maybe and only about a dozen in Miyagi where I was posted. I was sent to a small town called Towa-cho at that time. It's now part of a larger amalgamated city called Tome-shi. Towa was the sister-city of a town close to Nelson and I
think that may have been a factor in my being sent there – Miyagi was not one of my choices for postings, but I loved the place and stayed three years. You mentioned you were both an ALT and a CIR. How did that happen?
JET was a rougher dog in those days – we were all still feeling our way around a bit, trying to figure out what this program was and was going to be. When I say "we", I mean everyone from the JETs on the ground right up to the folks at CLAIR and the Ministries. I was an ALT in my first year (called AETs then), but I was based at the city hall
and made visits out to the schools only a couple days a week. My office wanted my help with their
new sister-city program and a few other projects of an "international" type – these were the heady days of Kokusaika and there was lots of money and interest in internationalization. Anyway, in my second year, we managed to talk the Kencho into letting me convert to a CIR-type of position more officially. I still taught, but my focus was primarily on things international. I helped develop the sister-city project, produced a bi-monthly English-language newsletter about Towa and local Japanese culture which was sent to all Japanese embassies and consulates, and developed a high school exchange program between Miyagi and British Columbia, which was the largest and longest-lived Canadian endeavor of its kind. Kids and teachers from almost every school district in both states (or province, in B.C.'s case) took part and the program lasted 14 years. I've remained connected to international education ever since.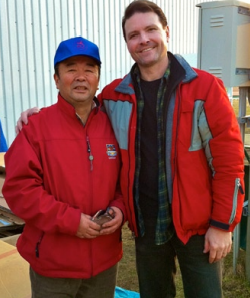 So what are you doing now? A bit of a long and convoluted story, but directly linked to my time on JET. During my second JET year, I received a letter from the Ministry of Education in British Columbia, saying that they were contacting all B.C. JETs to ask their help in establishing school partnerships. I happened to have developed a working relationship with an assistant in the Miyagi Governor's Office (because JETs were highlyvisible and fairly rare animals in those days) and we sold the Governor on the idea. I found out later that I had been the only one to respond to the Ministry's letter and things happened quickly. Within several months, the officialdom from both jurisdictions had signed agreements and the first kids arrived from Canada. I had used a connection from an old teacher friend of mine to have a school district near Vancouver be part of the first contingent and their Superintendent of Schools came over with the group. We hit it off and a couple of years later he turned around and offered me a job in his district back in Canada. I was married by then and my wife Melinda was expecting twins. We were already contemplating returning home anyway, so I agreed and said good-bye to JET and Japan in '91 – or so I thought.
I became the Coordinator of International Education for the district, supervising all district exchange programs and creating a fee-paying international student program – one of the first in B.C. – using my connections back in Japan to recruit my first clients. That went well for five years and on one trip back to Japan I came to Osaka to market the program to students at a private high school. They had their own study-abroad program and were looking for new partners in Canada. Shortly after my visit, I was astonished when they offered me the job of coordinating their Canada program for them. A bit of negotiation and soul-searching ensued, but Melinda and I decided it would be good for the family (and another adventure to boot), so I agreed and we came to Osaka. During my five years in that
job, we started our own business on the side and it soon grew so big I was being stretched too thin, so I quit my job, got an entrepreneur's visa and became independent. We now own several language schools and preschools, as well as a small import business, and I consult on international education occasionally.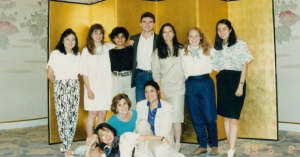 Did you think you would end up doing this? No, I did not. I'm not really the guy to go to for advice about career planning or anything like that. I just started something in an uncharacteristic burst of initiative 22 years ago and it kind of snow-balled. I simply put in my best effort at whatever I was doing at the time and made decisions about things as they came up. No real plan, except to keep my head up and never say No when presented with a challenge (even if I didn't have a clue how to start).
So your time on JET influenced your career and life. Most definitely! Everything I've done in the past 20 years is a direct result of my time on JET – an unbroken chain, both professionally and personally. Melinda was a JET as well and, though we knew each other slightly before coming to Japan, it was JET that brought us together. My JET experience has given me an interesting life full of experiences I'm certain I would not have had otherwise- traveling, meeting people, seeing amazing things –and I'm still doing it, even 20 years after JET. Are you still connected with JET? Yes, though not as much now as in past years. In my second year on JET, I was the AJET Rep for Miyagi (Melinda was the rep for Yamaguchi – that's how we met) and following my return to Canada, I was the B.C. JET Alumni Rep for a couple of years. Then, after coming to Osaka in '96, I was the West Japan Alumni Rep for a year or so, though I have to admit I was not very active, having a bit of a full plate with my job, business and family. I'm still close with a few of my JET friends and stay in touch with a wider circle of alumni friends scattered across the world now. I cannot understate how important this has been at some points in my life. JET is a special program that recruits special people and you never know where your JET friends are going to end up – or you, for that matter. My own connection will likely continue, since two of our kids are now in university in Canada and we intend to recommend that they might try a stint on JET as CIRs after they finish. It's a big program and I'm always meeting new JETs, though our mutual JET experiences are quite different, I think, and I suppose they see me a something of a dinosaur. Still, I'll always bend their ears about what a positive impact JET can have on their lives, if they hang around to listen.
---