Hyogo
Frisbee Fun
If you're free on July 9th and 10th, Tajima will be hosting it's annual Tajima Ultimate Frisbee tournament and barbeque.  Though it's too late to play, spectators are always welcome to this summer event which attracted over 300 people last year.  Check out more about it here.
Fireworks
Port of Kobe Fireworks Festival
The Kobe Fireworks festival is the biggest, the most popular firework festival in the prefecture.  10,000 fireworks will be launched from a boat and light up the sky of the Port of Kobe.  Go to Meriken Park on August 6 from 6:50-9pm to check it out.  It's just a few minutes from JR Kobe or Motomachi stations.
Beaches
If you're one for summer sun, check out Hyogo's beautiful beaches!  The famous Suma beach is just 15 minutes west of Sannomiya and has a beautiful view of sea. Get there by taking the Kobe line from Sannomiya 12 minutes.
Himeji Castle
The latest update on Himeji castle is that, though it is closed for entry inside, you can now enter into the structure built around the castle in order to allow visitors an up-close-and personal view of the castle restoration which will be going on for the next few years.  Train is probably your best bet here as well—if you get off at Himeji station, the castle is just a 10 minute walk and there will be plenty of people (and an abundant tourist center) to help you find your way.
Kyoto
Gion-Matsuri
The annual Gion festival will take place between July 1-31 this year, with the biggest event happening from the 14-16th when the numerous Hoko and Yama (floats) are decorated with lanterns and marched through the streets.
Riverside Dining
Every summer, Kyoto city puts up a terrace along the Kawa Yuka which allows you to eat on the river at over 100 restaurants.  Nice idea if you're on a date or just in Kyoto and want to enjoy some fine river dining.  Check out more about it here.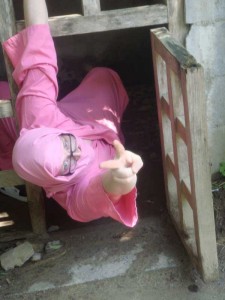 Shiga
Shiga is home to one of the famous ninja villages where you can dress up and do a day of "real ninja training." Go to Koka Ninja Village if you want a chance to learn how to throw the famous Shuriken (throwing knives) or to Koka Ninjutsu Yashiki if you'd rather just go see the old houses of the ninja (complete with hidden doorways).  Go here for more info!
---