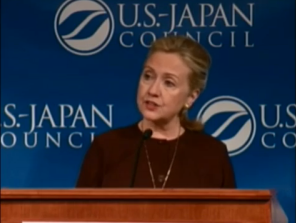 Greetings JETs! It's been another exciting month in the world of the JET Programme. Not only was there a conference for the JET Alumni Association International in Tokyo and a collaborative volunteering trip with Paul Yoo's Volunteer Akita and JET Alumni in Tohoku, but the JET Programme received a mention by United States Secretary of State Hillary Clinton, in her address at the U.S./Japan Council Annual conference.
After highlighting how important the ties between America and Japan are, she turned her focus toward the issue of the future of education in Japan.  Citing the 50% drop in the number of young Japanese students studying abroad in the past 14 years, Secretary Clinton stated her concern toward the future of it's ties with Japan.
You can read or watch her entire speech here:
http://www.state.gov/secretary/rm/2011/10/175151.htm
Secretary Clinton mentioned that the U.S. was "redoubling" it's efforts toward connecting Japanese students to universities in America and doing "whatever it takes" to reverse this trend. She spoke directly about initiatives to mobilize JETs in Japan to make Japanese students aware of the options they have to live, study, and learn abroad via Education USA.
We've been in contact with United States embassy officials and Education USA about how AJET and you, the JETs across the country, can help to further our internationalization efforts on a grassroots level. By assisting with large-scale initiatives like this, we can increase the impact we have on our students' lives exponentially.  We might not be able to give each and every student the money to live, travel, and study abroad, but we can surely show them the means by which that can become possible.
In Osaka, we've slated a time for a representative from Education USA to address JETs ,and our Japanese colleagues, at our ALT Skills Development Workshops (Formerly know as Mid-Year Conference).  This is so that we can all be aware of the opportunities available to our students.  There has also been a collaboration with the U.S. Embassy to bring in the best of speakers for our fellow JETs.
Learn more about Education USA at: http://educationusa.state.gov/

You may be saying to yourself, "I'm not American, why should I get involved with Education USA?" That's a fair enough question.  Here's why: How much has the JET Programme helped you to see another culture and way of life?  How much do you value that experience?  How would you like to be able to CONNECT one of your students to a similar opportunity to study and experience a foriegn culture that they might never have known they had a chance to?The more Japanese students that study abroad, the more that can share with their classmates, friends, and families.

By giving our students an opportunity to see other cultures, we will have empowered them to touch the lives of those around them with that same experience.  In the end, our impact as JETs can amount to much, much more than we ever imagined.

In the coming months, AJET will begin distributing information about a variety of ways that JETs can assist their students who have chosen to pursue studying abroad in a foreign country. If you would like more information about initiatives like this, or access to materials and speakers for your contracting organizations, please email us at

Matthew Cook
AJET Chair

---