Mirai no Mori Summer Camp Volunteers
Become Summer Camp Volunteers! Please join us to empower children in care through transformative and fun outdoor experience!
Team Leader Job Description:
Team leaders are responsible for leading your team of campers, implementing the core programs, creating a safe and fun environment, and providing individual care for each camper in a small group setting. Each team may have 5 – 10 campers for you to supervise, and ages can vary from 6 to 15.
1. Camp Dates:
Mandatory Training (Miyagi Onsite): July 24-26
Camp session 1: July 27 – July 31
Days off (unpaid) ONSITE: August 1 – 2
Camp session 2: August 3 – August 7
Days off (unpaid) ONSITE: August 8 – 9
Camp session 3: August 10 – August 14
*You must be available for all the dates above, from July 24 through August 14.
2. Location: Campsite in Miyagi, Tohoku.
3. Compensation:
Mirai no Mori will provide the following to all staff:
– Accommodation (tent or cabin) from July 24-August 14
– Food on camp and training days
– Reimbursement of transportation expenses round trip from your nearest station <-> Kurikoma- kogen Station (up to 40,000JPY) OR your nearest station <-> Tokyo Station (up to 15,000JPY)
Application Deadline: April 30th, 2020
Details and Application Form: https://mirai-no-mori.jp/get-involved/
PDF Version Below: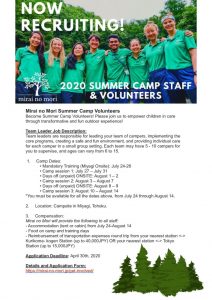 ---