by Selene Della Queva Odaka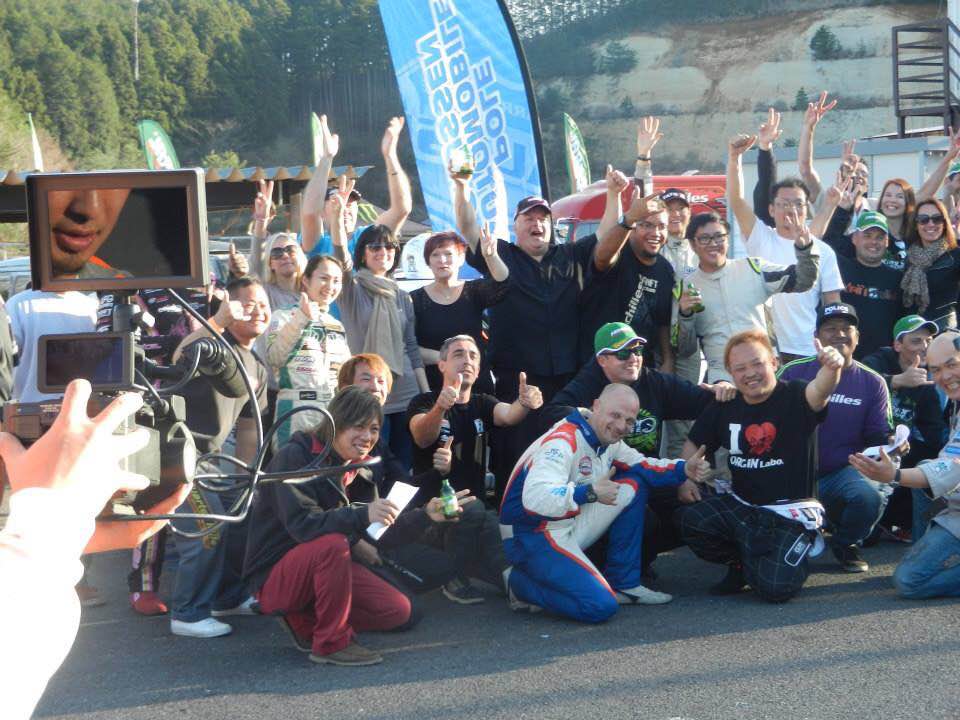 I had the experience of a lifetime this past spring. Tochigi is a beautiful prefecture filled with history, art, and wonder; however, there is a part of Japan's culture that often gets overlooked: Drift Racing. Before going into my personal findings, I would like to tell you a bit of background on Drift Racing.
When was the last time you experienced skidding in your car? Though many are unaware, drifting is generally defined as a controlled version of skidding. When it comes to drifting related to cars, there are several definitions; however, for the purpose of this article I will refer to the definition provided by Paul Morton, editor of Import Racer Magazine: "The objective is to maneuver a vehicle through corners at speeds and angles that exceed the vehicle's ability to adhere to the roadway. During a 'drift', a driver negotiates through corners with control and adequate speed in a 'sliding' fashion" (5).
Tsuchiya Keiichi was a passionate driver that practiced his drifting skills on the Japanese Mountain passes (touge) in his Toyota AE86 (1986 Toyota Corolla). During that time he was admired by many street racers until it caught the attention of tuning shops and magazines, which created a video featuring Tsuchiya racing. Tsuchiya's popularity within Japan grew quickly, and he eventually became known as "Dorikin" or in English "Drift King." With the rise in popularity, in 2001 he managed to join forces with Tokyo Auto Salon founder Inada Daijido to create the first organized drifting event, the popular D1 Grand Prix (1). Today there are manga, animation, and movies dedicated to the sport, thus increasing its popularity.
Drifting also has a controversial aspect. My husband does drift racing as a hobby, so we spend as much time at the tracks as possible. Particularly on the way to the race tracks, I can always see signs of people trying to shut down the tracks. The dilemma falls with the friction between the tracks and the people who live around these tracks. Many drift racers get a bad reputation because of the "Hashiriya," or street racers. These street racers often race illegally in mountain passes at night, but those who race legally on the tracks take the brunt of the complaints from those complaining about the noise. I'm a firm believer that if these people could see this as a marketable asset for Japan, they would complain less.
Today, Drifting is a large part of Japan's culture and it often brings camaraderie between car enthusiasts all over the world. In Film Journal International in 2006, Ethan Alter published his interview with The Fast and the Furious: Tokyo Drift film maker Justin Lin, who traveled to Japan to conduct research for the movie: "In japan, drifting isn't just a sport—it's a virtual lifestyle, one that inspired a number of competitions, advertisements and even popular manga series." (4)
Finally I can go into my experience! The King of Asia Pro Series, hosted by King of Europe's Mike Procurer and "Drift King" Keiichi Tsuchiya, was a world Exhibition match held on March 27, 28, and 29 (2015) at Nikko Circuit in Tochigi. This event, in which over 10 countries all over the world were represented, is a true testament to the camaraderie that is shared between drift lovers all over the world.
Being Italian-American myself, after meeting the American racer Donald Jackson Junior I immediately went to introduce myself to the Italian racer Nicolo' Rosso, who was excited to speak in Italian, as English was the main method of communication at the track. Even though to some it was tiring to speak in a non-native language, the racers used English to communicate, cheer each other on, and even help each other when having car trouble. As an ALT, I realized that facilitating the willingness of using English at any proficiency was more important than having a high level of proficiency.
The MC, Rashi Hamler, was clearly announcing in both English and Japanese over the loud speaker, but it was evident that without the English part, some racers and spectators might not have been able to enjoy the event as much. In fact, the MC was lively, and funny in both languages, so one who spoke both certainly enjoyed the event to the max. But language had no relevance when it came for cheering! Everyone cheered in their own manner! Particularly French racer Nicholas Delorme's supporters were ecstatically cheering for all the racers as well as their own. I was really touched by this. I couldn't believe the support!
I interviewed two racers who were at the event to find out what brought them there. The first person I interviewed was American Racer Donald Jackson Jr. also known as the "Pink Ranger." Before coming to Japan he was active in the US Air Force, and currently works as a "Department of Defense contractor with F16 Fighter Jets GPS systems; however, he spends roughly 6-8 hours after work involved with motor sports." Much of his work can be seen on his YouTube channel, Donald Jackson Drift. He had a passion for import cars long before coming to Japan, so it is not surprising that he chose to come to the motherland of his passion. He offered a few words that show the extent of his passion: "Many have no idea that I spent six years of my life as government property and three years in a warzone getting shot at."
At the event I saw Jackson speak to many of the other racers, and I asked him how he communicated with them. "The primary method of communication was English, which was used by nearly everyone there," he said. "I also tried to use my baby 'nihongo' (Japanese) skills, and impressed people." It is amazing how sharing a passion can promote foreign language usage from anyone from all over the world.
The second person I interviewed was Toni "Half Breeds" Arakaki who is from both Japan and the Philippines. Being able to speak Tagalog and Japanese as well as English, he had no trouble communicating with the other racers. He is a school teacher, but he also devotes his time and passion to drift racing. He believes that "drifting is a global sport; it really brings everyone from different regions of the world together and puts out a good show for the fans to witness."
Mr. Arakaki was not joking when he said that people were brought together. I was honored to meet not only Donald Jackson Jr., Nicolo' Rosso, and Toni Arakaki, but also Karolina Pilarczyk from Poland, Nicolas Delorme from France, Luke Fink from Australia, Daigo Saito From Japan, and even the legend himself: The "Drift King" Keiichi Tsuchiya. It was a dream come true! It is hard for me to believe that it happened. These people are worldwide famous, and yet I was able to easily approach them as if they were just another person in the crowd.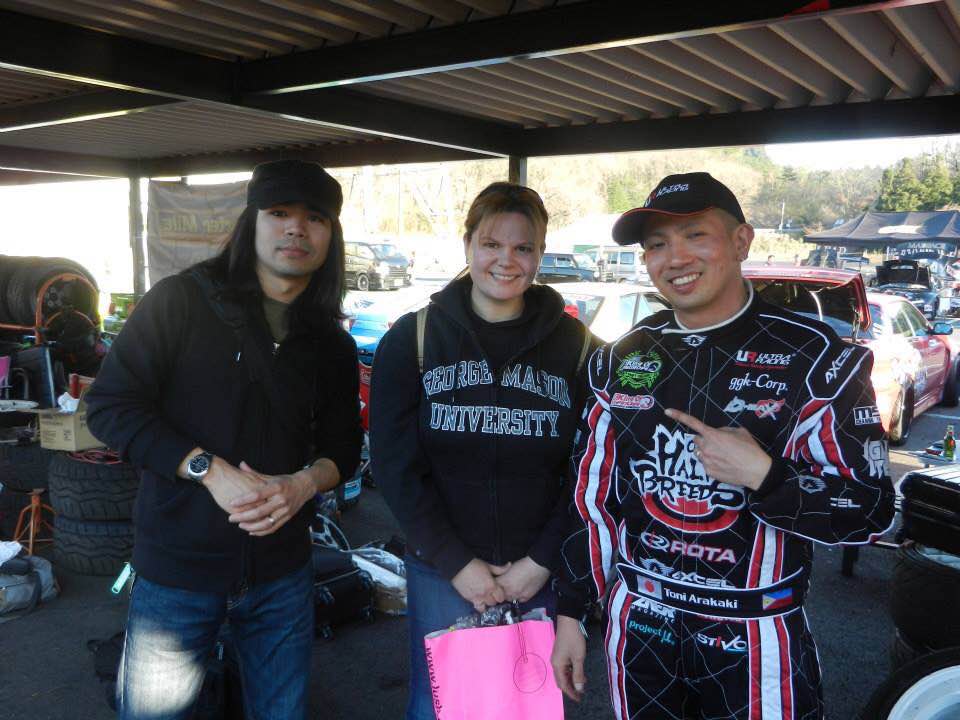 MC Rashi Hamler was kind enough to introduce me to some of the racers. I was pleased that they took a genuine interest in knowing about my personal interest in the sport. Ms. Karolina shared her passion for V8 engines and her struggles with driving a car with turbo for this event; meanwhile, Ms. Karolina's husband came to talk to me about the efforts that he and his wife put into this sport, while giving his wife full credit for their success (the pride, love, and support for his wife was phenomenal!).  Even after a beautiful drift, Luke Fink mentioned that he was having car overheating troubles. Mr. Jackson and his sidekick Allan Arcega not only let me and my husband hang around them while they prepped the car, but even asked my husband to rev up the car to help them test the engine. They asked for our opinions even though we were far from their experience level.
I had just met these people, yet they all made me feel like I was part of the King of Asia family. I am sure that if I approached a world-famous actor I would not get the same experience as with these world-famous drift racers.
Japan does have a very prominent "kawaii," or "cute," culture, but I believe that Drifting gives Japan a very "kakkoii," or "cool," image that Japan could incorporate in its
"Cool Japan" initiative to promote Japan across the globe. I have heard many people say that Japan is a warm country, but that it is often hidden by the fact that many Japanese are very shy. This might be true, but through this event I saw a whole different side of Japan. I saw people trying their best to communicate in English, even if all they could use were a couple of words. I saw people from all over the world unite in Japan and communicate with whatever method they could, using English as a base. I am currently expecting my first child, and I already know that our whole family will be a part of the drifting world—I am already planning to take drifting lessons from the Pink Ranger!
Sources:
Carlitos, K. (2011, June 16). The history of Drifting. Top speed RSS. Retrieved May 5, 2013 from http://www.topspeed.com /cars car-news/the-history-of-drifting-ar111147.htm.
Interview with Donald Jackson Jr. [Online interview]. (2015, April 8)
Interview with Toni Arakaki [Online interview]. (2014, April 9)
Lin, J. (Director), Kavanaugh, R., & Moritz, N.H. (Producers), & Morgan, C. (Writer). (2006). The fast and the furious: Tokyo drift [Motion picture on DVD]. United states Universal Pictures.
Morton, P. & Loh, E.9Eds.). (2003, July). Executive Summary. Import Racer!, (7), 4-4. Retrieved July, 2003.
---