by Desirae A. Witte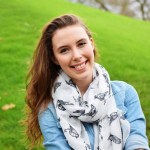 A question I'm often asked by people around me is, "Why did you decide to come teach in Japan?". Many often assume it's because I dream of one day being a teacher, or an international relations person, or that I hope to settle down here in Japan. While I certainly can't predict the future, as it stands, none of those things fall in line with my actual future career plans. I'm sure this is a situation many JET's can relate to, and I'm certain many of us grapple with the same question; "how can life on JET contribute to my future career in a meaningful way?". Well, I'd like to share with you my experience of a rare opportunity pertaining to my field that would not have come my way had I not been in Japan on the JET Programme.
I graduated from university in May 2015 with a Bachelor of Media Arts with a major in Animation. Last summer in Vancouver, where I attended university, I had the opportunity to be a Student Volunteer, or SV, at SIGGRAPH (short for Special Interest Group on GRAPHics and Interactive Techniques), which is an international conference showcasing the latest in computer graphics technology, and features an amazing exhibition of cutting edge robotics, digital art, and innovations in animation and gaming. SIGGRAPH hosts two conferences annually, one in North America, and one in Asia. The SV program is competitive, with the application requiring essay responses and letters of recommendation, as the main benefit for the SV's is a full conference pass valued at well over 100,000 yen. Students and recent graduates travel from around the globe to volunteer at this conference, but as I often don't have thousands of dollars handy for travel, I was sure the 2014 Vancouver SIGGRAPH would be my one and only. As luck may have it, however, SIGGRAPH Asia followed me to Japan this year, and despite having already graduated, I was still eligible to volunteer. So I took that nenkyuu and booked a bus to Kobe.
During the conference, I was assigned shifts to help facilitate the conference – door duty, badge checking, assisting presenters, etc. But the best part was in between shifts. I was able to see some talks from Pixar on their new rendering software, and their new animated short, I learned about new techniques being used by some of the best visual effects studios in the world, and had the opportunities to talk to professionals one on one and gain more insight into the goals I want to focus on in my career, and what I can do to help achieve those goals. I made really interesting connections with people in Japan as well, and learned about opportunities here that I was completely unaware of.
Another huge benefit of events like this is the opportunity to meet like-minded people going through the same thing you are. SIGGRAPH Asia 2015 brought together over 7,000 people from 49 countries across the globe, according to an article recently published by the Animation World Network. Thanks to SIGGRAPH, I have new friends in countries all over the place – from France, Germany, India, USA, Australia, Japan, Singapore, China, Hong Kong, Korea – just to name a few. I met many fellow artists, but also computer science wizards, PhD students, user-interface designers, game coders, and so many more. These are the people who will be the leaders of the industry one day – the friends who will hire you, and the ones whom you will hire.
So back to that question that I (and I am sure many of you have been asked) – "why teaching in Japan?", and is it relevant to our futures? My experience has led me to realize that it is relevant, although you may not yet realize how. My experience living in Japan has already set my apart in the eyes of my colleagues in the computer graphics industry, because even though my Japanese ability is quite low, it made me a valuable asset at a conference in my field where most of the attendees only spoke Japanese. Oh man, my Japanese was pushed to its absolute limits trying to translate and work out issues with attendees. But even a little language goes a long way, and I was even given a certificate in recognition of my service as a volunteer. Too often in life timing is everything, and I would not have had the opportunity to attend SIGGRAPH Asia if I hadn't been in Japan this year, thanks to the JET Programme.
With that in mind, try not to look at your time here in Japan as a 'break from your real life'. Bring your career goals and dreams to Japan somehow. Make your job relevant. If you're in media and animation, make awesome visuals to show your students in class. Use your free time to work on the projects you never had time for in university. It's easy to fall into the trap of taking it easy and enjoying a fairly easygoing life here on JET. But we all need to remember that it is temporary – five years goes by quickly, and it's important to return home more capable and prepared for our futures than we were when we left. In a country with as many people as Japan has, there is opportunity. Trust me, I know.
---