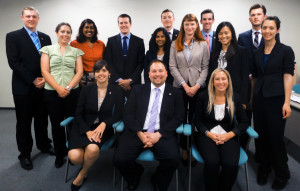 On May 12th and 13th, the Spring 2013 Association for Japan Exchange and Teaching (AJET) Opinion Exchange Meeting was held in Tokyo. This is a biannual meeting between the Ministry of Internal Affairs and Communications (MIC); the Ministry of Foreign Affairs (MOFA); the Ministry of Education, Culture, Sports, Science and Technology (MEXT); the Council of Local Authorities for International Relations (CLAIR); and National AJET. The topics of discussion were: Reappointment and Retention; Professional Development for Coordinators for International Relations (CIRs); and the AJET National Council 2013 General Activities.
Reappointment and Retention
This report examines how JET participants approach, weigh, and resolve the decision to accept or decline reappointment offers based on a survey conducted among current and former JET participants. The report also aims to equip contracting organisations with the participants' perspective regarding reappointment and retention. Additionally, this report presents recommendations for keeping effective participants employed on the JET Programme longer and for motivating participants to complete their terms of appointment. You can read the report here and the discussion summary here.
Professional Development of Coordinators for International Relations
This report focuses on current JET Programme CIRs who engage in all manner of international exchange activities in government offices, international centres and other organisations throughout Japan. This report voices CIRs' opinions on existing JET-affiliated professional development opportunities and makes suggestions for future services. You can read the report here and the discussion summary here.
AJET National Council 2013 General Activities
This general activities report details the 2012-2013 National Council's activities, accomplishments, and accounts. This report encompasses a summary of all council work throughout the year, examining both those goals set and successfully achieved as well as areas for future improvement and reassessment. This report was presented to facilitate dialogue for improving and bettering existing service and support systems for all JET participants. You can read the report here and the discussion summary here.
After the presentation and opinion exchange of the aforementioned three reports, time was allocated for open discussion, based on the theme of 'Networking for Life after JET'. The following represents a summary of this discussion:
With regards to the issue of 'Networking for Life after JET', the Ministries, CLAIR, and AJET all agree that this is important to continue to promote to JET participants. Many social networking avenues already exist and are very active among JET alumni for the purpose of maintaining connections and networking, including opportunities for both online and face to face interactions.
The Ministries, CLAIR and AJET expressed a desire to increase professional networking opportunities through the JET Programme Alumni Association (JETAA), various other alumni programmes, chapters or associations, ambassador-type initiatives and other avenues. AJET will consider more ways to encourage participants leaving the Programme to maintain ties with Japan, such as through sister-city relationships, embassy or JETAA chapter events, kenjin-kai (prefectural associations) or other JET-affiliated, senior-junior networking programmes such as the JETAA Tokyo mentorship programme.
By utilising these avenues and participating in more initiatives, JET Programme alumni can positively promote Japan and their experiences on the Programme, using both the personal and professional networks they developed while in Japan.
The Spring 2013 AJET Opinion Exchange Meeting was another successful opportunity for discussion and opinion exchange between CLAIR and the Ministries that oversee the JET Programme and AJET. National AJET would like to express its sincere appreciation to MIC, MOFA, MEXT and CLAIR for their continued support of, participation in and contributions to these biannual meetings, and for acknowledging the valuable role such opinion exchanges have in ensuring the continued success of the JET Programme.
---