By Amelia Hagen

By now you know that there are low cost alternatives to flying with the Japanese standard of All Nippon Airways (ANA) and Japan Airlines (JAL). If you're like me, you aim to maximize your jet-set budget around Japan. Below, I break down seven of Japan's Low Cost Carriers, aka budget airlines, in terms of destinations, costs, booking, and typical availability. Hopefully, this will simplify Japan's LCC business for you when planning trips in the future.
Skymark Airlines
Arguably the most well-known budget airline in Japan, Skymark first really stepped out in 1998 but did not become extremely popular until 2009. Originally only offering flights on a few routes, Skymark has recently expanded its offerings. Its destinations now include Amami, Ashikawa, Fukuoka, Ibaraki, Kagoshima, Kitakyushu, Kobe, Kumamoto, Miyako, Nagasaki, Naha, Sapporo, Tokyo Haneda, and Tokyo Narita. Fares range from 2,800 Yen (Naha-Miyako) to around 20,000 Yen. Please note that all flights go on sale two months in advance at 9:30am. Get your fingers ready then as the site can become quite overloaded and the cheapest flights for holiday periods can be difficult to obtain.
JetStar Japan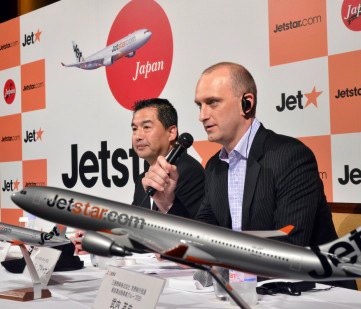 Fresh on the scene, JetStar Japan is keen to pounce on the domestic LCC customers. Having announced flights just last month, JetStar Japan's major stakeholders include Qantas, Japan Airlines, and Mitsubishi Corporation. Initial destinations this summer include Tokyo Narita (the hub), Kansai, Fukuoka, Naha, and Sapporo. You can book flights now through next April on JetStar Japan's website but the majority of weekends are already sold out. Try flights on weekdays – you might have to give up a day or two of nenkyu but it will probably save you some cash. Of course, you can also easily fly JetStar internationally from Japan out of Kansai or Narita heading to Cairns or Melbourne – Tullamarine.
Hokkaido International
Airlines (Air Do)
This Sapporo-based LCC is not just about its cute and cuddly-looking Boeing 737s and 767s. Officially taking off in 1996, Air Do serves a plethora of primarily northern cities. Destinations consist of Tokyo Haneda, Asahikawa, Hakodate, Sapporo, Memanbatsu (Ozora), Tokachi-Obihiro, Sendai, Niigata, Toyama, Komatsu, and Fukushima. Similar to Skymark, Air Do flights go on sale two months prior. Fares between Haneda and Sapporo range from 9,800 Yen to 26,000 depending on when you book. Purchase at least 28 days in advance for the cheapest flights. Unfortunately, the website is in Japanese only. To those looking to explore different parts of Hokkaido, Air Do could be your ticket there!
Solaseed Air
Not to be left out of the LCC picture, Kyushu is home to a few LCCs with destinations that might surprise you. Solaseed Air is part of the club. Originally incorporated as Skynet Asia Airways in 2002, Solaseed seeks to connect Kyushu regionally, with Tokyo, and with Naha. This re-branded LCC currently flies to Tokyo Haneda, Naha, Miyazaki, Nagasaki, Kumamoto, Kagoshima, and Oita. However, additional destinations are in the works. Visitors to Japan may want to take note: Recently, Solaseed has offered discounts to foreign tourists of up to 65% off regular fares. If you're currently living in Japan, Solaseed is advertising 9,700 Yen flights on every route if you reserve at least 28 days in advance. Excluding the portion for tourists coming from abroad, this website is only available in Japanese.
Peach Aviation
Based at Osaka's Kansai International Airport, Peach was the newest LCC darling here before JetStar landed in Japan a few weeks ago. Peach is a joint venture by All Nippon Airways and First Eastern Investment Group, and announced flights last year. Its flights began in March and from Kansai, the bright magenta Airbus 320s now fly to Fukuoka, Kagoshima, Nagasaki, and Sapporo. May 8 marks its inaugural flight to Seoul with flights to Hong Kong and Taipei coming later this year. Oneway flights between Fukuoka and Kansai range between 5,000 and 12,000 Yen and are even lower during sales. I'm happy to report that Peach's flashy, bustling website is available in both English and in Japanese. You can book flights earlier with Peach but cheaper fares may become available as part of bargain sales after you book yours.
StarFlyer
Headquartered and based in my city of Kitakyushu in Fukuoka Prefecture, StarFlyer is the classiest LCC I've ever flown on. Its Airbus 320s' exteriors and interiors are almost entirely black. All seats (economy) are leather and come with USB charging ports, adjustable headrests and footrests, and LCD monitors. Unoccupied middle seats can even be used as cocktail tables. Modeled after JetBlue Airways in the US, StarFlyer operates flights from Tokyo to Kitakyushu, Fukuoka, and Osaka. This July, StarFlyer will commence Kitakyushu-Busan flights that can be as low as 6,600 Yen for day trips and 7,600 Yen for regular round trip flights. As long as you book on the early side, all domestic routes hover around 10,000 Yen one way. If you're an ANA frequent flyer, you can also earn miles by flying StarFlyer. Like Skymark, fares are released two months in advance at 9:30am.
Air Asia Japan
A joint venture between Malaysia's Air Asia andJapan's ANA, Air Asia Japan expects its first flights to take off later this August. Air Asia Japan will be based at Narita and will first fly to Okinawa, Sapporo, and Fukuoka. In October, flights to Busan and Seoul will commence with long haul flights to destinations such as Thailand, Taiwan, Indonesia, and Singapore coming later. Air Asia's home site frequently hosts sales and announces new routes. Be on the lookout for more information there soon. Ever since I scored that round trip Kuala Lumpur- Bali flight for $50 USD, I've been a fan of Air Asia. I'm excited to see what Air Asia brings to the LCC mix to differentiate itself in Japan later this year.
There's your roundup of LCCs in Japan. East Asia has joined Europe and Southeast Asia in terms of offering flights that appeal to everyone's wallet. There are certainly a variety of options that open up The Land of the Rising Sun to the budget-minded traveler now. Just have to know where to look! The biggest piece of advice I can offer is to watch your dates and book early. Two months prior is the magic window of opportunity. Enjoy perusing your LCC options across Japan – you never know what steals you might find!
Amelia Hagen is a fourth-year ALT in the home of Ayumi Hamasaki, also known as Fukuoka Prefecture. When she is not traveling to the far ends of the earth, she enjoys chodo-ing, or paying with exact change, fist-bumping Hello Kitty at Oita's Harmonyland, and searching for the next jetset bargain. Amelia is the former President of Fukuoka AJET.
---