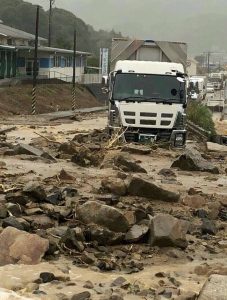 Peace Boat Disaster Relief Volunteer Center (PBV) is looking for volunteers in December.
Western Japan was hit by historic rainfall in July 2018, leading to the worst storm-related disaster in the Heisei era. In response to the disaster, PBV has carried out relief activities in the affected area right after the disaster in July. Since then, PBV has dispatched hundreds of volunteers from all over Japan and also from other countries, to Kurashiki city, Okayama Prefecture where severely damaged by the disaster. Kurashiki is a beautiful town with a rich history.
People in the damaged area are still facing huge challenges in recovery, and are in a great need of help from volunteers to rebuild their lives and communities. PBV organised a team of international volunteers in October (the report available on [Flooding in Western Japan] Helping Hands Beyond Borders and Nationalities), and we are now making another call for international volunteers who can join their activities in Kurashiki in December. They offer language support (in English) during the volunteer activities, so this will be a great opportunity for those willing to help the people in the damaged area but may be feeling a little hesitant to join because of the language barrier. Should you be interested in joining, or know someone who may be, please do let us know and share this news!
We also collaborated with PBV in 2011.
For more information, send a message to relief@pbv.or.jp or visit their website.
For other volunteer opportunities, check out the AJET's volunteer page or contact the AJET Director of Volunteering.
---