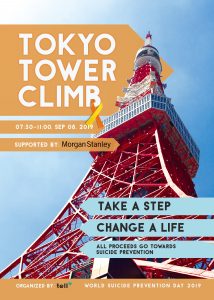 Did you know that September 10th is World Suicide Prevention Day? How about joining a charity event to raise money and awareness while crossing off a bucket-list opportunity? TELL has partnered with Tokyo Tower to offer a challenge to not only raise money for one of Japan's most well-known mental health NPOs, but also to challenge your endurance. The annual TELL Tokyo Tower Climb is on September 8, 2019 to raise money and awareness for World Suicide Prevention Day. For this event, you will enter with over 450 participants to climb the stairs of Tokyo Tower to the top in a one-by-one time trial format.
Last year's TELL Tokyo Tower Climb raised over 4 million yen and was attended by about 500 people from overseas, cooperation, schools and families. The deadline to sign up is Saturday, August 31st.
Date: September 8, 2019
Time: 7:30AM – 11:00 AM
We have worked with TELL on other events such as the TELL Suicide Awareness Campaign.
For more information, send a message to  or visit their website.
For other volunteer opportunities, check out the AJET's volunteer page or contact the AJET Director of Volunteering.
TELL is a not-for-profit organisation dedicated to providing world-class, effective support and counseling services to Japan's international community as well as helping to address the country's growing mental health care needs.
---