Current JETs, get set and design the official 2012 AJET t-shirt with our t-shirt contest!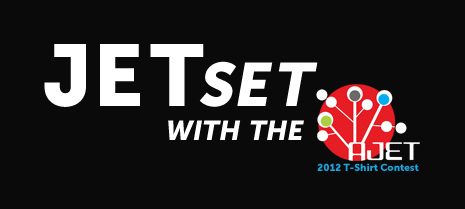 The theme for this contest is "JETset", but how to interpret this phrase or how closely you adhere to the theme are up to you. The theme is just to get you started, so you don't have to include the phrase in your design if your creativity takes you in other directions. Please do not use the JET Programme logo or AJET logos, though, as this is meant to be something for everyone involved with Japan Exchange and/or Teaching! Check out the down and dirty details below.
Contest details in a nutshell:
Open to all current JET Programme participants.
JETset theme. Go crazy.
Plan to have your design on a PRINT STAR 083BBT T-shirt. Check your color options here.
Up to 3 colors (not including shirt color) allowed in design.
No JET Programme or AJET logos.
JPG previews of design due to  by Friday, December 21st at midnight Japan Time.
More details needed? (A prize, what?!) Read on below.
Need a template to help you display your design? Grab the PDF file from Dropbox by clicking on the image!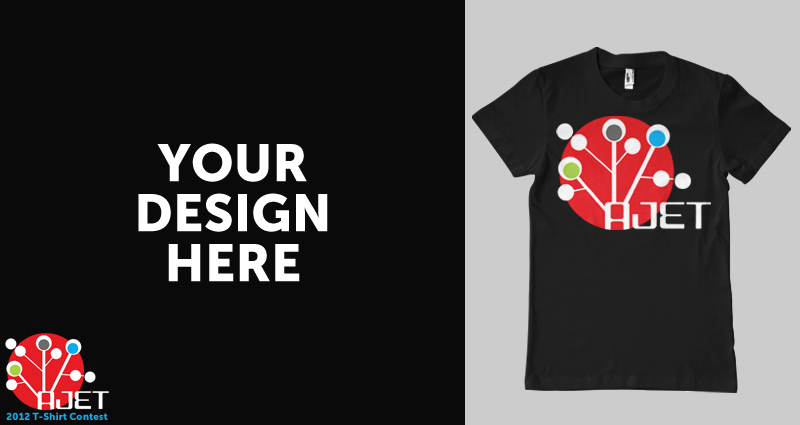 Download the PDF with 22 t-shirt colors here.
Contest details with a little more explanation:
The 2012 AJET T-shirt Contest is open to all current JET Programme participants. This contest hopes to display the best of what our National AJET community has to offer, at least as far as "the best" gets in terms of t-shirt designs.
Entry details:
Entrants must submit a JPG file preview of their design along with their name, prefecture, and year on JET to by midnight on Friday, December 21st. The JPG preview should be no larger than 800×500 pixels and clearly display your design. Designs should be your own creation, and should not feature the JET Programme or AJET logo anywhere in the actual design. If your design is chosen as the grand prize winner, you will need to submit your design as a illustrator or digital line drawing as well, so please hang on to your vector files. Any questions about image formats may be directed to our Head of Visual Media, Melania Jusuf, at .
Designs may feature up to 3 colors, not including the t-shirt color. The grand prize design will be printed on PRINT STAR 083-BBT shirts, which are available in 22 colors. You may specify a shirt color with your design or leave it up to the National Council to pick after the contest concludes.
Contest Voting:
Designs will be put to a nationwide, public vote on the AJET.net website in early January for approximately one month's time. All entrants will be notified via e-mail when the voting begins and ends.
Fabulous Prizes:
One grand prize winner will have their design printed on the 2012 AJET T-shirts. The grand prize winner will also receive a free t-shirt of their design and an AJET gift pack.
Two runners-up will receive one free t-shirt each with the winning design on them.
Ownership/Rights:
By entering this contest, entrants retain the copyright of their design but grant AJET the right to print and sell their design until December 31st, 2013 without any fee or compensation other than the prizes listed above. Entrants also agree to have their submitted design displayed on the AJET website (AJET.net), displayed on the National AJET fan page (facebook), and used in AJET publications without any fee or other compensation. Displayed designs will be credited to the entrant's name and prefecture in all instances. After December 31st, 2013, the printing rights for the design revert back to the entrant for whatever purposes they wish.
Further Questions?
E-mail us at !
---