Miyagi AJET has launched a Micro Grant Program in honor of Taylor Anderson intended to "empower JETs with financial support in their efforts to fulfill the goals of the JET Programme in and outside of school."
Read below for full details (via Miyagi AJET):
To all Miyagi/Sendai JETs: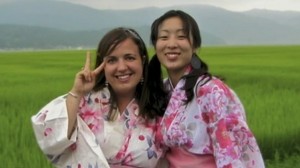 Employed directly through Boards of Education and embedded in communities, we JETs have a lot of potential to do great things here in Japan. Many of us invest our personal time, and sometimes our own money, to craft interactive lessons that engage students, to motivate students and spark their interest in English and foreign cultures, to produce quality events educating the people in our communities about our home countries, and more. As the AJET branch for Miyagi and Sendai, MAJET is here to support you in your activities as a JET, and to this end, we would like to announce the "Miyagi-Sendai JET Micro-Grant Program."
Attached please find a detailed description of the program, outlining it's goals and how to apply. To put it simply, as Miyagi starts to take it's formative steps towards recovery from the March 11th disaster, the purpose of this program is to empower JETs with financial support in their efforts to fulfill the goals of the JET Programme in and outside of school.
All too often JETs have great ideas to create language/culture boards at their school, to put on fun events for eikaiwa groups, to put on culture days at the local community center, but find themselves encumbered for lack of even a minimal working budget. There's only so much that can come out of our own pockets, which is where this program comes in. Whatever idea you may have for doing something that you feel helps meet the goals of the JET Programme (internationalization, cultural interaction, language education, etc.), we want you to tell us about it. If your idea does indeed further the cause of JET, we'll provide you with money to make it a reality! Initially we have set the range of possible grants to between 2,000 and 10,000 yen, but if you have a particularly good idea, let us know and we will consider going beyond this range.
If you are interested in applying for a grant, please fill out an application here:
https://docs.google.com/a/ajet.net/spreadsheet/viewform?formkey=dDNPaFdVSFUxUDBzb1pZcGttZEdoSHc6MQ
Even if you are currently engaged in an activity that you already pay for out of pocket, let us know and we may be able to provide you with funding to take this activity to the next level. Please keep in mind that once funds run out, this program will be discontinued, so if you have an idea for things you want to do next spring/summer, let us know sooner rather than later.
In announcing this program, we would like to give special thanks to the family of Taylor Anderson, an Ishinomaki JET who was sadly loston March 11th. During what was undoubtedly a trying time for the Andersons, they decided to honor Taylor's memory as best they could in supporting the recovery of the community in which Taylor lived, and which she loved. Knowing Taylor's activities as a JET, the Andersons recognize the importance of the JET Programme towards internationalization and language education at the grassroots/community level in Japan, and see the potential for the JETs of Miyagi and Sendai to be active parts of recovery. It is a result of the Andersons commitment to helping Ishinomaki and Miyagi that the idea for this program was formed, and it is from donations raised by the Anderson's that the seed money for this program will come.
If you have any questions about this program, or if you would like to brainstorm with us and discuss in more detail the possibility of receiving a grant, please contact us at
Wishing you the best,
The MAJET Team
——————————————
Miyagi Association of JET 2011-12
www.ajetmiyagi.net
Claudine Bennent (President)
Cameron Peek (President)
Brian Garvey (Vice-President)
Marissa Godwin (Treasurer)
——————————————
---