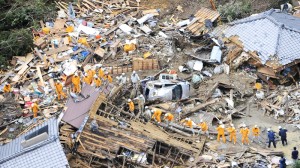 Last week, typhoon #12 (Talas) left a grave wake of damage in its trail. The most heavily affected areas in Nara, Wakayama and Mie prefectures have already begun mobilizing to assist those who are in the most need. JET participants have also suffered losses of both home and property, but have also begun taking part in relief efforts in their areas. Each prefecture currently has at least one location that is accepting volunteers from outside the prefecture or city, though access to these areas may still be limited by transportation restrictions. For the most recent updates about volunteering in each prefecture, be sure to check each volunteering center's website daily (links included below).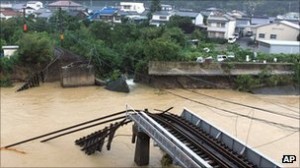 As always, it is highly recommend that volunteers purchase disaster volunteer-specific insurance at their local social welfare council. JET Accident Insurance does not cover volunteering in a disaster area. Coverage plans are usually available for anywhere from ¥490 to ¥1500 per person. Volunteering in a disaster area can be dangerous, and it is important to be responsible for your own safety by avoiding situations where you might become a victim and use resources that were meant for aiding the disaster victims.
Volunteers should also be comfortable enough with Japanese to understand, communicate, and carry out directions from the local clean-up crews and the volunteer center (or that they go with somebody who can interpret for them). If you have specific questions about volunteering in certain areas, call the local social welfare council or volunteering center, for general questions about volunteering, feel free to email at any time.
Erica Nakanishi-Stanis
National AJET Volunteering and Aid Director

Nara:
Nara Prefecture Disaster Volunteer Head Quarters (奈良県災害ボランティア本部) was established on September 7 by the Nara Prefecture Disaster Prevention Bureau.
Volunteers can sign up beginning September 8. Volunteer work involves helping clean up Tenkawa-mura, and other locations that will be determined in the future. The current plan is to send about 100 volunteers everyday to help 70 families or so.
If you are planning to drive, you can park at Tenkawa-mura's village hall parking lot, and travel from there (transportation will be provided). If not, there will also be buses at Kashiharajingu-mae (橿原神宮前)station for volunteers.
To sign up or to ask any questions about volunteering, call the Volunteering Head Quarters at: 0744 26 0233.
*Please note: this volunteer phone line is Japanese language only.
Wakayama:
1. The Wakayama Volunteer Center have arranged two overnight volunteer trips by bus. One bus will depart from Kainan-shi (海南市) and the other will depart from Wakayama-shi. Both buses will take volunteers to Kozagawa-cho (古座川町) on September 17-18.
Applicants must attend an orientation on 9/14 from 7:30 to 9 p.m. to be able to volunteer. Volunteers must pay a fee to cover the costs of transportation and food as well as lodging fees, which are currently estimated to be around 5,000 to 6,000 yen per person.
To go to the orientation/apply to volunteer, please call the Wakayama Volunteer Center at 073 431 0028.
2. Volunteers who are not residents of Wakayama-shi, Kainan-shi, or from outside of Wakayama Prefecture are now being accepted as volunteers at the Shinguu-shi Disaster Volunteer Center.
Volunteering will be cancelled for the day in the event of poor weather. Please bring your own food and drinks. See this guide for details on what to prepare/bring: http://rsy-nagoya.com/rsy/common/pdf/suigai-manual.pdf. There are no restrictions on who can volunteer, but volunteers will only be registered/accepted between 9 and 12 a.m. each day at the Shinguu-shi Welfare Center (1-1 Noda, Shinguu-shi, 646-0031). Volunteer work will be done between 9 a.m. and 3:30 p.m. each day. Access to Shinguu-shi is restricted, as the JR lines cannot be used. The city can be accessed by going South on Route 42. Anybody who is willing to help Shinguu rebuild and recover is welcome to join in the clean-up efforts.
Information can also be found online at the Wakayama Social Welfare Council's website at: http://www.wakayamakenshakyo.or.jp/ (Japanese only).
Groups: If you are part of a group of ten or more volunteers, you must call in advance to let us know when you wish to volunteer. We have five buses to transport people, but will need to know how many people to expect beforehand.
Meeting place: Kozagawacho Public Center (Kominkan)
Lodging: For a fee you can stay at the Arafune Resort at a discounted price by showing your volunteering insurance card. The location is: 東牟婁郡串本町田原2518 (Tel: 0735 74 0124). The room options are a private room for two or more at 3,825 yen per person or in the large reception room with up to 30 other volunteers at 2,000 yen per person (there is a dividing wall between the men's and women's sides). If you only wish to use the bathing facilities, you will also receive a discount of 200 yen off the original price of 500 yen with your volunteer insurance card. You must make a reservation for a room yourself in advance.
You can also stay at the following places at no cost:
-Takaike Jobu Meeting Place – 30 people in the meeting room, 8 in the Japanese style room (available from 9/10)
-Ikenoyama Meeting Place – 30 people in the meeting room, 8 in the Japanese style room (available from 9/7)
-Chuo Community Center (Kominkan) – 50 people in the meeting room (available from 9/7)
*Please bring your own sleeping bag. There is a toilet, but no bathing facilities unless you go to the Kushimotocho onsen.
*If you would like to stay at any of the above places, please call an notify the volunteer center in advance.
You will not be permitted to sleep in your car or tent.
Mie:
The Kiho Disaster Relief Volunteer Center in Kiho, Mie Prefecture is accepting volunteers from within and outside the prefecture.
Updated information on the number of volunteers needed and work to be done will be listed on the Kiho Volunteer Center blog here: http://blog.livedoor.jp/kiho_shakyo/
Notices from the Kiho Volunteer Center about Volunteering Precautions
You must register as a volunteer at the volunteer center and bring proof of enrollment in a disaster volunteer insurance plan that you have purchased at the social welfare council in the town where you reside.
If you have any tools that you feel would be useful in the clean-up efforts, please bring them. Examples of tools that would be useful: shovels, buckets, dustpans, etc.
Please bring your own lunch, snacks, and water or drinks.
You will not be reimbursed for any costs. You must pay for your own transportation costs.
Please wear clothing that you do not mind getting dirty or ruining.
Please bring your own gloves and masks.
If there are no requests for assistance on a particular day, volunteers will not be needed.
Be responsible for your own safety and say no to dangerous tasks.
Always consult your group before making decisions and doing things alone while volunteering.
If you cannot determine a course of action, please call and ask the volunteer center.
Tel: 090 7049 9035 or 090 3388 2781 (Calls will be answered between 9:00 – 16:00).
http://mvsc.jp/mie/2011/09/10/228/
The Mie Volunteer Center is now taking up to 80 volunteers each day between Wednesday, September 14 – Friday, September 16 to volunteer for a day in Kumano-shi or Kiho-cho.
Meeting place:
The parking lot attached to the Matsusaka-shi, Sakanaigawa Shinsui Koen, in Matsusaka-shi, Gomagari-cho.(松阪市阪内川親水公園 隣接駐車場、三重県松阪市内五曲町)
*Up to 400 cars can be parked in the parking lot while volunteers are away.
*Please come to the meeting place by car.
*The Jonan Juutaku-guchi Bus Stop is the meeting place landmark.
Time: Meeting time is at 5:45 a.m. and volunteers will return to the parking lot at around 8:00 p.m. on the same day.
Apply: Volunteers will be accepted until noon, the day before they wish to volunteer. You can call: 059-226-6916 or send an email via the website (link above) to apply.
Fee: Participation is 1,000 yen and volunteers must purchase insurance at either 490 or 720 yen per person.
Bring: your own supplies, tools, proof of insurance, ID, food, water, etc. Check the website for more details. (JP only).
Website: http://kiho-shakyo.or.jp/f_top.html, http://mvsc.jp/mie/2011/09/10/228/ 
---