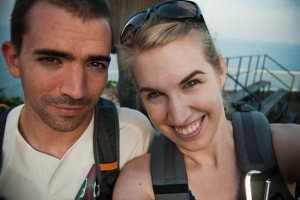 This month, National AJET interviewed Ashley Thompson, who was an ALT in Shizuoka prefecture from 2008 to 2010. She was initially placed at Fukuroi High School in Fukuroi, Shizuoka, and then after one year transferred to Shimada High School. Her husband (then fiancé) was transferred that year to Shizuoka from Ishikawa prefecture, so they were both placed at high schools in Shimada city the year they got married. Her working situation both years (though the second year was cut short) involved teaching several oral communication classes at both schools. Since her time on JET ended, she has started a website called Surviving in Japan (without much Japanese), which has grown exponentially in the past year. As she had to leave JET early, and wasn't sure what else she could do at the time while recovering from an illness, she decided to start the site with the goal of helping other expats in Japan both "survive" and thrive. Currently there is a wide range of topics and how-to guides, most of which you won't find on any other website about Japan or living in Japan. She also recognized so much of the information she was told before coming to Japan was somewhat inaccurate or out-of-date, or just didn't cover other essentials (for lack of resources/time), so she wanted to provide the information she learned on her own for others in the same situation.
As a result of working on this site the past year, she was asked early this year to take over the Lifelines column in The Japan Times – a column devoted to answering various "living in Japan" questions submitted by expats, and providing useful information to the expat community in Japan.

NAJET: Your contract was cut short on JET, yet you are still in Japan. Can you tell us a little about what happened, and what are you doing now?
AT: I was unable to complete my second year of JET. My time at Shimada High started off well and I was excited to be a newlywed; everything was great in general. Then at school one day in early October, I fainted. I didn't completely lose consciousness, but when I got up during lunch to see what a student wanted at the door to the staff room (it was testing week), my vision started getting blurry and dark and I just felt my body collapsing as I grabbed shelves around me to keep from falling. I ended up lying down on the floor as the teachers all rushed around and then carried me to the nurse's room on a stretcher.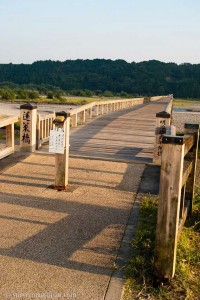 That day was a Friday, and I felt fine on the following Monday and went to school as usual, until I started burning up with a fever in the middle of the day. The teachers sent me home and my fever lasted for a few hours and then disappeared (without medicine). I thought it was some sort of severe cold, as my allergies were also acting up.
Over the next few weeks there were many days when I would nearly pass out while getting ready for work, or days at school I would start to feel sick or lightheaded and the teachers would send me home. I saw several doctors, but none seemed to have any clear idea what was wrong – most said it was all in my head or that I was too stressed. I hadn't had any stress prior to this, but their insistence on this unfounded diagnosis actually created stress for me. (Not that people don't suffer from stress-related conditions – but in my case I knew that wasn't it).
It got to a point where I couldn't go to work anymore and had to take leave for an extended period of time (it ended up being several months by the time I finally "resigned".) I saw various specialists, had a myriad of tests done, including an MRI, and the most I was able to get in the way of a diagnosis (which was necessary for the leave I was taking) was from an ENT who said my inner ear balance was completely off. This made sense, as anytime I rode in a car or on the train I got severe motion sickness, which is something I don't normally experience.
Nonetheless, the medicine he gave me didn't help, and by this point I now had constant nausea from feeling faint and dizzy all the time.
I finally was able to get a diagnosis – in the U.S. – when my husband and I went home for Christmas. The trip had already been planned and plane tickets bought long before I became ill, and I hadn't been home since coming to Japan in 2008. Fortunately, my doctor in the U.S. knew right away what it was: labrynthitis. Labrynthitis is caused by a virus in your deep inner ear, and there is no way to treat it. She told me it can take weeks or months to completely recover from. And sure enough, I didn't fully recover until April 2010. I resigned from JET in March so that my school could find a new ALT to start in April, as I wasn't sure when I would recover and I already felt terrible for inconveniencing my school as much as I had, though they were very understanding and helpful the entire time I was sick.
That said, my husband is still an ALT at a high school in Shimada, and starts his fifth and final year on JET this August.
While I was ill and later recovering, I sought out alternate opportunities of what I could possibly do in Japan, especially as I wasn't sure when and if I would ever be able to return to full-time teaching.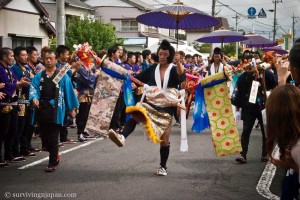 During this time I took up writing again, something I hadn't had much time for over a few years. Then, in February 2010, I got the idea to start a blog about all the things I was constantly discovering about life in Japan and how to "survive" here, as so much of what I had been told prior to coming (and even while here) had been wrong. So, I created Surviving in Japan, which has become a unique "how to" guide for life in Japan.
Looking back now, I had no idea what SiJ would turn into, but it has brought so many fantastic opportunities and allowed me to connect with a lot of great people. In May 2010 I started doing virtual freelance work (writing, editing, website-related tasks), and taught English on the side.
Then, in February 2011, I became the Lifelines columnist for The Japan Times. The column ties into my blog in a lot of ways, covering various topics about life in Japan, such as pension questions, finding English-language magazines, or just helping people find the resources they need. I still continue to do freelance work as well.
NAJET: What was the most rewarding part of your JET experience?
AT: The relationships. I met and worked with many wonderful teachers, although the time was so short at my second school. Some of those relationships continue today, which I'm thankful for.
I also worked with many awesome students, most of whom have now graduated and gone off to college. I am still in contact with some of those students though, and as I worked with youth before JET, as a teen mentor, it's been incredibly rewarding to build relationships with youth here as well, in spite of language and cultural barriers. Not to mention, the students always made me smile every day at work. They are the best part about teaching.
NAJET: What was the most difficult thing for you to adjust to?
AT: I'm a very independent person, so the most difficult thing for me about moving to Japan was that I had to suddenly learn how to be dependent on others. It's not something I've ever been comfortable with in general, so I always felt like I was bothering someone or that I was asking for too much help (even though, in reality, I probably rarely asked). These uncomfortable feelings prompted me to figure things out for myself so I could feel more independent, but at the same time it was also a good lesson to learn and I'm glad I was pushed out of my comfort zone in that respect.
NAJET: Your website helps people survive in Japan on little or no Japanese, how do you feel about the JET Programme having a no Japanese ability component? Do you think that should be changed? Or do you think that adds to the experience of being a JET?
AT: I don't think it's realistic to expect all teachers to come to Japan with significant Japanese-language ability, as that would narrow the applicant pool probably too much. I think having teaching experience of some kind is far more important (to become an Assistant Language Teacher, anyway), considering the type of job it is.
That said, I do think it's helpful for new JETs to spend some time learning Japanese if possible. I studied Japanese for one year before coming, and I can honestly say it made that initial transition so much easier, as I could read hiragana and katakana, some kanji, and I could manage basic tasks like ordering at a restaurant and other day-to-day things.
NAJET: How do you research your website content… with little Japanese :)?
AT: It's funny actually; my Japanese reading ability has improved leaps and bounds since I spend so much time doing research online. My speaking ability, on the other hand, has not improved as quickly as I would like, because I work from home.
I usually take a topic and then do as much research as possible online, but also do "field research" if it's necessary for the topic. For example, if I write about toothpaste, I spend time at the store reading all the toothpaste box labels to see what ingredients they have, and then check online as well. I seem to spend a lot of time reading ingredient labels for many of my posts…
It's great learning though, as I discover what certain ingredients are in Japanese and what types of ingredients Japanese products typically use. Basically, all of my research is excellent for learning vocabulary, and a lot of it I would consider "survival" vocabulary, since they are things we take for granted in our native language.
Other posts come about because of topics I've experienced firsthand, such as getting a Japanese driver's license, being pregnant, or even trying to finding obscure food items in Japan. And over the past several months I've received many topic ideas or questions from readers as well, including some things I hadn't even thought about. The readers have really added a lot to SiJ, and I'm really thankful for all their ideas, support and feedback. We all have unique experiences in Japan, so I think it adds more depth and knowledge to anything I discover on my own.
NAJET: How long do you think you will stay in Japan? What are your next plans?
AT: For now, we plan to stay indefinitely. We would like to stay a while as long as things work out, so we'll see what happens next year.
As for next plans, I'm pregnant and due in late August, so aside from the work I'm currently doing, we're adding a new baby to the mix! No doubt that will keep me occupied even more than I already am. :)
NAJET: What would you love to tell the new JETs coming this summer? What do you wish someone had told you when you arrived?
AT: Be open and flexible. Try to look at situations from the other person's point of view (even if it seems impossible). I think this helps ease some frustration and misunderstandings that can happen when trying to communicate in a different culture. I experienced my fair share of frustrating experiences during my first year in Japan, and even now at times, but it helped that I approached things without only looking at it from one perspective or using my own cultural lens. It's not necessarily easy, as many of us grow up accustomed to seeing and understanding things a certain way and we may not always be aware when we're looking at something the same way we would "back home".
The other thing is to take what people may tell you with a grain of salt. There are a lot of things I wish people hadn't told me before coming to Japan, as I've found much of it not to be true, or only partially true. I think it's better to listen, check facts for yourself, and then form an opinion. Any kind of general statement is often a red flag for me.
Oh, and products in Japan aren't generally that different from products in western countries. This is a huge misconception, and in most of my findings, products here may differ as much as products within western countries do. No, not everything is the same, but not everything is completely different either.
All that said, enjoy your time here – make the most of the your job and the relationships you'll hopefully create there.
---